Right after I returned from a vacation trip to Tenerife, I headed from Frankfurt Airport to Das Bett (literally: The Bed), a Frankfurt venue not too far away from the major travel hub. Sound of Nashville invited for an event of the German Country Music Week (CMW – with is rather a Country Music Month in my home country) hosting a traditional songwriters round. The headliners were two of my Featured Artists, Sarah Darling and Kenny Foster. The round was originally intended to be completed by Twinnie, but due to her tour with Kiefer Sutherland, Robert Counts was added to the trio of country music artists. Twinnie was also on stage when I saw Sarah and Kenny the last time on stage together, in a songwriters round at the legendary Listening Room in Nashville with Jenn Bostic.
This posting comes with 136 major size pictures in a designated section of the concert gallery.
Frankfurt "Das Bett" – The Venue
The venue was quite nicely located regarding my travel plans heading directly from the airport to the club. It is located on the Western edge of Frankfurt central area, even not too far from the trade fair and central station. During concerts, you likely find a parking lot at the street. Due to all our luggage, I preferred the parking lot with gates, which is next to the club and costed 2 Euro for the whole evening.
Das Bett has a quite cozy atmosphere, very friendly people and the toilets are comparably clean. The maximum capacity of the club is some 500. However, I would guess a that night's attendance of 200.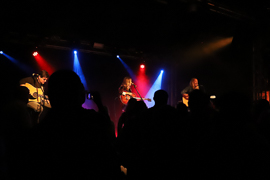 CMW in Frankfurt – The Artists
Sarah Darling was likely what you would call the true headliner on stage of Das Bett on that evening. Especially her travel to Wonderland at her current album again illustrated with wide range of songs and amazing talents of the Iowa-origin Nashville lady. Her performance at the British Country Festival was an absolute blast. Call Me is likely the song I listened to most so far in 2019.
Kenny Foster may not be too large in the business so far, but I picked him as a Featured Artist of Flyctory.com, as I just love his writing. Very nice songs, sometimes with a great sense of humor and even irony. In the Listening Room round I mentioned above, he made me listen and laugh to his music. So great to see him again in Germany after his performance at the 2019 Country to Country in Berlin. Sarah Darling and Kenny Foster are friends and also recently recorded a Country Roads cover, which you can find in my recent Country Picks.
It was the first time I got to see Robert Counts live on stage. He was born in Franklin, Tennessee, just outside of Nashville. This year, he signed his first record deal and already released his first, self-titled EP. Backseat Driver is one of the tracks of it.
CMW in Frankfurt – The Show
Robert Counts started the songwriters round, which in which every artist presented seven songs, if I counted correctly. He majorly played songs of his EP, but also a lovely cover of Creedence Clearwater Revival's Have you ever seen the rain. His dark and soulful voice was impressive, especially in the quiet and intimate setup of a songwriters round. He finished his set with Better People.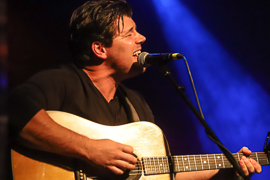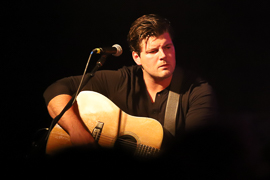 The second artist to perform was Sarah Darling. Sarah majorly played some new songs, which will likely be released on the new album. There was also a very individual and "sad" (as she called it) cover of Dolly Parton's Jolene. Her two last songs were the amazing Where Cowboys Ride, which I loved at the C2C in Berlin already, and Montmarte as an ode to her husband. This also meant that she did not perform any song of her current album Wonderland.
Kenny Foster concluded each round. He played a nice variety of songs, including the amazing Wood & Steel, which was his last song. He also added so much to the round by supporting the music of the other artists. Last but not least, he also gave one of the most memorable songs of the whole evening by playing his Safe Word again, which I loved and laughed about at The Listening Room already.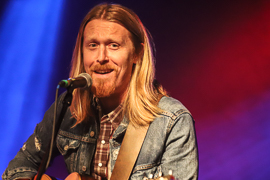 After the seven rounds, all three performed John Denver's Country Roads. The whole show took roughly 110 minutes, followed by an intensive Meet & Greet.
CMW in Frankfurt – The Gallery
This posting features 136 major size pictures in the Flyctory.com Concert Galleries:
CMW in Frankfurt – My View
I love "rounds" – and this one was definitely a great one. Kenny Foster, who is an amazing musician as well as a great character, the overwhelming Sarah Darling, who does tells amazing stories and also is having such a great presence on stage (even on a barstool). Last, but not least, Robert Counts' amazing voice and great song gave a great trio, which was definitely worth watching. Superb evening of three good artists – thank you German Country Music Week and Sound of Nashville! Top Pick!
Sound of Nashville on Flyctory. com
Here are all other postings related to the Sound of Nashville concert series in Germany and the Netherlands:
More Postings with Gallery
Here are all Flyctory.com postings, which come with a larger size picture gallery: