Despite The Way It Feels is only their second album, Maddie & Tae are already very established artists in the country music scene. Even though you already knew a bunch of songs before the release, I was really looking forward to listen into this record. It has been released on 10th April 2020.
Maddie & Tae – About The Artists
Maddie & Tae are Madison "Maddie" Kay Marlow and Taylor "Tae" Elizabeth Dye. I could not find too much bio about Marlow – however, there were quite some headlines when the Texas-born married her school-time boyfriend Jonnah Font in November 2019. Dae is Oklahoma origin and is married as well (Josh Kerr, February 2020). Marlow and Dae met at a showcase in Dallas in 2010 and signed their first record deal in 2014. Their debut single, Girl In a Country Song, had a comparably small start in the charts when it was released, but over time, it topped the US Country Airplay charts and went up to the third spot in the US Country charts. There were two more singles, Fly and Shut Up and Fish, which were not as successful as the debut, but helped to boost the 2015 debut album Start Here to the second spot in the US Country charts (7th US overall charts).
After the duo had an EP in 2014 (self-titled) already, there were two ones in 2019, One Heart to Another and Everywhere I'm Goin' in 2019. Friends Don't (2018) and Die from a Broken Heart were the first singles of The Way It Feels, which is their second album so far. However, multiple more songs have already been published before the album release.
Maddie & Tae – The Way It Feels – Track by Track
The Way It Feels contains fifteen tracks. However, thirteen of the songs have either been published before or you easily find YouTube live performance videos, which are about two years old or even older. The only really new tracks, depending on my preparation, are My Man and Drunk or Lonely. The playtime is 48 minutes.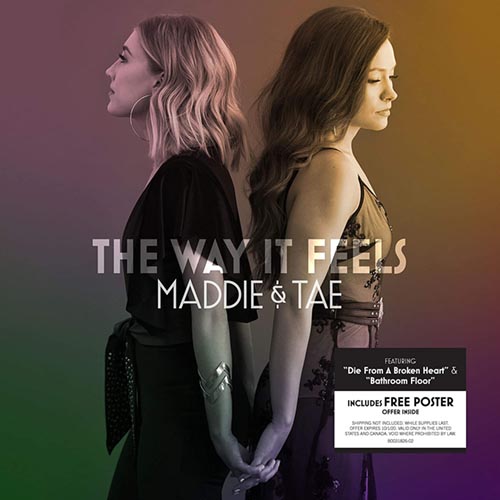 1. Everywhere I'm Goin'
A travel-related and inspired song is the opener of the album. This 2019 release is a nice track (which means that it is neither bad nor outstanding to me).
2. Bathroom Floor
Bathroom Floor is much more catching to me. The cheer-up track has a lot of power and presence with intense guitar elements. Literally, Bathroom Floor rocks!
Get up off the bathroom floor
Let's wipe the tears off your cheeks
Put on a dress and get out that door
Girl, the first shot's on me
Let's jump into a cab downtown
Let a sexy man spin you around
Let's show that heart some neon magic
'Til we're drunk and laughin'
Back on the bathroom floor
3. My Man
Also with this track, Maddie & Tae demonstrate why they are big in the business. Straight, but very modern and catching country music songs, the two voices give a lovely harmony and many songs have a nice rhythm. Good one!
4. Tourist In This Town
Tourist In This Town is in fact a breakup song, which describes how you have to get used to new places, new habits in your own city after you split up. Good track.
5. Drunk Or Lonely
This new track, Drunk Or Lonely, is the first one which left me a bit with mixed emotions. On the one hand, it is another straight and modern country music production, on the other hand it lacks a bit of unique character to me. Is it like the previous track? Or the one before? Maddie & Tae songs are very "characteristic" – which sometimes is also a way to say "similar"….
6. One Heart To Another
After having this feeling of monotony at Drunk Or Lonely, the slow guitar song song One Heart To Another is just the right one to give me some contrast. Not the best song of the album to me, but a nice addition.
7. Trying On Rings
From, "Hey, can I get your number?"
To, "Whatcha doing Friday night?"
Straight through a teenage summer
To going on our fifth July
From porch lights and swingin' on swings
To real life doin' its thing
From some silly seventeen fling
To trying on rings
This comparably slow song is a nice love song, describing marrying a teenage love – thus, it is a very autobiographic track, which makes it very special. Other tracks have a more ear-catching potential, though.
8. Write A Book
The very rhythmic and accentuated Write A Book is going back towards the first songs of the album. Definitely a track which makes you listen to it, makes your feet bob and your body sway.
9. Water In His Wine Glass
Being very vocal-centric, this version of Water In His Wine Glass definitely takes a very special role in the album. Two lovely ladies with lovely voices – even though it is not my favorite of the album, it just has a lot of appeal.
10. Die From A Broken Heart
Die From A Broken Heart is one of my favorites of the album. The atmosphere of the song is outstanding, being majorly created with the ladies' voices and acoustic guitars. Great!
11. Ain't There Yet
The melodic rythmic Ain't There Yet with its cheeky Na-Na-Na intro and post-chorus is another fascinating song, which pushes the album to the top of the album rankings.
12. Lay Here With Me feat. Dierks Bentley
A very classic country music ballad featuring one of the big ones in the country music business – if you do not know Lay Here With Me already anyway, you have to give it a chance – it's a blast!
13. Friends Don't
Friends Don't reminds me very much of Ain't There Yet. I like that songs – and I like Friends Don't.
14. I Don't Need To Know
The last songs of the album seem to be the real blast of the album. Wow, I don't need to know may be a bit more repetitive than other tracks on the album, but this track (officially one of five "new" tracks, even though it has already been performed on stage since 2018…) is just make you listen and smile. Good music.
15. New Dog Old Tricks
New Dog Old Tricks starts a bit like RaeLynn tracks – almost spoken vocals, rhythmic, very powerful. If you need a track for your Saturday night country dance playlist – this is a hot candidate.
Hey baby, let me guess
You've never felt this before
My beauty takes your breath
Boy, get that jaw off the floor
Ain't my first rodeo
I know the way this goes
Bow wow, baby, got a bone to pick
New dogs, old tricks
Ooh, put a leash on it
New dogs, old tricks
Maddie & Tae – The Way It Feels – Spotify
Here is the link to the Spotify widget to pre-listen to The Way It Feels:
Maddie & Tae – The Way It Feels – My View
I am in a lucky position for this album review: I am not too much a Maddie & Tae fan, so that I did not know too many of the tracks before. Would I be disappointed when I listened to The Way It Feels as a fan of the duo? Likely yes. It is just the difference of American and European album culture – if you know thirteen out of fifteen songs already, the record more feels like a Best of than something new. Even including the studio debuts, five new songs out of fifteen is a limited quota.
This undeniable fact distracts me from one fact: The Way It Feels is a great album, no doubt. Great songs, lovely vocals – and the feeling of becoming a bit bored towards the end of the first third of songs is blown away thereafter. The two ladies are definitely a top country music act – and they proof it in these fifteen songs (which is by the way, a very nice number of songs, compared to the eight song Ingrid Andress album, for example). If you love the girls, you will buy this one anyway. If you don't know their music yet, it is a must buy as well. They just give you too much good music finally – so I have to call it a Top Pick! definitely – I even enjoyed the songs of the pre-release EP Everywhere I'm going more than I did in the original release.
Women Country
Here are more postings dealing with female country music artists:
Flyctory.com in Washington D.C.
Here are all postings about Washington D.C. and surroundings: