Her song I steh auf Bergbauernbuam ("I love male mountain farmer boys") has been streamed some 8.5 million times on Spotify and viewed 17 million times on YouTube. No doubt, Melissa Naschenweng is one of the most booming and successful Austrian artists of the recent years. On 30th September 2022, she is back with a new album, Glück. The title translates to "luck" – and I was curious if I felt lucky while listening to her latest blend of schlager, folk and rock. The album his her sixth studio album overall.
Melissa Naschenweng – About The Artist
Melissa Naschenweng was born on 11th July 1990 in Villach in Carinthia (Kärnten) in Austria. She received musical education since the age of eight. Originally, she rather did traditional folk music (Volksmusik), but nowadays is mixing strong elements of schlager and rock to her music. Her third album, Kunterbunt, released in 2017, was her national breakthrough. The album peaked third in the Austrian charts and received a golden record. She released two more albums so fari, Wirbelwind (2019) and LederHosenRock (2020). Both topped the Austrian charts and received a platinum record in their home country. This also lead to quite good sales in the neighboring German-speaking countries. Naschenweng did especially well in Switzerland, where her last two albums were Top 5.
Melissa Naschenweng – Glück – Track by Track
The fourteen song album lasts 47 minutes. Like in all German dialect songs, I quote the lyrics in standard German.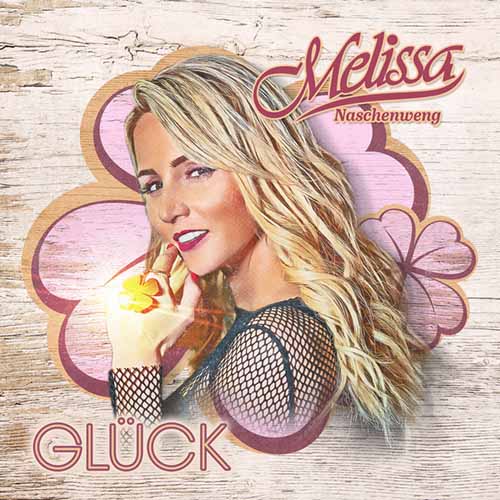 1. Verliabt
The opener ("In love") is a rather traditional style song with harmonica sounds and a pop character. What I generally like about Melissa Naschenweng is that she is doing her own sound. Good track with a high level of memorability.
2. Glück
The title track is beautiful ballad. Interestingly, Naschenweng is using much more standard German than in the song before. The song is the beautiful core track of the album. Naschenweng states in the press material that one of the key feelings she has about her music how lucky is to spend luck to her fans and listeners.
Glück ist für mich,
Wenn Du einmal kurz lachst
Denn Glück ist für mich
Wenn Du Dir keine Sorgen machst
Glück ist wie
Vor lauter Freude am Weinen zu sein.
("Luck is for me
If you are just smiling briefly
'Cause lick is for me
If you don't worry any more
Luck is like
Crying due to all the happiness.")
3. Traktor
Ich hab einen Traktor und der ist rosarot – I have a tractor and it is rosy. Naschenweng is doing songs with very different storylines on this 2022 song. This song is not only about utility vehicles for farmers… but also about love (of course…).
4. Hirsch
The title of this track translates to "deer". The pop-ish song is about a love story. However, the guy who is compared to that hart has no chance – Melissa Naschenweng states that she likes Bergbauernbuam only. Bad luck, but a cheeky song which makes you smile.
5. Kompliment
In the press material, the artist states that this "compliment" is about all the people who stand for what they are doing. She believes to do music for all kinds of people and followers. A nice message, which is put into a very powerful and impressive listen.
6. Besserwisser
The sixth song is about "Smartypants". The song has a nice rhythm and is a quite fast song as well. Naschenweng at full force – her songs just feel less schlager as many other artists.
7. Amelie
The slow song Amelie presents this dramatic song in a very modern style. Amelie, pass auf auf Dich – "Amelie, take care of you". A very intimate and personal message about bullying and about people talking bad about you. Great lyrics, as you see in the verse below – the song is one of my favorites on this album, without a doubt.
Dass Du nichts wert bist
Haben sie Dir ständig gesagt
Du kennst nur das Gefühl,
Wenn man sich selber nicht mag.
Und um Dein Herz hast Du längst Mauern gebaut,
Weil Du die nur sicher fühlst,
Wenn man niemand vertraut.
Du hörst immer noch die Stimmen im Netz.
Sie bringen Dich so weit bis Du Dich selber verletzt.
Merkst Du nicht, dass Du das Leben vergisst
Weil Du glaubst, dass Dich da draußen keiner vermisst?
("That you are not worth anything
Have they told you all the time
You just know the feeling,
When you don't like yourself.
You have built walls around your heart since a long time
As you only feel these safely
When you don't trust anybody.
You still hear the comments in the net
They bring you to the point that you hurt yourself
Don't you feel that you leave life
As you believe that nobody out there is missing you?")
8. Wörthersee
Glück is also full of contrasts. After this deep and thoughtful highlight of the album, Wörthersee ("Lake Wörth") is a happy pop-rock song. The track is praising life in this region in Carinthia in Austria. The local tourism board could not do it better. And I feel like booking a trip there soon.
9. Luis von do
I feel you just cannot find arguments against that this song is the most ironic song of the whole album. The track is about people wearing all the kinds of fashion brands. But country girl Melissa just thinks about the Louis von do, which translates to "Louis from there" – but in fact sounds quite similar to the Vuitton guy.
10. Truckstop
Melissa Naschenweg goes country-rock in this song. Nice drive – rather the typical traditional country sound you have in the country music scene over here. Nonetheless, I really appreciate it.
11. Schleich di
Schleich di means something like "F*ck off". The song is about a hangover on the next morning – and not really being able to deal with that somehow unknown guy next to you. Nicely told story.
12. Happy Birthday
The last three songs of the album somehow lead to a break – nonetheless, they are enjoyable. This song is – not that hard to guess – a birthday song. The lyrics are not too exciting, but the blend of traditional folk sounds, schlager and pop could be a nice option for a party.
13. Von den blauen Bergen kommen wir
This song is in fact a German traditional track. Melissa Naschenweng focuses on the partying character of this song and creates a nice party song. Fun one.
14. Christkindl
And then, there is winter time. Not hard to guess which track will be Melissa Naschenweng's Christmas offer this year. I rather take it as a bonus track. I just don't want to care about snow, church and gifts right now – even though it is a nice listen.
Melissa Naschenweng – Glück – Spotify
Here is Glück on Spotify:
Melissa Naschenweng – Glück – My View
I really like listening to this one. Melissa Naschenweng created a wide range of songs. This is not only about the song, but also about the contents of the songs. Very deep and thoughtful lyrics as well as fun and party tracks. Very good one.
Reviews – German Schlager Top Pick!s
Here are all my Media Reviews related to German schlager, which lead to a Top Pick! rating:
Travel in Austria
Here are all my Travel postings related to Austria: