Most of you might think about Darius Rucker when it comes to the country classic Wagon Wheel. In fact, the chorus has been written by Bob Dylan – and the song has been completed by nobody but Ketch Secor of Old Crow Medicine Show in 1998, 25 years later. Five additional years later, the band finally turned the song into their greatest success. The Virginians release their seventh studio album Paint This Town on 22nd April 2022. I had a listen.
Old Crow Medicine Show – About The Artists
The style of Old Crow Medicine show is somewhere between alternative country and bluegrass sounds. The band has been founded in 1998 in Harrisonburg, Virginia. Based in Nashville nowadays, they had a couple of lineup changes in the past. Nowadays, they perform with Mike Harris, Morgan Janig, Jerry Pentecost, Mason Via, Cory Younts and the already mentioned Ketch Secor. The latter and Chris Critter Fuqua are the founding members of the band and already know each other from school days. There are two very early albums by the band, but in fact, the 2004 O.C.M.S. is regarded to be their debut. That album was especially successful among bluegrass fans, but later the band expanded to country as well. Their last release has been the 2018 album Volunteer.
Old Crow Medicine Show – Paint This Town – Track by Track
The twelve track album lasts 43 minutes.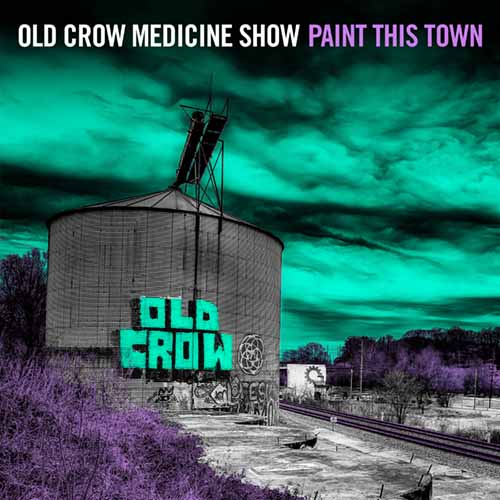 1. Paint This Town
Not too much time to wait – the album does not only start with three single releases in a row, the opener is the title track as well. Very present vocals and a catching chorus – the album could have a worse start, indeed.
2. Bombs Away
I sometimes feel with drummers in very fast metal songs. In Bombs Away, my heart is with other instrumentalists like the fiddle player. Amazing speed in this happy 2:41 minute diddy. Sometimes, the presence of the instruments slightly kills the clarity of the vocals – but apart from that, it is a really entertaining listen.
3. Gloryland
Locked out at the gates of Gloryland – after the fast experience before, the third track feels almost super-slow. The song comes with a nice ironic touch. Good listen.
4. Lord Willing and the Creek Don't Rise
The fourth song has much more rock'n'roll elements than country tunes. The pre-chorus tempts me to sing Jerry Lee Lewis' famous words Great Balls of Fire (similar rhythm). Very entertaining and fun listen – I swear you will have to move to this one!
5. Honey Chile
Already the first fiddle notes tell you that this song will be rather dramatic than funny. Honey Child sometimes rather feels like dark country. Very cool and deep sound, though. Thumbs up!
6. Reasons To Run
Reasons To Run is a beautiful story, which is starting as a rather slow song. More and more, it develops to a deep, nice country music with the characteristic sound of brushing drums. Good!
7. Painkiller
The violin player with the quick fingers is back! And the Painkiller is not required to listen to this energetic song. Country music fun!
8. Used To Be A Mountain
Nice blend between country sounds and rock elements: Used To Be A Mountain is definitely a special song with a unique sound. Hard to describe, but one of my favorite listens.
9. Deford Rides Again
This section of the album has many very quick and rhythmic tracks one after another. Deford Rides Again thereby also has a bit of a blues touch. Traditional sound, but in a timeless style.
10. New Mississippi Flag
After this three song musical sprint, the New Mississippi Flag gives a chance to relax a bit and listen to the lyrics. An almost hymnic listening experience. Good listen!
11. John Brown's Dream
Despite the entertaining sound, Old Crow Medicine Show cover some serious topics in their songs. John Brown's Dream, for example, deals with the abolitionist, who fought against slavery until he was hanged in 1859. The song comes with a rather dark sound again.
12. Hillbilly Boy
The album closes with Hillbilly Boy, which feels like a recording right from a saloon. Very handmade music, which is also introduced with a short dialog. Nice one.
Old Crow Medicine Show – Paint This Town – Spotify
Here is Paint This Town on Spotify:
Old Crow Medicine Show – Paint This Town – My View
Good sound, good lyrics (with a critical undertone) and overall an entertaining listen – it is really hard to find really strong arguments against giving Paint This Town a listen. The guys are simply did a great job on the road to this publication. Very good album!
Just blogging on music
Here is a list of my Just blogging on music postings on Flyctory.com:
Flyctory.com about US Aviation
Here are all Airports & Airlines postings related to the USA: