A Change in Yvonne Catterfeld's career: just three weeks before Christmas, the popular German artist releases her first album in English. The single releases felt really promising, so that I definitely had to go for a review. The album has been released on 3rd December 2021.
Yvonne Catterfeld – About The Artist
Yvonne Catterfeld was born on 2nd December 1979 in Erfurt, former GDR, Germany. She started rather late with music and took lessons in singing, instruments and dance since the age of 14. She finished a TV talent show, Stumme 2000, which also lead to her first record deal. In parallel, Catterfeld became popular in the German TV daily soap Gute Zeiten, Schlechte Zeiten. While initial single releases already made it to the German charts with average placements, the Dieter Bohlen-written Für Dich ("For you") was a massive success, leading all three single charts in Germany, Austria and Switzerland. The following single Du hast mein Herz gebrochen was the only one which also made it to the top of the German single charts. Nonetheless, Catterfeld became an established artist in the German music scene. Her debut album Meine Welt (2003) went platinum in Germany, the following two albums received golden records each.
After her 2006 album Aura (#10 Germany), Catterfeld rather concentrated on her actress career. Nonetheless, there were some album releases in the 2010's. The most remarkable chart success has been her most recent recording, Guten Morgen Freiheit, which went into the Top 10 of all three major German-speaking markets. Change is her eighth studio album overall.
Yvonne Catterfeld – Change – Track by Track
The thirteen song album lasts 36 minutes.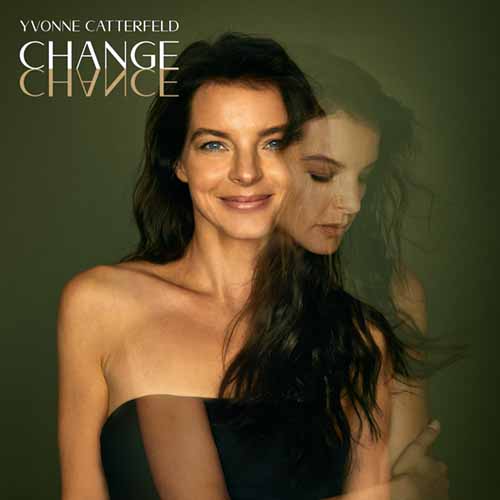 1. Change
If there wasn't the press kit, which already introduces me to the very different style of Catterfeld in this album, I would have likely shaken my notebook during the review. Is that a true? Is it really Yvonne Catterfeld? The title track is like a bang – a flawless soul track with an amazing vibe. Very surprising, but also awesome start to Catterfeld 2021.
2. Patience
Patience, one of the single releases of the album, starts slower and quieter, but with the chorus latest, Catterfeld is connecting to the sound of the first song. More rhythm, more pop style, but a very powerful voice. Great vocal performance again.
3. Back In July
R'n'B and pop sounds create a mainstream vibe, which could also be a successful US music production. The song makes you move to its rhythm. Very nicely arranged track, even though this squeaking sounds in the background are maybe a bit too but and distract from the artist herself.
4. Wake Up
The background choir in Wake Up introduces you with an idea of gospel. The song with the very present brass sounds finally feels stronger in soul music – but it is definitely a song which makes you listen to it.
5. Bullshit
Bullshit comes with a nice groove and a dark touch. It feels like a backing choir is taking over the chorus in here. If you dislike bad words in a song, you should rather skip – but be aware that you definitely miss some really nice music vibes "Made in Germany".
6. Cold Water
You can also see that the album is straightly heading towards the mainstream market by the fact that only three songs exceed a duration of three minutes. Cold Water is one of them. The song comes with a powerful rhythm. It is a good song, but it is also not adding too many new aspects to the album.
7. Words
Strings, Catterfelds strong vocals, the gospel-alike choir – it feels that we had all of these things on Changes already. Bad luck, as the monotony of the songs moves the focus away from an in-fact really great musical performance by the German.
8. Tip Toe
Tip Toe, which is heading towards an easy pop song with nice storytelling, is a song like I would love to have more of on this album. They just add a flavor – and illustrate Catterfeld's rather wide talent. Good bass vibe.
9. Let You Go
You will find two versions of Let You Go on the album. Here, on the ninth position of the album, the song is shown in his single version in a mainstream sound. Later, there is also the slightly longer acoustic version. Again, the backing choir is used for this song – the verses feel more independent here, though – which turns Let You Go into a nice radio track perfectly made for moving to the music.
10. I Think I Love You
My promo version of the album follows another order of songs – but I go with the one of the physical disc for this review. I Think I Love You is a lovely and soul-ish ballad, which is again gaining a lot of energy from the backing vocals. Hope the ladies got some good money for that.
11. Broken
Broken opens with some quiet piano notes. However, it quickly turns into a rather energetic song. Even though it is a rather thin soul-pop track, it is a nice listen and one of my favorites on the whole album.
12. Home
Last, but not least, Home is adding a bit of a folk touch to the soul music album. Catterfeld on top of the the easy guitar chordss is definitely a nice addition and to the set of songs.
13. Let You Go (Acoustic)
The physical album closes with the acoustic version of Let You Go. This version does spread its own aura – I would nonetheless rather see it as a bonus for fans. The studio version is better in my point of view.
Yvonne Catterfeld – Change – Spotify
Here is Change on Spotify:
Yvonne Catterfeld – Change – My View
Especially in the middle of the album I was quite afraid that the album will be too uniform, too monotonous. That would have been a shame, as the thirteen tracks of Change are a great proof of Yvonne Catterfeld's great vocal and songwriting potential (you find her in any credit of her songs). The last songs are much better again, so that my rating is a pleasing one. I would love her to rely less on her background singers, though.
German Pop Reviews
Here are all Media Reviews related to pop music and Germany.
(Greater) Orlando – Postings
Orlando is much more than Disney – here are all postings about the Entertainment Wonderland: