Provided by a music promoter, I ran into the album by US-American artist Dave Hause. On 28th April, he is releasing the ten songs of Drive It Like It's Stolen.Reminds me of the good, old American saying Don't be gentle, it's a rental – but that's rather about my car rental review section on Flyctory.com. This posting is about music, I promise.
Dave Hause – About The Artist
Dave Hause has been covering a wide range of rock music, from punk rock to country rock and Americana rock during his career. Born on 12th March 1978 in Philadelphia, he started his musical career in the Pennsylvania city in the mid-1990's. However, founding the punk rock band The Loved Ones in 2004 made him more popular. He worked with other bands and in collaborations. In 2010, he released his solo debut EP, followed by his solo debut Resolutions in 2011. Drive It Like It's Stolen is his sixth solo studio album, on top of numerous EPs.
Dave Hause – Drive It Like It's Stolen – Track by Track
The ten song album lasts 30 minutes.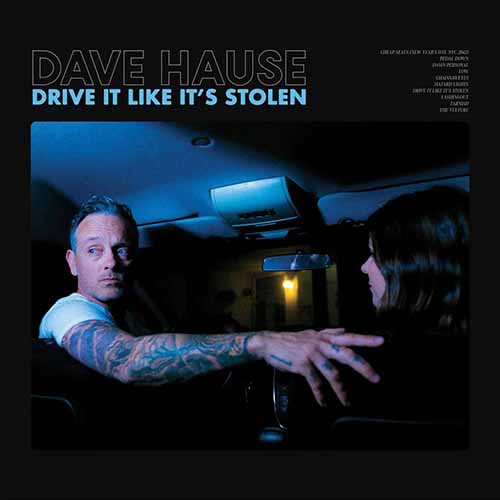 1. Cheap Seats (New Years Day, NYC, 2042)
Cheap Seats is a quite interesting choice as an opener. It is a futuristic speculation about how you have to flee from New York City in some twenty years. The first 2:30 minutes are very quiet and atmospheric and almost feel threatening, before the song suddently turns into a straight rocker with some Americana elements.
2. Pedal Down
Pedal Down is also presenting a rather dark atmosphere. The stomping drums feel very intense in here. Again, it feels like the song is almost breaking out, exploding towards its end.
3. Damn Personal
In contrast to the rather dark openers, Damn Personal feels like a happy songs. This song is one of my personal favorites, it is just a good listen, which catches you and also comes with quite some airplay qualities.
4. Low
Dave Hause released Low in mid March 2023. This song is the first one on the album which is coming with a really undeniable country music flavor. Hause is asking Won't you love me if I'm low? in the chorus. The song is definitely worth a lot of love towards the artist.
5. chainsaweyes
Contrabass and cello sounds give this rather short track a unique atmosphere from the very beginning. A really beautiful write, which is feeling rather magical, especially when the higher sounding bowed string instruments are joining.
6. Hazard Lights
Hazard Lights is a beautiful classic rocker with a growing country music texture. I think of some Bruce Springsteen song while listening to it. My 1980's heart enjoys this song as much as my country music soul. This definitely can't be too bad.
7. Drive It Like It's Stolen
The title track feels to be a bit of hidden in between some really strong songs at first listen. However, the more you get into Drive It Like It's Stolen, the more it is a song which is giving you a good time. Great one.
8. lashingout
Songs like the eighth one could easily be on many Nashville country albums. The scattered brass sounds might feel a bit unusual, but the intimate atmosphere created by the singer and his acoustic guitar is the key magic of the track.
9. Tarnish
Just briefly before album release, Dave Hauser shared Tarnish with the listeners. The song is a beautiful write and presents a lovely melody.This one catches me and makes me smile. To me, Hause has delivered the perfect musical amuse bouche before the ten course Drive it Like It's Stolen album dinner is about to be served.
10. The Vulture
With very present drums, a bit of work on the synth and rather rocking guitar, The Vulture is adding a very different sound right at the end of the album.
Dave Hause – Drive It Like It's Stolen – Spotify
Here is the album on Spotify:
Dave Hause – Drive It Like It's Stolen – My View
I have to admit that before Drive It Like It's Stolen, I haven't heard too much about Dave Hause and his music. This was definitely a mistake. His 2023 long play release is a great listen, which beautifully merges somewhere between classic rock and country music. Quite a lot of great music I run into during these times – and another release which simply deserves to be Top Pick!ed.
Flyctory.com in Philadelphia
Here are all my postings about Philadelphia:
Flyctory.com about Ice Hockey
Here are all ice hockey postings on Flyctory.com: