3rd June 2019 on my trip to Nashville was "Elvis Presley Day". Waking up less than a mile away from the place he was born and sleeping close to Graceland just made a day dedicated to the "King". There was a lot more I planned to see and visit this day, so I was really looking forward to it.
The King's Hometown & Birthplace
After I had a really nice breakfast at the Hilton Garden Inn, I decided to have a short walk through the city of Tupelo, MS. The historic city center is really nice. Of course, there are a lot of bits and pieces reminding of the world-famous son of the city – not just the graffiti I have on the pictures below. I also passed by a lot of these painted guitars (they seem to be created by local schools), which I already saw the evening before.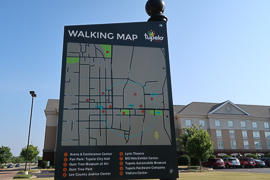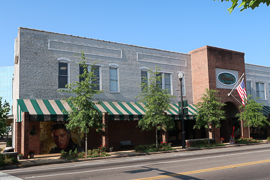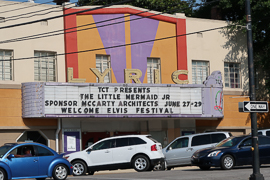 I then took the car and headed some one mile East to Elvis Presley Drive, where the birthplace of the King is located. The house is still at the original location and mostly contains original furniture. The church, in which Elvis worshiped, was moved to this place, though. Unfortunately, I did not like the church presentation too much, but this took me nearly an hour waiting time and presentation. Thus, I had to skip the well-rated Tupelo Automobile Museum.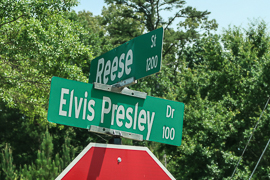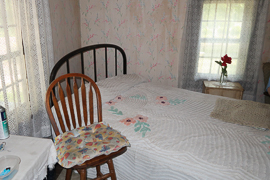 The Birthplace of Blues
The next destination of my trip was Clarksdale in Western Mississippi, close to the Mississippi River. This place is regarded to be the birthplace of the Delta Blues. The trip there was not too thrilling, some 115 miles drive on US-278, which is most of the time a straight and not too hilly highway. I was happy about anything happening, including overtaking an oversize boat transport.
Mississippi, in general, is not one of the richer states of the USA. Most housing in Clarksdale was rather basic, some of the places have an increased potential for renovation. On the other hand, the city is charming and you see that there are a lot of music clubs and blues locations. I would have loved to spent a lot more time there and in the area (for example, the B.B. King Museum is about an hour to the South).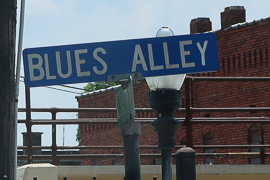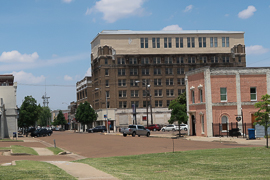 I just had time to visit the Delta Blues Museum. Unfortunately, photography was not allowed inside the exhibition, so that there will not be a detailed review of the place later on flyctory.com. Overall, I can absolutely recommend to visit this place if you are around. Very interesting exhibition, a lot of information about the genre. One artist in focus was Muddy Waters, who grew up in the area. There was also quite a lot of information about John Lee Hooker, who grew up in Tutwiler, which is not too far away as well. The Mississippi Delta area is amazing for music lovers, even if you are not a blues fan.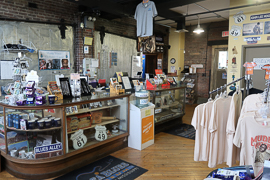 I had to pass another touristic attraction, the Crossroads. There is a legend that Robert Johnson, a Delta Blues legend, offered his soul to the devil at this place in exchange to musical talent, similar to Goethe's Faust stories.
Some Stops til Graceland
I left Clarksdale on US-49/61 Northbound, direction to Memphis. Unarguably, the city had an impact to me as I felt to change to a Blues Radio Station. The area is still very agricultural. Just around Tunica, they tried to add some economy. There is a new Riverfront area at the Mississippi River as well as some casinos. Some of the casinos seem to be closed down already.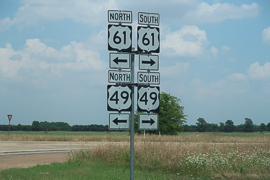 I could not stand not to visit another Blues Museum, which is in fact larger than it may look like from the front. The Gateway To The Blues, which is located right at the highway, is a visitor information center as well as a museum. The museum is really nice and interactive and worth visiting. If you are not already in the Blues music already, this is a great location to start your visit.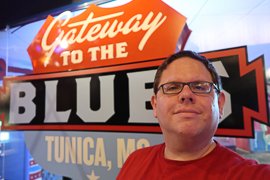 I just made a short stop at a shopping outlet in Southaven on the very Northern end of Mississippi State. I don't bore you with that place too much. But ain't that it is interesting to see that even here, the Blues has left its impact?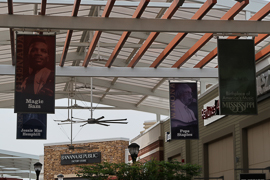 There were just a couple of miles left to my next hotel stay, the Holiday Inn Express near Graceland. The place is quite new and felt quite good at first sight.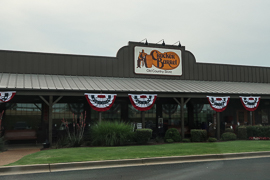 A Musical Trip to CMA Fest 2019 – Day by Day
Here are the links to the daily postings (link will be added once posting is published):
Day 4, 3rd June 2019: From Elvis's place of birth to his place of death