Eric Paslay and his song Friday Night was one of the first songs, which really made me get in touch with country music. During the CMA Fest 2019, I saw him twice on stage and also had the chance to briefly chat with him. He is amazing stage artist and a very friendly people. The more I was looking forward to see him on stage when he announced he will tour Germany again. Unfortunately, his Cologne show was during my trip to the Weird Al Yankovic concert in Indianapolis. Thus, I decided to cover his second last stage of the tour, the concert on 3rd September 2019 in Aschaffenburg, which had been added to the tour due to the good ticket sales.
There is a 357 major size picture gallery attached to this posting.
I selected this show as my Concert of the Year 2019 with full Flyctory.com coverage.
Colos-Saal Aschaffenburg – The Venue
Aschaffenburg is a city in the East of Frankfurt. It already belongs to the Federal State of Bavaria. I visited the city and the venue already in October 2018, when I saw I Lordi show there and reviewed the B&B Hotel there. The Colos-Saal is located in a quite central location. Thus, it is most handy to reach the city by train – especially if you do not plan to go back home after the show anyway. From the hotel I stayed in it was less than ten minutes.
The club itself is quite nice and has an award-winning atmosphere – in 2015, it headed the "Club of the Year" award. The capacity is roughly 500. However, The club is a vital part of the concert scene for Aschaffenburg and the region. It hosts up to 300 events per year. It is a lovely place, the staff was also very friendly.
Eric Paslay & Lainey Wilson – About the Artists
Eric Paslay was born in 1983 in Texas.He started playing the guitar quite late, at the age of 15. 13 years later, he signed his first record deals and was already quite successful placing two singles to the Top 40 of the US Country Charts. Very early, Eric Paslay was also known for his songwriting. His first big success, Friday Night, which was originally recorded by Lady Antebellum, who also had published this song on their Own The Night album in 2011. Paslay's version in 2013, which is melodically equivalent, was much more successful, especially in the US Country radio stations. The song made it to #2 in US airplay and even placed #47 in the (general) Billboard Charts. I selected his version as one of my favorite songs of the CMA Fest 2019 and put it in the initial list of songs of the Flyctory.com Country Music Playlists. The same self-named album also features another big song of Eric Paslay, Song About A Girl.
Lainey Wilson is a quite new name to the country music business. However, she already earned quite a lot of reputation, especially when the CMT nominated her to the "Next Women of Country" class in 2018. Her self-titled 2018 already covered some well-respected songs like Working Overtime. The biggest success on social media, however, had Wilson so far, when she recorded a video to The Git Up togeher with Blanco Brown. The video was streamed already more then 11 million times on YouTube solely.
Eric Paslay & Lainey Wilson- The Show
The show was scheduled to start at 19:00 already (doors: 18:00 hrs). Lainey Wilson stepped on stage, right in time. Her first song was High on Something, followed by Rolling Stone. She played a nice mixture of powerful tracks and thoughtful ballads. I especially liked her song Two Story House about the difference between her and her sister. Before that, she played the 2018 song Middle Finger. While the crowd already loved her performance so far, she nailed it finishing her acoustic set with the Queen cover Fat Bottomed Girls. Wilson was slightly over 30 minutes on stage.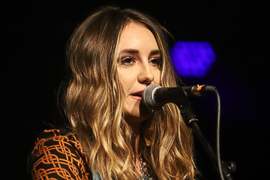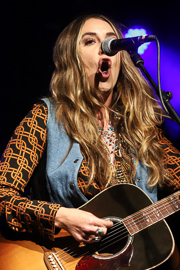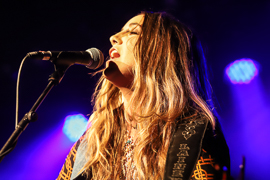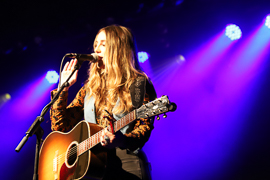 Eric Paslay started his set after a some twenty minute intermission. His opener was High Class. The first major song was already the second one, Song about a Girl. Paslay made the crowd love him very earl in the show. He played with a two guitar and drum band set. Angel Eyes, the fourth song, was one of several tracks, which Paslay originally wrote, but did not originally record on an album. One highlight of the show definitely was Heartbreak Higher, a duet he performed with Lainey Wilson.  The tenth song, Even If It Breaks Your Heart was another one Paslay wrote, but originally did not perform. Towards the end of the show, he also gave away a t-shirt before some very big hits finished his set. For example he played Barefoot Blue Jean Night and She don't love you. The very final song of the setlist was, not too surprisingly, Friday Night. However, if you left after the song, you missed an amazing performance of Tom Petty's Free Fallin', which Paslay and the band played fully acoustic and unplugged towards the end.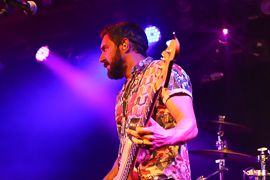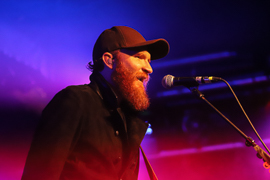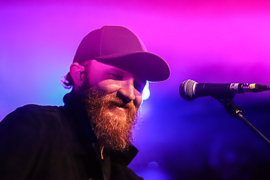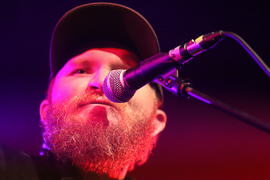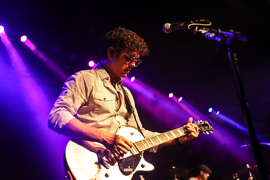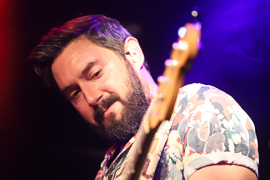 Eric Paslay & Lainey Wilson – My View
Wow, that was definitely an amazing evening. Lainey Wilson proofed that she is an artist on the rise while Paslay demonstrated what a great performer, but also songwriter he is. His set was absolutely catching and amazing and the (too) small crowd really cheered massively, especially during the second half of his show. They had no chance to do differently – as they just had an amazing evening! I absolutely loved every moment of both sets, a Top Pick! evening.
Eric Paslay & Lainey Wilson – The Gallery
There are 357 pictures of the evening:
Postings about Concerts
All postings about concerts I visited:
Postings about Germany
Here are all Flyctory.com postings related to Germany: