Alice Cooper is truly a rock music legend. On 26th February 2021, he released his 21st album Detroit Stories. I have to already tell you that this one is really special and great – so enjoy my review.
Alice Cooper – About The Artist
Vincent Damon Furnier, which is the civil name of Alice Cooper, was born on 4th Feburary 1948 in Detroit. His artist name is based on his first band, which he formed in Phoenix in 1964. The band released their debut album in 1969 and recorded until 1973. In 1975, Furnier released his first record as a solo artist under the name Alice Cooper, Welcome To My Nightmare. Driven by the popularity of the former band, which for example wrote the classic School's Out, he could barely connect to the success of the band career. The first really globally well-selling record was the 1989 Trash with the key track Poison. As a solo artist, the Detroit Stories are Alice Cooper's 21st studio album. His only number one albums so far, though, are coming from the band years with School's Out and Billion Dollar Babies being US platinum albums each.
Alice Cooper – Detroit Stories – Track by Track
The Detroit Stories include 15 tracks. The album lasts 50 minutes.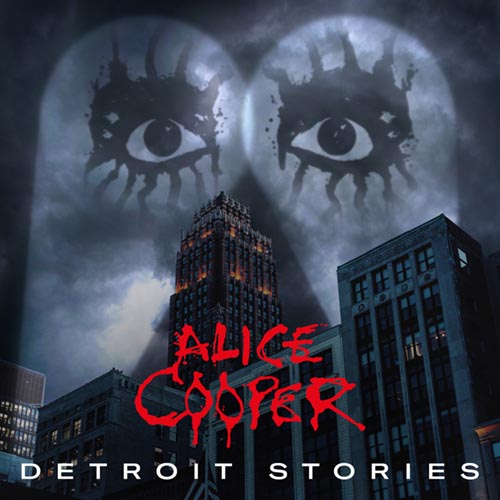 1. Rock 'n' Roll
Despite all the amputations
You could just dance to that rock 'n' roll station
And it was alright (it's alright)
It was alright (it's alright)
Yeah, it was alright (it's alright)
Alright
To use Latin: Nomen est omen. The song is called Rock'n'Roll – and indeed it rocks. I even feel a touch of Elvis spirit in this one – but maybe I am just too nostalgic.
2. Go Man Go (album version)
One thing which is quite uncharacteristic about the Detroit Stories: five of the songs on the album are shorter than three minutes. Go Man Go is the first one. The background choir continuously replying Go Man Go to Alice Cooper increases the anticipation and daydreams about the next Alice Cooper tour. Cool one.
3. Our Love Will Change The World
Is that Alice Cooper? Our Love Will Change The World feels like Robbie Williams singing old Beatles classics – in a quite soupy way. I did not expect that – but it is cool. You just need to suppress the conscience that you are currently listening to the Godfather of shock rock.
4. Social Debris
Alice Cooper fans, who follow the Detroit artist since decade, will be somehow relieved when they listen to the Social Debris. Poiwerful riffs and a voice which is much closer to School's Out than to Robbie Williams.
I just can't cope with all this disease
Look at me, look at me
Social debris
Look at me, look at me
Social debris
Look at me, look at me
I'm social debris
5. $1000 High Heel Shoes
With $1000 High Heel Shoes, you at latest know: lean back, listen to Alice Cooper and enjoy. This album is special. Any song can be different. And you should not expect something special when the next song is starting – it can be any kind of tune. This song has a nice swing touch with brass instruments – and Motown-alike background singers. I love it.
6. Hail Mary
Southern Rock with a blues touch – in brief, Hail Mary reminds me of ZZ-Top. Especially, the guitar solos with the rhythmic background could be part of a re-recording of the Sharp Dressed Man. Cool!
7. Detroit City 2021 (album version)
After having had six Detroit Stories already, is this the Detroit of the present? The sound is dark, but overall, it is just a lovely power rock love letter to Alice Cooper's home town – will the Red Wings use this one for their future warm-ups?
Play it loud and fast
Make that guitar blast
Play it like today will be your last
Bleak town, sleak town, freak town
Detroit city
Downtown, Motown, my town
Detroit city
8. Drunk And In Love
Okay, I said that Hail Mary just has a touch of blues. Of course, Alice Cooper can do "proper blues". Drunk And In Love is like bright sunshine over any B.B. King's Blues Club in the State… In parallel. Cool… as ice!
9. Independence Dave
Independence Dave feels so easy – but the Rock'n'Roll track is so catching. No matter what you do, Alice Cooper makes you listen to these tunes. Magic!
10. I Hate You
I Hate You comes with some more aggressive rock tunes. So many reasons why you can say I Hate You – and it is even spelled in the lyrics, so that everybody finally understands it. A nice 1970's style track.
11. Wonderful World
It could be a wonderful world
If all of you could only see
It would be a wonderful world
If everyone was just like me
A nice mid-tempo song. Not necessary to mention that this is a very new sound addition to the Detroit Stories.
12. Sister Anne (album version)
Rock'n'roll is definitely a very present part of the Detroit Stories. This song is a powerful rocker, which will also please the Alice Cooper traditionalists – even though it is an MC5 cover.
13. Hanging On By A Thread (Don't Give Up)
We're hanging on by a thread
We're all staring at the razor's edge
But we're not step off the ledge
No!
Alice Cooper is not really rapping in this song, but the way he is talking in the verses of this song almost comes with a touch of it. One of my favorite songs of the (very good) album.
14. Shut Up And Rock
Shut Up And Rock is a just a 2:09 minute call to praise the genre. Just shut and rock – like this album does.
15. East Side Story (album version)
The album closes with a classic – a Bob Seger original. A huge touch of 1970's to close this amazing storybook.
Alice Cooper – Detroit Stories – Spotify
Here is the album on Spotify:
Alice Cooper – Detroit Stories – My View
First I was surprised, then I even felt shocked – but overall, I loved it. Detroit Stories is a true masterpiece. The album is so fresh, so young, so versatile – it just does not feel like an established rock legend like Alice Cooper. He is the mastermind behind the recording – and he is already a hot candidate for some album of the year 2021 listings already.
Postings about US Rock Music
Here are all my Music & Media postings about rock music and the USA:
Flyctory.com in Toronto
Here are all postings related to Toronto: