Some seven years ago, Lukas Graham released the song 7 Years. The song boosted their career and has 1.4 billion streams on YouTube and even slightly more on Spotify. On 20th January, he is releasing a new album. I had a listen to 4 (The Pink Album).
Lukas Graham – About The Artist
Even though Lukas Graham sounds quite like a British solo artist, both assumptions are wrong: Lukas Graham is a three person soul-pop band coming from Copenhagen in Denmark. They are active since 2011. The three active members are all founding members, who partially take other roles nowadays. Lukas Forchhammer is the lead singer and is also doing guitar, bass and percussion. Mark Lovestick Falgren is the drummer and percussionist, while Magnus Larsson is majorly doing the bass. Lukas Graham is typically supported by The Rusty Trombones, three brass players, Lukas Vissing, Nikolai Bogelund and Thomas Edinger.
Lukas Graham released three albums so far. Any of them made it to the top of the Danish charts, but the second one, Lukas Graham (Blue Album), is the first one which also had an international breakthrough. One of the key reasons why it is a twelve time platinum sale in their home country is – of course – 7 Years released in late 2015. It topped multiple charts worldwide and also was a #2 chart entry in the United States. However, the first single of the album, Mama Said, also came with some decent chart rankings. The last album release by Lukas Graham has been 3 (The Purple Album), which the Danes published in 2018.
Lukas Graham – 4 (The Pink Album) – Track by Track
The eleven song album lasts 34 minutes.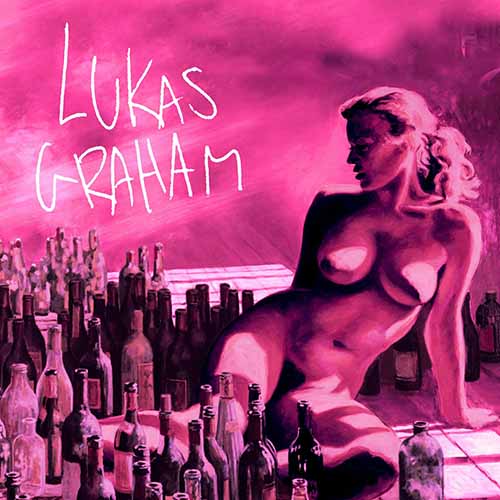 1. Stay Above
We all need a bit of love – the happy sound of the Danish band which is crossing over pop and soul sounds is catching you in the very first song already. Summer feeling in January 2023 – bad luck that this kind of musical sunshine just lasts some 2:29 minutes.
2. Wish You Were Here (feat. Khalid)
The album also features some remarkable collaborations, which help to create a very entertaining and versatile sound. .The second track with US R&B singer Khalid is thereby one of the nicest listens. The song feels very modern – even though that means that Wish You Were Here is diverting a bit from the Lukas Graham signature sound.
3. This Is Me Letting You Go
Does the trio already save the spot in our "Middle of 2023" playlists at an early stage? The soul-pop-reggae style just feels perfect for the festival and party summer. If you happen to run into these guys during that time: I promise, you will love it!
4. Share That Love (feat. G-Eazy)
The fourth song has been recorded together with US-American rapper G-Eazy. .The single release comes with a very catching sound and vibe.- which rather feels interrupted than upgraded by the rap part to me.
5. Home Movies (feat. Mickey Guyton – album version)
Lukas Graham released this collaboration with Mickey Guyton just a week before the album. I absolutely liked it and featured the song in my 13th January 2023 Songs of the Week. Beautiful one.
6. All Of It All
This three minute song is the last one which Lukas Graham fans know already. All Of It All defines a very different style of Lukas Graham songs. Very strong groove, the bridge is also adding a nice touch.
7. By The Way
By the way, I am not the only, who has been afraid of feeling something – seventh song has a very melodic pop style. The song creates rather nostalgic thoughts – and stays in my mind.
8. Lie
Not (yet) a ballad, but Lie is a beautiful, emotional listen. The song gives a great focus on Lukas Forchhammer's voice. Unfortunately, I struggle with the chorus.
9. Never Change
This part of the album is definitely the one for emotions and romance. Never Change is a beautiful, gentle arrangement for anything related to love you want feel like doing while listening to a Danish pop band. However, you need to rush – the song is 3:21 minutes.
10. Say Forever
Say Forever is the only track on the album which exceeds a duration of four minutes. The songs begins with the potential for a nice pop-rocker – but it rather stays ion the gentle side of music – and that works out well, too. Nice listen.
11. One By One
One By One is the intimate finale – it is also the emotional finale of the album to be. A bit of kitschy, but also beautiful – and definitely a great opportunity to add a three minute overtime to the things which did not fit into the duration of Never Change. How could you say
Every day with has been the best day of my life
I'm sorry if I'm being sentimental… tonight.
in a more beautiful manner? The last part of the song even has a bit of a world music touch.
Lukas Graham – 4 (The Pink Album) – Spotify
Here is the album on Spotify:
Lukas Graham – 4 (The Pink Album) – My View
Listening to 4 (The Pink Album) simply leaves me with a smile. The Danish trio created a beautiful collection of songs, which range from lovely ballads to modern pop songs, from nostalgic feels to songs which make you dance. I feel they did absolutely great – hope they don't let us wait another four and a half years next time before they release a new album. Top Pick!, of course.
Top Pick! 2023
Travel, Music, whatever… Here are my Top Pick!-rated reviews posted in 2023:
Postings about Denmark
Here are all my postings related to Denmark: