New songs by Thomas Rhett – some two years after his Center Point Road, the Georgia artist is back with a new album. In fact it is the first part of a double album. From 30th April 2021 onwards, we have the opportunity to listen to Country Again: Side A – and if we like it, we know that there will be a Side B soon.
Thomas Rhett – About The Artist
Obviously, not too much changed in the life of Thomas Rhett Akins Jr. since I reviewed his album Center Point Road two years ago. The album was nominated as the Album of the Year in the 2019 CMA Awards and even has been a 2020 Grammy nominee. Not too surprisingly, Look What God Gave Her was the song which grew the most attention. The first song of his 2021 album, What's Your Country Song, was a chart lead in the US and Canadian country charts. With that song, Rhett now has the impressive figure of 28 platinum and three golden records for single releases.
Thomas Rhett – Country Again: Side A – Track by Track
The eleven track album lasts 33 minutes.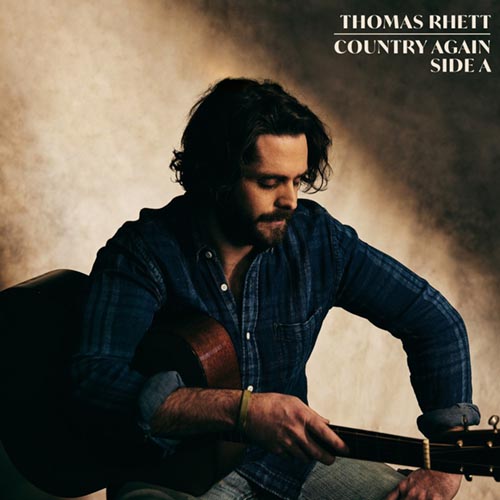 1. Want It Again
The album starts with three songs, which Thomas Rhett has released before the album already – and having some 45 million Spotify streams in this part of Coutnry Again: Side A is quite a statement, ain't it? Want It Again is not, not powerful. The album starts with a touch of intimacy – Thomas Rhett does not need to make the guitars scream to get the listener's attention. He is just doing it with a good song.
2. Growing Up
Guess you get a little older, get a little wiser
A little more turn that cheek
Little less what I want, and more what I need these days, I
Still get a little crazy
In a lot of ways, I'm still the kid I was
Just a little less Jack in my cup
Oh, I guess I'm growing up
Out of the three songs of the "album starter package" (the 45 million stream one…), this reflection about life is my favorite song. Again, Rhett is doing it with rather fine elements. Lovely listen.
3. What's Your Country Song
If you are reading this posting, you likely know this country music anthem already anyway. A beautiful way to include country music stereotypes in a song – without feeling too stereotypical.
4. Where We Grew Up
On country music
Baseball diamonds
Finding us a fishing hole
Them Sunday morning sermons, tailgate, learnin', sippin' something cold
They born and raised us on faith, hope and love
And made dang sure, we were dang sure proud of
Where we grew up, yeah
Where we grew up
The songs are becoming remarkably more powerful – but still Thomas Rhett is doing this lovely combination of not-too-much instrumentation and a focus of well-written songs. This one is a typical country life praising track – but if Rhett is doing it, it is still sounding better. Not my favorite, but a good song.
5. Heaven Right Now
They still ain't paved that road
On lower Lickton Pike
I still look for your truck sometimes
At Sonic on Friday night
It still punch the dashboard hurts
Every time I hear Eric Church
Sing Sinners Like Me
I crank it up real loud
I wonder what you're doing in heaven right now
Thomas Rhett is getting more quiet now – and you just have to listen to this song. It is awesome. As it just does not need much more than these lyrics and an acoustic guitar, it is maybe the best songwriting of the whole album to me.
6. To The Guys That Date My Girls
Ain't the title already give you a smile? A beautiful song, which is giving some sort of "dating instruction" to future admirers and lovers of his daughters. There is even some sort of warning what is happening if you do not comply to the rules:
Well you know you can't fool me, I know what's on your mind
Wasn't long ago I was your age and the same thing was on mine
Remember when you pull her close to leave some room for Jesus
'Cause if you ever cross that line, I swear, boy, you're gonna meet him
His daughters are still rather young – so there is plenty of time for future lovers to adopt to these demands.
7. More Time Fishin'
More Time Fishin' is another song, which is very striking on the album. It has a powerful groove, especially at the beginning, there is an almost spoken word part as well. Nice three minutes, which lead to a nice variety to the songs.
8. Country Again
The fourth single release is the title track of the album. Another song about country life.
Yeah, I love me some California, but it sure ain't Tennessee
And my roots down there in Georgia, yeah they start missing me
And I wouldn't trade the things I've done or the places that I've been
Man it feels good to be country again
Especially due to its final words, it almost feels like a country music prayer.
Yeah, I saw the light, I found my way home
I'll thank you, Lord, Amen
Man it feels good to be country again
9. Put It On Ice (feat. HARDY)
The ninth song is joined by HARDY. He released the amazing album A ROCK in September – and if you have listened to that one, you will be guessing that this song will be energetic. Maybe the most mainstream and modern song (I would call Thomas Rhett songs typically rather "timeless" 😉 ) with its hip hop-alike elements. Just as if Rhett would be stating "Hey, I can do these kind of songs as well… They are good, too… But, you know, I don't have to do them…".
10. Blame It On A Backroad
The second-last song on this album is one of its shortest – but it has a lot of power and just does not need these three minutes or more to stay in mind. Cool up-tempo track.
11. Ya Heard
It's somehow a good feeling that the Country Again trip ain't over and that there will be a Side B some time soon – ain't it? The song just comes with a happy sound anyway – so it is hard to be sad at this point.
Thomas Rhett – Country Again: Side A – Spotify
Here is the Spotify widget for the album:
Thomas Rhett – Country Again: Side A – My View
I feel to be missing travelling a lot – but while listening to Country Again: Side A, I just thought about a great rental car booking: first, you have no idea what you are getting, but they give you a feeling. The car feels cozy and the more miles you travel, the more you enjoy the trip. The album is just cozy, comfy and great. Definitely a candidate for a couple of 2021 album awards… If it is not beaten by its very own Side B some time this year.
2021 Top Pick! Media Reviews
Here are all my 2021 released Media Reviews, which lead to a Top Pick! rating:
Flyctory.com in Washington D.C.
Here are all postings about Washington D.C. and surroundings: