I visited Europe's biggest country music festival, Country 2 Country (C2C), for the first time in 2018 in London. I immediately thereafter went for 2019. Nevertheless, I was even more amazed that for the first time ever, the organizers scheduled a spin-off in Berlin a week before the main C2C is coming to Dublin, Glasgow and the British capital. In contrast to the "real" C2C, the German debut was just a two-day event held at a significantly smaller venue. Here is a review of Country 2 Country in Berlin 2019, which took place on 2nd and 3rd March 2019 in Verti Music Hall. The London C2C 2019 was held from 8th to 10th March 2019.
This posting features a designated major size picture gallery.
Country 2 Country Berlin 2019 – Venue and Line-Up
The main arena for the C2C Berlin 2019 was the Verti Music Hall, which is right at Mercedes Platz (Mercedes Plaza), which you may know from Berlin's largest indoor place, Mercedes-Benz Arena.
Verti Music Hall is the latest Berlin addition for concerts and entertainment. It has just opened in fall 2018, hosting up to 4,300 spectators. The size of the area is quite impressive – with its width of 55 meters and a height of 26 meters, it is able to host major indoor production. The arena is quite wide, but not too long (some 80 meters), which sounds like very good scale for concerts. The arena is in fact on the first floor of the building, there are restaurants and shops underneath. Verti Music Hall's reception hall also featured the Spotlight Stage, where some acts played in the intermission.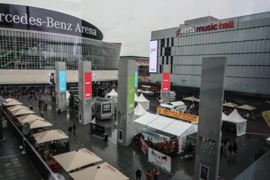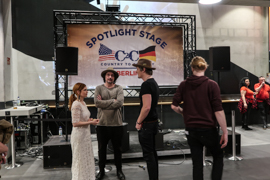 There is hardly any seating capacity at Verti Music Hall. For example, C2C Berlin 2020 is already in pre-sale – and the seated area (apart from a few 600 Euro VIP tickets) is already sold out. Ticket pricing compared to the other C2C events is a bargain, the two day ticket (standing) was some 120 EUR, the 2020 three-day ticket price will be about 200 EUR.
Venues for Side Events
The festival also used the Mercedes Benz Plaza for a country market, which was however quite limited. There were just a few vendors, selling clothing and merchandise. In contrast to London, this area does not host any stages. The more intimate shows are held in two rooms of a cinema right across Mercedes-Benz Plaza. For Saturday evening, the C2C organizers also offered an after-show party in a rooftop bar and a fan bowling event in the major bowling arena also located at Mercedes Benz Plaza. All side events require a separate ticket.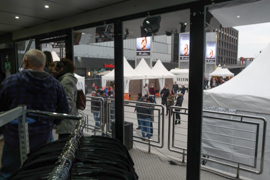 Country 2 Country Berlin 2019 – Main Stage
Regarding the admission price, Main Stage at Verti Music Hall featured some top acts of country music. The headliner of the festival was definitely Keith Urban, who closed C2C in Berlin on Sunday evening. The pictures have been taken from the very back of the arena with a compact camera, so please excuse the below-average quality.
Day 1 – Saturday, 2nd March 2019
The first part of the Saturday evening show was called Introducing Nashville. In fact, this is a songwriters format, as it is very popular in country music, similar to the Bluebird Cafe sessions. Berlin hosted Lindsay Ell (here is a report of her concert in Cologne some days later), Lauren Jenkins (review of her debut album, "No Saint")and Logan Mize. This format was a lovely beginning of the big stage part of the festival. Lindsay impressed with her virtuous guitar play.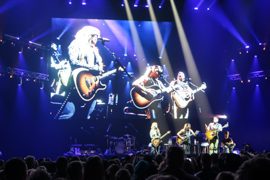 Hunter Hayes, who became the youngest ever male act to top the Billboard Hot Country charts in 2012 with his single "Wanted", was the second act to play in Verti Music Hall. Hayes is such a talented act and I really like his music, but even though he played his heart out, he could not fully convince on stage in my point of view.
Brett Eldredge, who happened to sit next to me at breakfast in the hotel in the morning, was the main act of the day. His show was a very good one, making the people dance. Both, Eldredge and Hayes had a full 90 minute set.
Day 2 – Sunday, 3rd March 2019
Sunday started a bit earlier, at 17:00 already. The first act of the day was Drake White & The Big Fire, who I did not know before the festival. They played a great show and made the arena dance and party from the very beginning. Some lyrics were even changed to Berlin-related topics.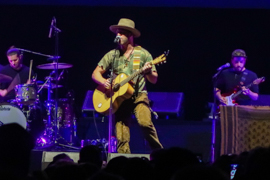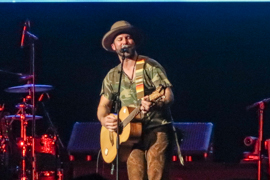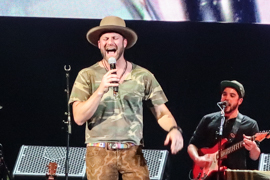 Cam, the second act of the day, already has quite a fan-base in the UK. The pleasant California agent singer gave some lovely songs with her impressive voice. However, majorly apart from her last songs, there was not too uptempo and party-alike music. Cam's way of playing country music may feel very special – either you like it or not. I was not that much caught by her music – but I guess, the crowds will love her in London the following week.
The headliner of Sunday and the whole festival was Keith Urban. He blew away Berlin from the very beginning, playing a great set list of songs and making Berlin dance again. For some songs close to the end of his set, he stepped on a stage in the very back of the arena – which ended with that he gave away his guitar to one of the spectators. No matter if you like country music or not – if Keith Urban is in town, you have to make it – an amazing show and a friendly guy so close to the audience. You could see that he enjoyed every second of his some 100 minute set.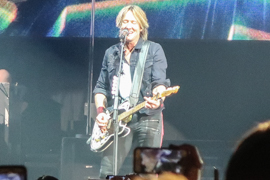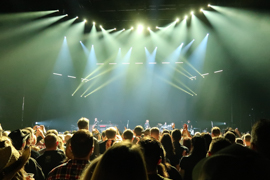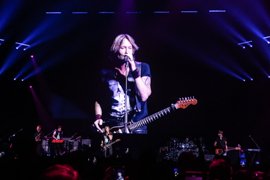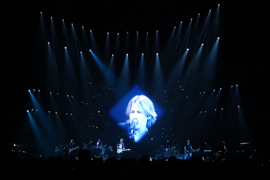 Country 2 Country Berlin 2019 – Side Events
For Saturday, we decided for the Sound of Nashville stage, which featured intimate shows of three artists. All played some 35 to 40 minutes. UK-based Twinnie, which I already knew from my very early Rock of Ages shows, performed first and showed a great set. One highlight was a cover of the current Lady Gaga – Bradley Cooper chart-buster Shallow, which she performed with Kenny Foster (who only joined her for that song). Unfortunately, there is no video version of it, which I could include in my Shallow-ism posting. More Twinnie pictures can be found in the C2C London posting and in my Liverpool CMT Next Women of Country report.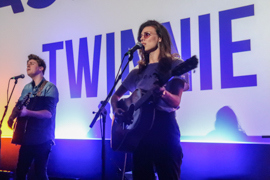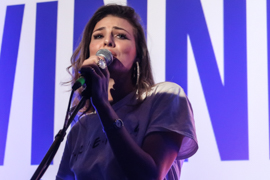 The second band was Mrs. Greenbird from my very beloved hometown Cologne. I saw them 2018 already as a support act at a Cologne concert. They play very nice, rather traditional country music and are likely one of the most promising German country acts. Unfortunately, especially Sarah positioned very unfortunate in the limited light, so that I just have a few pictures of the band. In April, I reviewed their third album, Dark Waters.
Nashville's Sarah Darling concluded this very nice show. She already has quite a fanbase and played a catching and powerful set. Overall, like in London, these intimate shows are what Country 2 Country makes really special to me.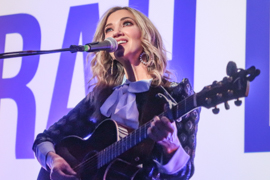 I especially loved Twinnie and Sarah Darling. Both are included in my favorite C2C 2019 songs posting.
Sunday: Movie Time
Instead of going to one of the concert shows, my wife and I decided to opt for an alternative kind of country entertainment. The cinema featured the Nashville documentary It all begins with a song.
Before the movie, they showed the Lauren Jenkins' short movie "Running out of Road", which was the perfect warm-up for that amazing Nashville documentation. For example, you are told the story behind "Don't stop believin'", the Journey classic, which later became one of the key songs of my favorite musical Rock of Ages. You also hear how Pink's Try sounded like when it was originally written. The most impressive story was about "I drive your truck", which was finally performed by Lee Brice.
Songwriter Connie Harrington was on route to her colleague Jessi Alexander, when she listened to an interview in the radio. A father, whose son was killed in action in Afghanistan, still drives his old truck because he feels close to him. As part of the documentation, the songwriters meet that father, Paul Monti.
It might feel like a bit of waste of time to go for a movie instead of another intimate song experience – but I can tell you, this choice was worth every second – especially as the documentation is not available on DVD in Germany. Here is the trailer to Lauren Jenkins movie. The full movie has been released after the C2C in Berlin. I dedicated a posting to it.
Country 2 Country Berlin 2019 – Organization
On Saturday, the festival had a chance to become a big mess. The organization was just too poor. For example, the merchandise store had credit card terminals – but neither WiFi nor mobile network reception. Hard to believe that this is the first even at Mercedes Plaza struggling with that – honestly, the mobile reception is really terrible, especially at the venue.
When we left the cinema after the intimate concert session, we had to queue some forty minutes to get into the arena, because security was not prepared properly. There were some additional problems which really left an impact.
On Sunday, the hosts have eliminated major parts of these problems. However, the arena was even more packed (sold out with over 4,000 people, while there were just some 3,500 on Saturday). This lead to problems, especially in the ventilation. Verti Musical Hall did not manage to make your stay as enjoyable as possible.
Country 2 Country Berlin 2019 – My View
First of all, thank you to all artists and the organizers taking the risk to set up the first-ever Country 2 Country Festival in Germany. Meeting so many similar people and celebrating the European country music scene (there were quite many nations around) formed a very memorable event. You could be very close to the country stars, not just in the hotel, but also at Mercedes Plaza and the area around. The festival boosted German and European country music – it was a two-day proof to Nashville that there is a growing potential for the genre not only in the UK.
I did not like the venue, though. The key problem is the extreme limitation of seats. Seated tickets are already sold out (apart from VIP tickets) by pre-sale. 2020 will be a three day event and I rather feel to go for the comfort and (still) the major selection in London. If you are able to stand longer than me on the hard concrete floor. Apart from that, I felt that especially during the Keith Urban Sunday evening performance, the interior ares were too packed. I personally will thus rather aim for London 2020 again.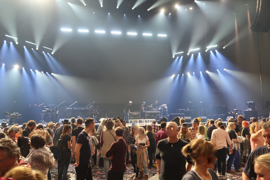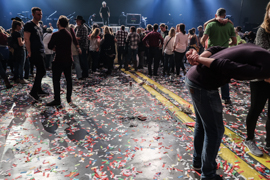 C2C Berlin – Gallery
I decided to publish a 157 major size gallery of the event:
Flyctory.com about Country Music
Here are all Country Music-related postings on Flyctory.com: