There are very different things which fascinate me about an artist. I definitely enjoyed listening to the very first tunes of Charli Adams, when I listened to her debut album Bullseye through a promotion service. Then I went to her website and just had to smile. This young lady is somehow different and I loved that. The album, which is typically categorized as alternative, has been released on 16th July 2021.
Charli Adams – About The Artist
Unfortunately, my bio information about Charli Adams. She is originally from Alabama, her promo package is describing her family background as "toxic" and nowadays, she is living in Nashville. In January 2020, she released her debut EP Good At Being Young. There is no overlap between the six songs of the EP and Bullseye, which is the debut album of Charli Adams.
Charli Adams – Bullseye – Track by Track
The eleven track album lasts 38 minutes.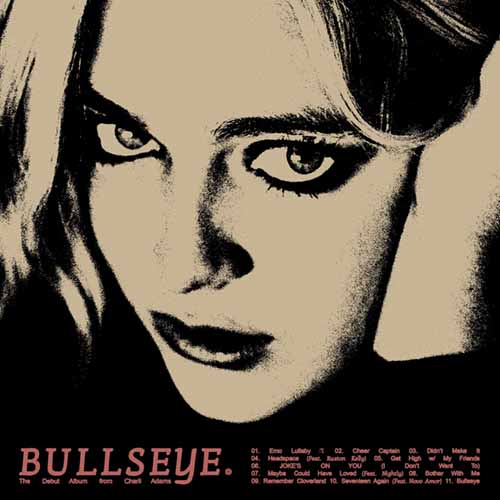 1. Emo Lullaby :'(
Emo Lullaby :'( is not just the title of the opening track, but somehow a good description of the character of this song. Melancholic, quiet, with the ease of a good night song. The whiny character leads to a really impressive vocal performance. Nice song!
2. Cheer Captain
Cheeky and straight in lyrics, but overall a rather brave song: Cheer Captain is a good listen with a melodic chorus. It feels a bit of bored to me – this song could be even better if it came with more powerful guitar chords, I feel.
3. Didn't Make It
The chorus of Didn't Make almost comes with a touch of pop music. Again, the song feels a bit of slow – which is, however, a thing which I could mention to the majority of tracks on Bullseye. The song is overall quite a good listen, but it also is rather simple due to its rather limited range of notes.
4. Headspace (feat. Ruston Kelly)
For this track, Charli Adams is joined by country singer-songwriter Ruston Kelly. The voices sound nice together, I would just wish they would sing in parallel for a longer time of the song (if you read my blog frequently, you know that I criticize it rather often).
5. Get High w/ My Friends
There are so many rather dark and melancholic tunes on the album, you simply welcome some more uplifting tunes like this one. Get High w/ My Friends is a nice synth pop track, which here and there makes me struggle with the mixing of the track, but overall leaving me with a smile.
6. JOKE'S ON YOU (I Don't Want To)
JOKE'S ON YOU (I Don't Want To) is a song against men who treated Charli bad in the past. The great chorus with her great vocal performance turns this song to something special. For me, it is one of the best songs of the album.
7. Maybe Could Have Loved (feat. Nightly)
The seventh track is another single release. For this track, Adams invited another guest from the wide Nashville music scene. The alternative pop band Nightly widen the sound of the song significantly. Finally, Maybe Could Have Loved comes with a nice atmosphere and a good arrangement on the vocal side.
8. Bother With Me
Bother With Me is a very emotional track, which feels like a ballad. However, the drum machine and electronic sound raise their dominance over the duration of the four minute track. Bad luck, I like the acoustic guitar part at the beginning a bunch.
9. Remember Cloverland
Remember Cloverland is one of my favorite tracks of the album. The song just reminds me too strongly of 1980's pop music. A little bit of Kim Wilde in here? Nice sound.
10. Seventeen Again (feat. Novo Amor)
The last song of the album, which has been released before the actual album begins with a ballad-alike touch – and finally ends up with it as well. The song has some really nice backing vocals well. Nonetheless, I would wish for some more influence by Welsh guest musician Novo Amor.
11. Bullseye
The title track of the album closes the set of eleven songs. Some nice empowering music at the end, even coming with some strong guitar riffs in the chorus. Nice listen at the grand finale.
Charli Adams – Bullseye – Spotify
Here is Bullseye on Spotify:
Charli Adams – Bullseye – My View
I feel that Bullseye has been a really interesting listen to me. Charli Adams creates a versatile sound, playing with rock elements as well as synth pop and electronic music. I also like how the guest musicians are adding value to the overall recording. She is definitely setting a good footprint into the list of debut albums of the year 2021 – but I feel she has even a lot more potential.
US Pop Music Reviews
Here are all Flyctory.com media reviews about Pop Music from the USA:
Flyctory.com on Sports Museums
Here are all Sports Museums I visited: