I saw Sarah Zucker for the first time on stage, when she joined her brother Ben in Cologne's largest LANXESSarena in November 2019, supported by Van de Forst. On 24th July 2020, Zucker, who is doing German Schlager like her brother, is releasing her debut album, Wo Mein Herz ist. Here are my thoughts about it.
Sarah Zucker – About The Artist
Like her brother, her Sarah Zucker's civil surname is Fritsch. She was born on 20th August 1990 in Laichingen in Southern Germany, but grew up in Berlin. She has a Bachelor of Arts in education, which also lead her to South-East Asia and Sydney as a volunteer. She is interested in yoga and meditation. She did music already in her early year, but her debut on stage was during her brother Ben's Perfekt Tour, during which I saw her performing in Cologne. Wo mein Herz ist ("Where my heart is") is Zucker's first album. Zeit zu gehen ("Time to Leave")  is her debut album.
Sarah Zucker – Wo Mein Herz Ist – Track by Track
Wo Mein Herz Ist contains ten tracks and lasts 32 minutes.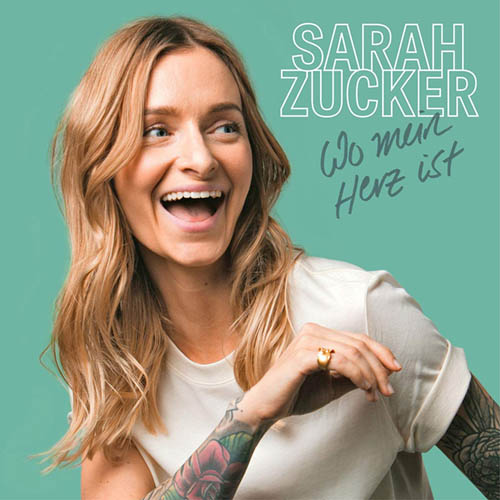 1. Perfekt (feat. Ben Zucker)
This song was part of the 2019 Ben Zucker tour already. On stage is was much more powerful, so that this album version confused me a bit at first sight. Unfortunately, it is too brave in my point of view on second sight. Bad luck, the song ("Perfect") has a lot of potential.
2. Ohne dich
This is one of the most German Schlager alike tracks on the album. Other songs are much more characteristic. Thus, I don't like Ohne Dich ("Without you") not that much – even though it is a well-produced track.
3. Zeit um zu gehen
This one ("Time to leave") was Sarah Zucker's first single.
Es ist Zeit, um zu geh'n, ich würd' gerne noch bleiben
Aber es ist schon spät, es ist schon spät
Zeit, um zu geh'n
("It is time to leave. I would love to stay
But it is already late, it is already late
Time to leave")
The song is very rhythmic, but it is more in the style of current modern German pop bands: very vocal-centric (I love Sarah Zucker's clear voice and singing, by the way) with a limited background arrangement. A cool listen!
4. Ich nehm Dich mit
Ich nehm Dich mit ("I take you with me") just makes me smile during listening. The key reason is that it is quoting Girls just wanna have fun by Cindy Lauper multiple times (and samples the song more or less all the time). The lyrics are maybe on the thin side (typical German schlager, unfortunaltey…), but this makes the song extremely catchy. Great production!
5. Wo mein Herz ist
Ich will dahin wo mein Herz ist
Dahin wo mein Herz ist
Ich schick dir ein Gruß vom Ende der Welt
Jetzt hab ich kapiert was für mich zählt
Hab alles versucht
Ich halt's nicht mehr aus
Ich will dahin wo mein Herz ist
("I want to go where my heart is
there, where my heart is
I sent you a greeting from the end of the world
Now I got what country for me
I tried anything
I cannot stand it
I want to go where my heart is")
The song ends with I want to be back home, as you are there as well – a lovely love song. What I like about Sarah Zucker's style is that it is not that soapy as many Schlager songs. More like German pop. Cool track.
6. Frei
Frei ("Free") is a song about all the stuff you do as teenage friends. There is no taboo in this track – alcohol, drugs, having an illegal night swim in the public pool. Very similar to my comment on the track before, I really like that style – it also gives her music a very authentic and honest touch. Cool.
7. Nie wieder
The seventh track ("Never again") is a breakup uptempo song about the struggle when your ex is surprisingly going back to your life. Though it is not my absolute favorite of the album, I again like the way it is written and produced. The contents of the songs as well as their music is very versatile.
8. 10 von 10
The powerful track is about friendship and enjoying yourself in a group of young people. The song itself combines pop, Schlager and rock elements. Very melodic – love to listen to it.
9. Alles wie neu
Another very Schlager-alike track. Even though I like the rhythm of the song, I don't like the track not that much
10. Ca va ca va (feat. Ben Zucker)
Her brother Ben, who is joining Sarah in this track again, has recorded this song already in 2018, alongside Claudio Capeo. The male duet was a bit more powerful and rocking, this version is more harmonic. Funnily, I feel Sarah is stronger in this song then her raspy voice brother.
Sarah Zucker – Wo Mein Herz Ist – Spotify
Here is Sarah Zucker's album on Spotify:
Sarah Zucker – Wo Mein Herz Ist – My View
Even though Sarah Zucker decided to "inherit" her artist's (sur)name from his famous brother, she is doing her own thing. Even though Ben Zucker is present in two songs of the album, his younger sister has her very own style. While Ben Zucker touches country and other genres out of the Schlager world, Sarah Zucker is more a pop musician than a Schlager girl to me. Hope she can go on emancipating and create her own profile – the album is really good and deserves to be listened not only in the sometimes too old fashioned-reputed Schlager scene.
German Artists
Here are all Flyctory.com postings dealing with German Artists:
Flyctory.com in Berlin
Here are all postings related to the German capital: