Bow Anderson is an interesting Scottish artist. Even though the young lady did her first single releases previous years, her songs have already been streamed more than ten million times. Strong arguments to have a listen to New Wave, her debut EP, which will be released on 22nd January 2021.
Bow Anderson – About The Artist
Bow Anderson is a pop music artist from the Eastern suburb of Edinburgh. I did not find too much substantial bio, unfortunately. She has been a promising trampoline athlete, but had to stop her career due to physical reasons. Starting with the single Sweater, which she released in multiple versions, she released music in 2020. The feedback was massive: her debut so far has 3.6 million streams on Spotify. The following singles, Island and Heavy (which are both part of New Wave) also had a seven-digit amount of streams. Finally, she recorded I Just Wanna with Felix Jaehn at the end of last years.
Bow Anderson – New Wave EP – Track by Track
The six track EP lasts twenty minutes.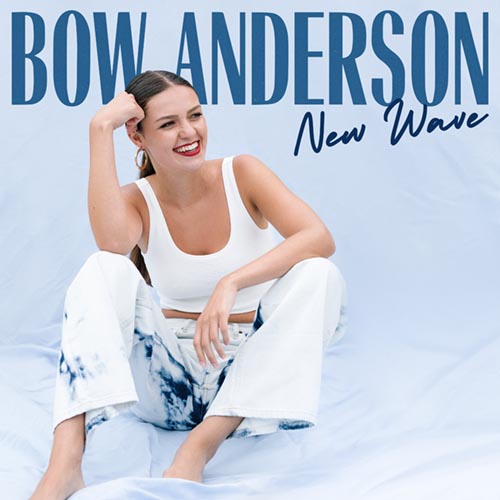 1. New Wave
While the last four songs have been released before the EP, the title track New Wave and the second song Black Heart are new songs. New Wave is indeed a cool song. The track is very rhythmic, but the choir in the background of the chorus gives a very memorable and catching sound. New Wave might rather feel like a beach party than a snowy one – but good songs can be consumed all year 'round, can't they?
2. Black Heart
Starting with piano tunes, the swinging slow track Black Heart feels a bit old-fashioned – but in a lovely way. The song topics a breakup and trying to get back to normal life. Nice.
3. Island
The video features summer vibes – and so does Island. It is a lovely feelgood track – it might not feel to be released at the right point in time when you listen to it for the first time in January 2021 – but it gives a good vibe – and we all need that!
4. Sweater
The fourth song of the EP is her breakthrough song.
I guess we're dancin', oh, dancin' to different songs tonight
I'm with my friends, they say don't think of you, but that's all I do
I guess the DJ, the DJ knows when he turns up the light
That it's not the kind of weather to be dancin' in your sweater
The song has a very different character compared to Island: much much R'n'B in it, even a  touch of soul. Love to listen to it.
5. Heavy
The range of six songs presented by Bow Anderson on her debut EP is indeed really wide. Heavy again uses vocal support in the chorus – but with his hip hop-alike verses, the song feels very modern. Nice groove.
6. Everybody Wants To Rule The World
Last, but not least: The EP closes with a cover. Bow Anderson gives the Tears For Fears classic a very new touch, performing the song in a very slow way, only supported by the piano. Special experience, indeed.
Bow Anderson – New Wave EP – Spotify
Here is New Wave on Spotify:
Bow Anderson – New Wave EP – My View
Superb EP by Bow Anderson – I have to admit that I did not know her songs before listening to the EP, but I really enjoyed them. Six very different songs, including a signature Tears for Fears cover – New Wave is a clear statement. Scotland is bringing a new pop artist. Look forward to hear more of her. Top Pick!
Debut EPs
The first ever EP – here are my debut EP reviews:
Flyctory.com in Glasgow
Music and more frequently brings me to Glasgow – here are all my postings: