German schlager is one of the most popular genres in my home country. On 12th March 2021, the classics of that style have been honored by a special way. The pop duo Stereoact picked 13 songs of the genre and recorded dance pop versions of it. The title is simply #Schlager. Here is my review.
Stereoact – About The Artists
Stereoact are a German duo of pop music producers. The two members are Rico Einenkel (called Ric, born 15th May 1978) and Sebastian Seidel (Rixx, 30th December 1983). They do music together since 2011, when they still called themsevels Starpoppers and did dubstep and electro house. Called Ric & Rixx, they ran into the song Die immer lacht by Kerstin Ott, who recorded that one ten years before. The duo created a remix, which placed second in the German and Austrian single charts. The original song became huge thereafter in Germany. Stereoact recorded their debut album Tanzansage, which has been released in 2016 and went up to the 15th place in the charts. One year later, another album had slightly worse success.
Stereoact – #Schlager – Track by Track
The thirteen track album lasts 40 minutes.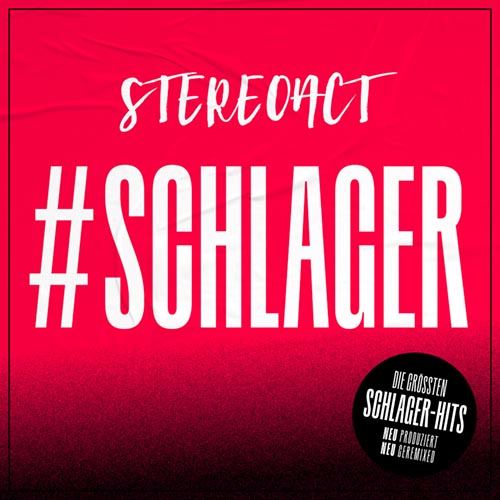 1. Tausendmal berührt 1000 Mal ist nichts passiert
There are two types of songs on this album: the Stereoact Remixes use original recordings. If the songs are not labeled as such, the song has been re-recorded and sung by another than the original artist. I can already say that I generally favored the remixes on this album. This version of Klaus Lage's song (which is interestingly originally called 1000 und 1 Nacht) is much deeper, the singer feels to thin. When the re-recording is then even unnecessarily changing the lyrics (from du schliefst ein vor'm Fernsehen to du schliefst ein vor'm Fernseher), it just feels too cheap. Finally, I have to say: Klaus Lage's song is definitely not a schlager one, but German rock music.
2. Ich liebe das Leben (Stereoact #Remix)
Ich liebe das Leben ("I love the life") has been a massive hit for Vicky Leandros in 1975. This is a remix version, so that the song uses original vocal material. You will also see e.g. on Spotify that the original artist is named as a featured artist. I feel it leads to a much better sound. Unfortunately, I feel there is just too much beat, too many dance elements. Latest when there are these squeaky sounds, I struggle to believe that we waited 46 years for this (at least: partially) screwed up remix.
3. Ich hab geträumt von Dir
Matthias Reim is one of my favorite schlager-rock artists. This song has been re-recorded. I feel that this worked out much better than in the opening track, but overall the spirit of the original song is just missing if they record it like this. At least the new vocalist's voice fits quite nice to the very present beat machine.
4. Jenseits von Eden (Stereoact #Remix)
Nino de Angelo's Jenseits von Eden is an epic one – at least before Stereoact got to change it. The vocals have been significantly pitched to a faster speed, so that the sound of the song loses the majestic and present character and becomes a thin attachment to the drums, which are more present than the music anyway. At the end of the song, there is an unnecessary fade out, which almost takes a minute.
5. Abenteuerland
The re-recording of Abenteuerland ("Adventure Country") by PUR does not only come with a change from Hartmut Engler to a female voice, but also to quite significant changes in the melody. Stereoact stated in a TV interview that PUR liked that version. If #Schlager should be the heating up soundtrack for your next party, your guests will not even be able to sing along to all parts. These songs are German classics which really anybody can sing along. Not sure if the album concept is really working out.
6. Schöner fremder Mann (Stereoact #Remix)
Connie Francis sang this track in 1961. Fifty years later turned the song into an up-tempo dance remix. Even though I feel this song is one of the better ones of the album. Nonetheless, I have to add that all the looping of the song is not really in my favor.
7. Ti Amo (Stereoact #Remix)
With Ti Amo by Howard Carpendale, the producer duo touches a song, which is played on almost any German schlager party. the song is an Umberto Tozzi original as of 1977, before the South Afirican covered the song and sang it in German the same year. The remix is significantly shorter than the original, but overall has a comparably close sound to the hit.
8. Eine neue Liebe ist wie ein neues Leben
Jürgen Marcus, who died 2018 in Munich, recorded this song in 1975. The vocals of this song have been slowed down, the song feels almost melancholic. The more rhythm is added to the song, the more it feels happy and quicker. Again, I struggle with the selection of the new singer. And with the whole interpretation.
9. Tanze Samba mit mir
There are likely countless version of this song ("Dance the samba with me"). The song starts promising, I am even quite surprised how much I enjoy the transition from the male original voice (Tony Holiday) to the female voice used in here. Unfortunately, in the chorus, the lady's voice is just to thin.
10. Ein bisschen Frieden (Stereoact #Remix)
Ein bisschen Frieden is a legend in Germany. The first song which brought the Eurovision Song Contest victory to our country. The reason why we love Nicole. And the reason why we cannot hate Ralph Siegel. To me, this is the best or second best track on the whole album. It still majorly gives a nice reference to the original, but also adds some dance rhythms. For most of the song, this works quite decent and does not distract from the song, it just fails more and more towards the end.
11. Heut' Abend hab' ich Kopfweh (Stereoact #Remix)
Heut' Abend hab' ich Kopfweh ("Tonight I'm having a headache") is a nice ironic song by Ireen Sheer. In contrast to really all songs before, I would not name it a legendary schlager song, but it definitely had success. The remix is definitely one of my favorites. The reasons are similar to my comment about Nicole's song: I still want to feel the original track in these remixes. Otherwise, it is not a homage, but a self-display by Stereoact.
12. Jugendliebe (Stereoact #Remix)
I have to admit that I did not even know the original by Ute Freudenberg (1999). There are some nice parts of this remix, but towards the end, Stereoact just do too much in my point of view.
13. Fang das Licht (Stereoact #Remix)
Many Germans will laugh about me when they read it, but I love the original duet of Karel Gott and young girl Darinka. The song has been recorded 36 years ago passed away in 2019. The remix is my favorite, together with Ein bisschen Frieden. Stereoact acted much more respectful compared to other songs on the album.
Stereoact – #Schlager – Spotify
Here is the album on Spotify:
Stereoact – #Schlager – My View
I loved the idea of this album and some of the songs released before the release of #Schlager had a promising touch. Unfortunately, after listening to the album as a whole, I have to say that it is a fail. Few songs are nice re-recordings, some are about average and too many fail. These songs do not deserve that. And Stereoact can do better. They proofed it in the past. In my point of view, this album is not suitable for the dancefloor. Proof me wrong when the clubs and schlager bars are allowed to open again.
German Schlager
Easy, German language pop – here are all postings about German Schlager on Flyctory.com:
Flyctory.com in Berlin
Here are all postings related to the German capital: