Spell Songs is a very interesting folk project, which is aiming to link music with literature. On 10th December 2021, they release Spell Songs II: Let The Light In. I had a listen.
Spell Songs – About The Artists
Spell Songs is a folk music project of seven musicians, Karina Polward, Julie Fowlis, Seckou Keita, Kris Drever, Rachel Newton, Beth Porter and Jim Molyneux. The British project has originally been founded to accompany books by Robert Macfarlane and Jackie Morris from a musical side. Especially in the UK, they got really good reviews so far. Spell Songs II: Let The Light In is the second album of the project, after Spell Songs in 2019.
Spell Songs – Spell Songs II: Let The Light In – Track by Track
The fifteen song album lasts 57 minutes.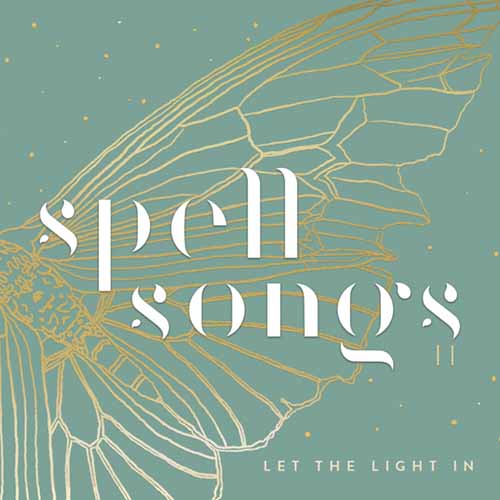 1. Bramble
Spell Songs work with different vocalists. The lead singer of this opening track, for example, is Karine Polwart. The song has a fairy-alike sound, even though there is also a very rhythmic section, which reminds of a march. The musical storytelling is excellent, as expected. This also means, you have to fully listen to Bramble to enjoy it. Promising beginning of the album.
2. St Kilda Wren
St Kilda Wren directly links to the first song. The track is performed by Julie Fowlis on the microphone, who is doing this very gentle version of the Scottish classic.
3. Oak
Kris Drever is leading this song, which has also been selected as a single release. Oak is a rather classic folk music song with a touch of rock. Very nice one.
4. Swifts
Rachel Newton recorded this song, which is based on the same-named story by Macfarlane and Morris. Very interestingly, the press kit states that the song also contains the sound of the kora instrument in the background. With the male backing vocals, the song almost feels like a duet.
5. Jay
After Seckou Keita was active as a kora player in Swift, he is now taking the vocal and melodic lead. Jay, for example profits from Senegalese rhythms. The song is very melodic and even gives a bit of a summer feeling.
6. Daisy
The rather short Daisy (just 1:45 minutes) is lead by Beth Porter, who is supported by Polwart, Fowlis and Newton to this easy and simple, almost a bit of naive folk track.
7. Swallow
Jim Molyneux recorded this song after exploring the Swallow story told and painted by the two inspiring artists. The song really feels airy, like flying over the world – and still has this fine and decent folk music touch. Really a beautiful recording.
8. Bird Of The Blizzard
Bird Of The Blizzard is the second single release on this album. Julie Fowlis does a really nice vocal performance here. The 4:34 minutes track creates a lot of atmosphere. Cool listen, which is again profiting from the very different talent profile of the artists and their support within the group.
9. Thrift (Dig In, Dig In)
While the rhythmic acoustic guitar is scrumming in the background for almost four and a half minutes, Polwart's voice changes from almost girlish and fragile moments to quite determined and strong ones.
10. Gorse
Sometimes I just cannot do different than quoting the press kit literally: "Through splintery pizzicato, Beth Porter's cello almost becomes the spiky, twisting Gorse bush". Okay, that's quite a level of identifying with your own music. No more comment. Apart from the medieval-feeling instrumentation, which gives a new touch to the album, this is one of the rather weaker listens to me. However, this still means it does it job in a nice way and tells the story of the song.
11. Red Is Your Art
This Kris Drever vocal contribution is very rhythmic and energetic and partially even gives me a bit of a country music feeling. The song is a protest against animal / fox hunting and environmental distruction.
12. Barn Owl
After Spell Songs II: Let the Light In just featured a fox, the next track is aiming to present an owl. Seckou Keita is the key interpreter, but there are also spoken words in this potpourri of languages. Very dramatic setting. I simply have to listen to these words.
13. Moth
The folk music travel through fauna and flora continues with a Moth. A rather powerful song, which uses several vocalists and a comparably wide range of instruments. There is even a choir-style part in it, which gives you a bit of a sing-a-long motivation. Rather unusual for this album, which strikes in other disciplines typically.
14. Curlew
The second last song is a beautiful song with a great vocal performace by Newton, harp sounds and a very interesting middle parts, for which Drever and Keita join the lead vocalist. Another feels like a painting created based on music.
15. Silver Birch
Julie Fowlis' Silver Birch is closing the album. A perfectly chosen finale – the song has the character of a lullaby. Good night, the second set of Spell Songs songs is over.
Spell Songs – Spell Songs II: Let The Light In – Spotify
Here is the album on Spotify:
Spell Songs – Spell Songs II: Let The Light In – My View
If you need music that entertains you on a road trip or look for some tunes for your next birthday party, Spell Songs are not your artists of choice, for sure. Their music is demanding – but if if you invest into it, you get a great return. Spell Songs II: Let The Light In is a lovely new album with great songs telling great stories. Very inspiring release.
U.K. Top Pick! Media Reviews
Here are all my Media Reviews about music related to the United Kingdom, which received a Top Pick! rating:
Flyctory.com's Botanical Gardens
These are all Flyctory.com postings on Botanical Gardens: