I ran into the music of Sylvia Aimee, a Dutch country music artist, some one year ago. The quality of her music and her songwriting fascinated me and her EP Superhero, which she released in October 2019, is a real gem. Finally, it became even the best EP of the Year 2019 in my Flyctory.com ranking. On 8th May 2020, Sylvia will release her amazing new single, Too Late. Definitely a good time to catch up with her in my Spotlight interview section.
Flyctory.com meets Sylvia Aimee
Hi Sylvia, nowadays you (unfortunately) have to start with that question: how are you? How are you able to stand the current Covid-19 situation?
Sylvia: I'm pretty good actually! I try to look at the positive sides of the COVID-19 situation. I think it has a positive impact on our planet and the environment. I also appreciate the extra time. I spend it on writing new songs, planning some releases and just taking the time to reflect on where I stand right now and where I wanna go.
I think all we can do right now is just accept the situation and try to make the best of it.
The Netherlands run a very relaxed Covid-19 policy – but still, what in your life do you miss most currently (and look forward to do when this all is over)?
Sylvia: I mostly miss playing live shows. I can't wait to be on a stage again and connect with strangers. Also I miss hugging people.
You are now 24 years old. When did you recognize that doing music is an important part of your life?
Sylvia: I fell in love with singing and songwriting around the age of 13. It gave me confidence and an outlet for all my confusion. But I really discovered how important it is to me, when I almost quit it. Around the age of 17 I participated in a television talent show and it left me very insecure. I was comparing myself to everyone else and concluded I wasn't good enough. I'm quite a perfectionist and afraid of failing. After that making music was too confronting and I decided not to do it anymore. That's when I got stuck in a downward spiral, leading me to a very dark place. I developed an eating disorder and got depressed. After three years I carefully picked up the guitar again and started turning those dark thoughts into lyrics and that's when things got better. I learned the hard way that music is essential for me to survive.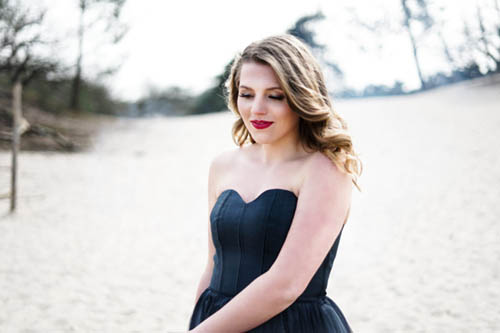 And when did you feel that you want to do country? What is special for you about that genre?
Sylvia: I honestly didn't even know what country music was. Country music is not a popular genre in the Netherlands and like most people I just thought of the kind of music you would line dance to. Until I discovered this girl named Taylor Swift. I loved the storytelling in her songs and the fact she wrote all of them herself. I was pretty much obsessed with Taylor Swift, so I stayed up at night to watch award shows like the CMA Awards, to see her perform and hopefully win. That's when I realized I loved all the people performing at those award shows. The lyrics, the storytelling, the arrangements, the sparkly dresses and the cowboy boots. I loved everything about it.
I know that you are a huge Taylor Swift fan, you also name artists like Kacey Musgraves and Kelsea Ballerini as your inspiration?
Sylvia: Like I mentioned before. Taylor Swift introduced me to country music. Although she has shifted from country to pop I still think she's an amazing songwriter, business woman and just a very good person. The way she treats her fans. The way everything she does is connected somehow. Kacey Musgraves is just a bad ass. She dares to write about topics that are quite controversial in the country music scene and I love her for it. Kelsea Ballerini is an amazing songwriter and singer. I just love that they all write their own music and they write about things I can relate to.
Your music is very straight and honest – you also share quite intimate moments of your life. For example that making music was part of your recovery from mental illness. Do you want to share a bit of that?
Sylvia: Absolutely, I think it's very important to be open about this. At the worst of my mental illness I was so ashamed. No one knew what was going on inside my mind, because I wouldn't tell anyone. I wanted to fix it by myself. And that was the biggest problem. I felt alone. When I finally realized I couldn't do it by myself I searched for help and started therapy. Soon my therapist and I realized I needed my outlet back: music.
So she gave me homework: writing a song about my current situation. It didn't have to be a good song, I didn't have to write it for anyone but myself. I wrote the song called Lonely Battle, it was the first song I wrote in 3 years (it's not recorded or released but it might be someday). And it felt so amazing to be able to turn something negative into something good. I started writing again. For me. To process my feelings and be able to get something positive out of every negative emotion or situation. And after a while I felt like I wanted to share my songs again. To tell my story and maybe inspire someone else with it. Writing music is my way of connecting with my inner self, sharing music is my way of connecting with other people. I find it hard to talk about my feelings, but I love writing and singing about them.
Was there maybe also a special song you wrote which gave you strengh in that situation?
Sylvia: There's this song called Stories. It was my first 'single'. It's a song about how we all have a story and we shouldn't be ashamed of it. Because those stories make us into who we are and sharing those stories connect us to each other. I also recorded a music video for it in which I told my story of struggling with an eating disorder. Releasing that song and video was my way of coming out and was the start of living my life without wearing a mask.
Some sort of your major breakthrough was the 2018 single Cry With Me, which made it to 160,000 streams on Spotify. When you think about that number, what do you feel? Is it making you proud? Is it maybe also a bit of frightening?
Sylvia: The number definitely makes me proud, but at the same time it's a pretty empty number. Somehow Spotify's algorithm liked Cry With Me and put it in all these Discover Weekly playlists. That's how I got most of the streams. 160,000 streams doesn't mean any of those people know who you are. A high number of streams might look impressive and it gives you some kind of income which is nice, but in the end I'd rather have 1,000 people listening to my song that really know who I am and would want to see me live, buy my CD and follow my journey than 160,000 random streams. So it's cool, but it's definitely not the most important measure of success.
Your next single was Barbie Army, in which you criticize that young girls want to "meet the beauty standard" instead of being individual. How have the reactions on that been? Any minor "shitstorm" by Barbie Army members?
Sylvia: The reactions have all been positive actually. Luckily no shit storm. Maybe because at the end of the song it's clear that I am mostly talking to myself. I think there's a big difference between pointing the finger and telling someone else what to do and actually reflecting on your own behavior and sharing that insight through music. It's mostly meant as a positive song that celebrates individuality.
Later in 2019, you released your amazing EP Superhero with the very autobiographic title track. What was the most touching moment about it? Recording it? Having the first physical copy? Reading reviews and comments about it after release?
Sylvia: Definitely recording it. Creating music is by far the most fun and satisfying part of it. I guess because I am really making music for me and not necessarily for what other people might think of it. Of course it puts the biggest smile on my face to read a positive review or to get a message from someone telling me a song has helped them in some way. But if you make music with that goal in mind I think you will always end up disappointed. Cause in the end releasing an EP might be the most important thing I've ever done in my life, but for someone else it's just 20 minutes of theirs (if you're lucky and they listen to it all the way through). So I decided to just put my heart and soul into the creating process and then release it into the world, letting it go. And moving on to the next project. Cause you can control the input, but not the outcome.
On 8th May, you will release your new single Too Late. What is the story behind it?
Sylvia: It's actually the first song I release that is not completely autobiographic. I was inspired by an event in my own life but used my fantasy to make it very dramatic.
Too Late is about when an ex-lover shows up at your door, right after you've finally moved on. He wants you back, but you can't let him in again. He broke your heart once and you finally found someone who treats you right. Deep down you wish things would've been different. That he had thought of this a little sooner. But he is too late.
I recorded it last summer in Nashville at Beaird Music Group. I also recorded Cry With Me and Barbie Army here and since Cry With Me did so well I decided to record another tear jerker there.
What are your plans for 2020? Any new releases, concerts?
Sylvia: I definitely hope to release some more music in 2020. I'm gonna be releasing singles instead of an EP, because that way I can spread the costs and create a constant flow of new music. I don't know the details yet, but there's definitely something cooking!
Last, but not least: your list of concerts contains quite a bunch of weddings, on which you perform. Which Sylvia Aimee song and which non-Sylvia Aimee song performed by you do the people like most when you perform in that special atmosphere?
Sylvia: For weddings I sing whatever they want me to sing. I don't really have any love songs that would fit a wedding, so I actually never play my own songs during the ceremony. Though I have this service where I write a song about the bride and groom and play their own customized song. That's always a success because it's so unique and personal! It's my favorite thing to do: take someone else's story and turn it into a song. It always touches people so deeply and it gives me the opportunity to give people what music gives to me.
All pictures used are artist material
Spotlight – Flyctory.com Interviews
Here are all postings of my interview section Spotlight:
Everything about the Netherlands
Here are all postings related to the Netherlands: