What could be a better name for your second album than simply naming it Sophomore? That's what Nick D'Virgilio, Neal Morse and Ross Jennings did for their second album. In 2021, they already released the album Troika in which they did acoustic music and multi-harmonic vocal music. Sophomore has been released on 10th November 2023.
D'Virgilio, Morse & Jennings – About The Artists
My touch point with Nick D'Virgilio was definitely when he replaced Phil Collins for the 1997 Calling All Stations album by Genesis. D'Virgilio was born on 12th November 1968 in Whittier, California. However, he is not only a drummer, but also a singer and a multi-instrumentalist. For example, from 2002 to 2011, he was the lead singer, guitarist and keyboarder of the band Spock's Beard. He also released two solo albums, Karma (2001) and Invisible (2020). Very often, he is simply named NDV and very often booked as a touring musician.
Neal Morse is the second US-American musician of the trio. He was born on 2nd August 1960 in Van Nuys, New York. Morse is also a founding member of Spock's Beard. He also played in several other formations and supergroup. Morse is a singer, guitarist and keyboarder. On the solo career side, he majorly pursued releasing Christian rock music. He has a long history of solo releases, from singer-songwriter style songs to prog rock and the Christian music already mentioned.
Ross William Jennings is not only the youngest member of the trio (born on 7th February 1984 in Salisbury), but also the only British artist. He is majorly known as the lead vocalist of the band Haken, which has released seven albums so far. There are also three studio albums with the band Novena. In 2021, he released A Shadow of my Future Self, which is his only solo album so far.
D'Virgilio, Morse & Jennings – Sophomore – Track by Track
The twelve song album lasts 53 minutes.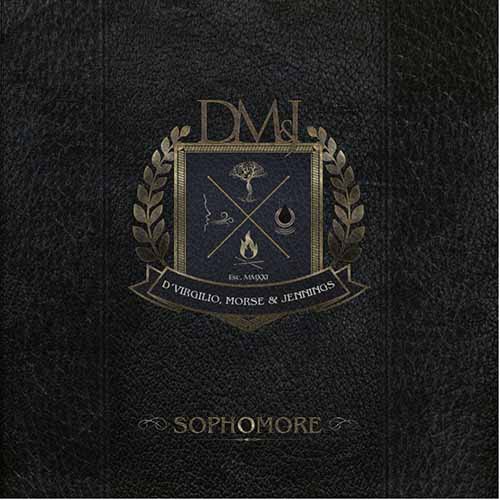 1. Hard To Be Easy
The first song is already setting a certain direction for Sophomore. The song has a nice vocal presence of all three artists. The instrumental side of the opener reflects the amazing skill and talent of this trio nicely. – regardless, there is a groovy bass passage or whether the drums are driving the in a steady, but not too slow manner. Nice song, which is somewhere between folk, pop and rock.
2. Linger At The Edge Of My Memory
The second song is slower, more dignified. This style underlines the very narrative storytelling. Linger At The Edge Of My Memory also has more solo vocal parts. Overall, the song has a bit of an nostalgic style. Nice.
3. Tiny Little Fires
The bell-alike tunes at the beginning of Tiny Little Fires give a fairy tale-alike atmosphere. The bell theme is popping up again and again in this lovely track. Very nice listen, in which instruments like the bells and the electric guitar
4. Right Where You Should Be
The howling steel guitar and the general vibe of the fourth song spread some country music vibes over the listen. Overall, the harmonic style of Right Where You Should Be turns it to one of my most favorite listens of the album.
5. The Weary One
The Weary One opens with gentle strummed acoustic guitar chords and some cello or similar string sounds. Could me please help me on my way, 'cause I'm a lonely man singing a lonely song? is a key phrase in this very intimate and gentle beginning. Even though the sound is getting a bit of wider and all three artists get some more presence. The song gently takes you into a very harmonic world. Lovely listen.
6. Mama
After that emotional and intimate listen, you would likely guess that Mama is also a rather personal one. However, the song presents the darkest and roiughest rocker of the album so far.
Mama's the one
She gets it done
She's the one
Don't mess with her son.
Maybe not the song and signature you expected, but a really fun and cool listen.
7. I'm Not Afraid
The album is full of contrasts. A high guitar melody and some groovy elements form the opening moments of I'm Not Afraid. The song more develops star attitudes on the album.
8. Weighs Me Down
Weighs Me Down shows this beautiful harmonic vocal style again. The song stays at a very intense level. This might make it a bit harder to digest, but it is also a very impressing listen.
9. Walking On Water
Walking On Water opens with a lot of rhythm, the percussion are also having a strong presence The track is very lyrical and theatric and reminds me of some great bands with that style in the 1970's. However, this trio mainly heads for a harmonic way. The percussion also give a nice exotic touch.
10. Anywhere The Wind Blows
Funnily, the press kit to this song calls the tenth song Anywhere The Wing Blows. As I first of all feel that it is nonsense and as the song has been one of the featured single releases, I am quite sure that it is a mistake. The song is a rocker with a beautiful sound and melody.
11. Right Where You Should Be (alt. version)
The album closes with two bonus tracks, which feature songs of this album in a different style and arrangement. This alternative version of Right Where You Should Be keeps the country music character, but feels more like an acoustic track. Nice one, but I prefer the sound of the album version.
12. The Weary One (alt. version)
The second alternative version does not feel that much different to me. There is a stronger focus on the vocals, but overall, there is not too much of a difference.
D'Virgilio, Morse & Jennings – Sophomore – Spotify
Here is Sophomore on Spotify:
D'Virgilio, Morse & Jennings – Sophomore – My View
Sophomore is really nice to listen to. The three artists are good vocalists and very good instrumentalists and create a beautiful atmosphere of songs. Great, harmonic listens.
2023 USA Rock Music Reviews
Here are all my Media Reviews published in 2023 related to the USA and rock music:
Flyctory.com about Belgium
Here are all postings related to Belgium: