Ane Brun is on stage for just over 20 years now. Due to her stage anniversary, she releases the album Portayals on 10th March 2023. The album contains a collection of her most popular cover versions. I had a listen and share my thoughts with you.
Ane Brun – About The Artist
Ane Brun, civil name Ane Brunvoll, is a Norwegian singer-songwriter from Molde in Norway. Her mother is known as a jazz singer and pianist as well. Portrayals is released just at her 47th birthday. At the age of 19, she moved to Bergen for studying and also started to write own songs. A few yesrs later, she recorded first demos and finally went on to Uppsala and Stockholm in Sweden to pursue a musical career.Her debut album Spending Time with Morgan has already been quite a success, entering the Top 20 of the Norwegian charts. However, the following careers turned her into one of Norway's most famous artists. Six of her albums made it to the Top 5 in Norway, four of them to the Top 5 in Sweden. But she also gained fans in other countries like the Netherlands. Portrayals is Ane Brun's twelfth studio album overall.
Her only chart-topping single was the 2005 Lift Me with Madrugada, being a #1 hit in her home country. Two covers which are also represented on this album, Big in Japan and True Colors made it into the Swedish Top 5 each in 2008. Can't Stop Playing (Makes Me High) by Dr. Kuchol and Gregor Salto, which features Brun as a singer (2015), is a golden record in the United Kingdom.
Ane Brun – Portrayals – Track by Track
The thirteen track album lasts 41 minutes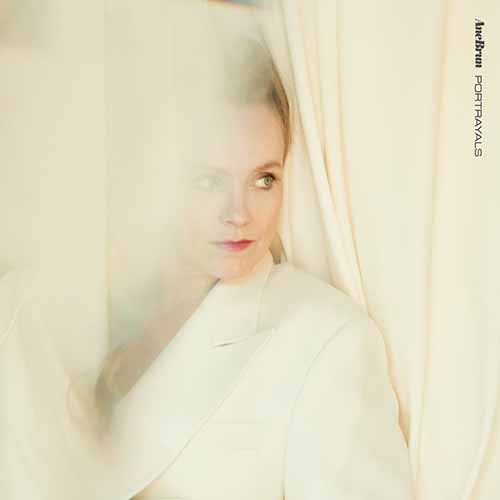 1. Halo
The quiet, folk-pop alike style of Ane Brun meets Halo, which we all know as such an energetic song by Beyonce. I feel that these kind of encounters lead to really interesting cover versions. Here, strings, a touch of acoustic guitar and the voice of the Norwegian point on a very different way to look at the song.
2. All My Tears
In the second track, Brun is condensing the country song by Julie Miller in several ways: first of all, there are just a few acoustic instruments, which take away the country-rock touch of the original. Apart from that, this version just lasts about two minutes. Nice listen.
3. True Colors
This cover presents Cindy Lauper's True Colors as a piano ballad. Very intimate and fragile – overall, the song has a really nice sound.
4. Make You Feel My Love
After the very quiet song interpretations before, the Brun's version of the Bob Dylan track feels at least more present and "louder" than the songs before. Especially when the strings are joining in, this one is a really beautiful listen.
5. Big in Japan
Brun allows the 1980's classic Big in Japan a rather long acoustic guitar intro. In general, her version comes with sufficient breaks to have instrumental-only sections. To me, this one is a bit too much slowed down – even though I have to admit that I enjoy her vocal performance.
6. By Your Side
The origin version of By Your Side by The 1975 is a slow track working with different kinds of sounds and instruments. This new album version does not have the individual touch of the songs before and feels too similar to the recordings before.
7. I Want to Know What Love Is
The Foreigner classic interpreted by Ane Brun starts rather energetic. The first part reminds of a slow folk rock song. The chorus, however, is very stripped down and almost concentrates on her voice completely. That leads to a nice mood, but again I feel that this recording might work better life on stage than as a studio recording.
8. Always on My Mind
In this eighth track the Norwegian meets Elvis… or B.J. Thomas, who did the first-ever recording of this track. This song preserves the country music heart of the song, which I feel more balanced. One of my favorites of this album.
9. How to Disappear Completely
The album jumps from an early 1970's song to a rather recent recording. Radiohead made How to Disappear Completely famous. Very atmospheric recording – but I feel she is doing a bit too much again.
10. From Me To You
The drive of the song by The Beatles may be gone, but I feel that this swaying folk-alike interpretation is not at all bad. Gives a bit of spring feelings to me.
11. Feeling Good
Michael Buble's Feeling Good has such a nice vibe and mysterious touch. I feel a bit sad that Brun could not keep it. Luckily the violin in the background works perfectly and turns it to a nice recording.
12. Into My Arms
I rather enjoy when the artist is trying to keep some power and energy in the song and does not suck it out completely in favor of a very intimate atmosphere. I feel that Brun did a nice job here and kept some soul in the Nick Cave & the bad Seeds song. Good.
13. Blue Moon
In fact, this song has been written in 1933 already. I feel also in that context the piano interpretation of the track feels rather sensible. Nice finale.
Ane Brun – Portrayals – Spotify
Here is the album on Spotify:
Ane Brun – Portrayals – My View
I struggle with Portrayals. Ane Brun has an amazing voice. I feel that many of these versions blow you away when she is doing her tour soon (see below). For a studio recording, though, the style of the covers is often too similar, the album feels almost boring here and there. Sorry.
Ane Brun – 20th Anniversary Tour
In September and October 2023, the Norwegian is touring Europe with her 20th Anniversary Tour. Here is the list of shows:
| | | |
| --- | --- | --- |
| Fr 22-09.2023 | Helsinki (Finland) – House of Culture | |
| We 27.09.2023 | Stockholm (Sweden) – Cirkus | |
| Fr 29.09.2023 | Jönköping – Spira | |
| Sa 30.09.2023 | Malmö – Malmö Live | |
| Su 01.10.2023 | Gothenburg – Göteborgs Konserthus | |
| Sa 14.10.2023 | London (United Kingdom) – O2 Shepherds Bush Empire | |
| Tu 17.10.2023 | Berlin (Germany) – Admiralspalast | |
| Fr 20.10.2023 | Borgerhout (Belgium) – De Roma | |
| Sa 21.10.2023 | Paris (France) – La Cigale | |
| Su 22.10.2023 | Utrecht (Netherlands) – TivoliVredenburg | |
| Tu 24.10.2023 | Hamburg (Germany) – Fabrik | |
| We 25.10.2023 | Copenhagen (Denmark) – VEGA | |
| Th 26.10.2023 | Aarhus – VoxHall | |
| Sa 04.11.2023 | Örebro (Sweden) – Örebro Konserthus | |
| Su 05.11.2023 | Uppsala – UKK | |
| We 08.11.2023 | Bodo (Norway) – Svommehallen Scene | |
| Th 09.11.2023 | Tromso – Driv | |
| Sa 11.11.2023 | Trondheim – Tapperiet E.C. Dahls Arena | |
| Su 12.11.2023 | Molde – Björnsonhuset | |
| We 15.11.2023 | Oslo – Sentrum Scene | |
| Th 16.11.2023 | Oslo – Sentrum Scene | |
| Fr 17.11.2023 | Stavanger – Stavanger Konserthus | |
| Sa 18.11.2023 | Kristiansand – Kilden Teater & Konserthus | |
| Su 19.11.2023 | Bergen – Grieghallen | |
Flyctory.com and Norway
Here are all Flyctory.com postings related to Norway:
Tribute & Cover Music
Here are all my postings related to Tribute & Cover Music: