Bones Owens already worked with really big names of the business and has released two EPs so far. Nonetheless, seven years after his debut EP, he is having his first publication on the album side. The release of the self-titled long players is on 26th February 2021.
Bones Owens – About The Artist
Bones Owens, civil name Caleb Owens, is a Missouri-origin artist, who is majorly known as a touring and studio guitarist. The most famous act he supported so far is lovely Bon Jovi. As many country artists, he started with gospel music before reaching out to country, bluegrass, folk and rock. He is actively publishing music as an artist since 2014, when he relesed Hurt No One, his debut EP. In 2017, a second EP, Make Me No King, followed. Both releases received really good reviews.
Bones Owens – Bones Owens – Track by Track
The twelve song album lasts 38 minutes.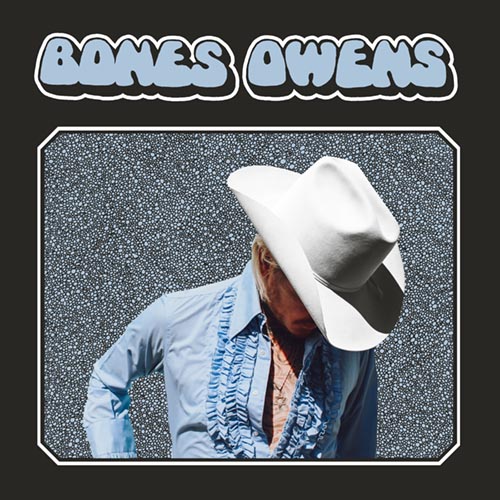 1. Lightning Strike
The album starts with powerful and rather short tracks. Only one of the first five songs exceeds a duration of three minutes – the opener Lightning Strikes misses that mark by a second. The sound is very straight – you simply hear that the album is in fact a live studio recording. The song is catchy, powerful and just is a great way to get into the music of Bones Owens.
2. Good Day
Good Day is the shortest of the five song quintet opening. One of the most remarkable characteristics is that Regina McCrary, who worked with Bob Dylan, is joining for background vocals.
I said hey
Hey, that's a good day
Can't say a single thing that I'd change
I said hey, if she comin' my way
Hey, hey, that's a good day
Very melodic and very rocking – you can do a good rock song in less than 140 seconds!
3. White Lines
The guitar is hammering riffs on the background of White Lies. If you have a rock music heart, you will simply enjoy listening to Bones Owens' tunes. The triple Won't sleep tonight til I see your face in the chorus suits so well to the monotonously marching guitar sounds.
4. When I Think About Love
The first songs of the album are not only a quick series of quite different sounds, it also feels like a time travel back in times. Back to the times, when people not even dared to believe that rock could be dead. In line with that, When I Think About Love feels a bit simply and easy – but it just a good rock track.
5. Wave
Wave is a great soundtrack option for a road trip to me. The beginning slightly reminds me of Born To Be Wild, before the sound becomes more melodic and less riff-ish. The melodic parts make the track feel much more modern then the emotional Easy Rider reference.
6. Blind Eyes
Quite funny fact: after I stated that the first songs are very compact, there is no song shorter than three minutes from #6, Blind Eyes, onwards.
I tried
But I can't no more
We used to wake up wasted on the floor
Blind eyes
Can't see what it's for
I don't think I can take this anymore
A song which Owens descibes with "That one's somewhat nostalgic, talking about some of the more decadent periods of my life". I definitely like to listen to these memories.
7. Keep It Close
You gotta keep it close
You gotta keep it close to your heart
Or you're gonna go blind
A musical mantra which is having a nice contrast to the repetitive chorus and the powerful elements in between. Cool!
8. Ain't Nobody
Ain't Nobody feels a bit softer and almost feels like a some 200 second time to relax after all these powerful and straight tracks. Even the (excellent) press material does not state something specific about the song. Thus, I just listen and enjoy.
9. Come My Way
The riffs on Come My Way feel a bit monotonous – and so does the whole song to me. However, I could imagine that this one is much more intense when played live on stage compared to listening to the studio version.
10. Country Man
Don't talk about
What you don't understand
Don't ever put it down
I'm a country man
If I exclude the songs Owens already released as singles (which you typically can easily identify by the music video below the review), Country Man is my favorite. The songs all come in a certain simplicity – and so does the tenth song on the album as well. But why do they need to be complex if they are good already?
11. Tell Me
In this rocker, Regina McCrary has likely her strongest and most present part, when she shows her vocal exception at the end of the track. Before that, Tell Me is a rather dark song .
12. Keep On Running
The album closes with Keep On Running, which is much closer to the blues than any other song of the album. Nice finisher.
Bones Owens – Bones Owens – Spotify
Here is Bones Owens' debut album on Spotify:
Bones Owens – Bones Owens – My View
Music enthusiasts may start with the fact that the songs on Bones Owens are simple. Yes, they are, no doubt about it. There are other albums out there which will fulfill your need. On the other hand, I love this easy, simple way of doing rock music. I don't care that there is a touch of being outdated on these twelve songs. Bones Ownes dares to state that rock music is not dead – and as long as there are songs like his ones, this message will ever be true.
Postings about US Rock Music
Here are all my Music & Media postings about rock music and the USA:
Musical History
These are all articles, in which I dealt with events and places influencing musical history: