In many countries, a good placement at The Voice almost feels like a guarantee to have some steps on the musical career ladder. Even if you win the show in Germany you may just gain very short-lasting popularity. Michael Lane competed in the show in 2012 and could not tie on that first popularity thereafter. On 25th October 2019, he is releasing his fourth studio album Traveling Song at Greywood Records.
Michael Lane – About The Artist
Michael Lane was born in Nuremberg in 1986. His father is US-American, his mother is German. He gained quite a lot of popularity by competing in the German version of The Voice. In the 2012 season, he finished third place. During the show, two of his songs hit the German charts. His version of Sarah Lachlan's Angel was available for download and peaked place 44 in the German charts. His self-written song Mrs. Lawless, which he competed the semifinals with, made it even up to place 33. Three albums followed after the show. However, neither of them gained a Top 100 placement. In 2015, he sang Liberty, which was the official song of the Ski Jumping Four Hills Tournament.
Michael Lane – Traveling Son – Track By Track
Traveling Son is a twelve track album lasting 51 minutes.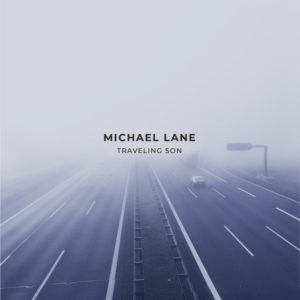 1. Traveling Son
The album starts with the title track – and Michael Lane definitely makes clear in this one that you should not stop but listen on to this song – and the following eleven tracks. A lovely, intense song, nice voice, nice melody. Cool!
2. Enjoy The Show feat. Nate Bernadini
The second track is a collaboration with US singer-songwriter Nate Bernadini. I was initially a bit confused by his voice, but then got more and more into Enjoy The Show.
Come on, get in line
Enjoy the show.
I definitely enjoy that kind of show!
3. Believe
Michael Lane released Believe already before the album. A lovely and intense track. I love to listen to his clear voice, not only on this one.
4. Worth It
The song creates a very special atmosphere, as Lane sings it with a very high voice. The song is so simplistic: an acoustic guitar, the voice and a bit of bass and other backing. Focused on the lyrics, focused on the story. Like it!
5. Head For The Hills
The arrangement at Head For The Hills is much wider, more powerful. Lane's voice is very different compared to Worth It as well – I have to admit that I felt a touch of Barry Gibb in it. I love the different styles of songs so far.
6. Love Will Save The World
This is another head voice song. This time, it is quite rhythmic and comparably fast. Love Will Save The World is also quite a clear message. The ingredients Michael Lane uses feel quite simple, but it leads to a nice mix.
7. 1982
The setup of 1982 is quite similar to Love Will Save The World – however, the song is very melodic and also has a certain focus on its intstrument. A song which makes me close my eyes, listen and enjoy!
8. Wish You Were Here
Over its close to five minutes of length, Wish You Were Here gets more and more intense. Not too much on the vocal side, but instrumentally and by its arrangement a very interesting track.
9. Just A Child
With over five minutes, Just A Child is the second longest track of the album. The song has a touch of Enya to me: a very intense and catching bed of sound with minimalist voice, which is gently laid on top of it. I am personally not too much a fan of that kind of arrangement, but musically, it is quite impressive.
10. Stormy Weather
Stormy Weather is a another voice and acoustic guitar song, but with a very own character. The guitar is very rhythmic in some parts and thus more present. Cool track.
11. Stay
Stay is a very classic and nice to listen ballad, which is also the longest track on the album. First I felt that the track is just a bit too long, but the more I allowed Lane to make me travel to his storyland, the more I enjoyed it.
12. Shine
A good voice, nice guitars, strings, keyboard, light drumming – that's the way how Michael Lane finishes his Traveling Son. Good track, which fits well into the remaining album.
Michael Lane – Traveling Son – My View
Michael Lane proofs that he was successful at The Voice for a very good reason. I enjoy to listen to his song, he does very versatile songwriting and the way the album is produced gives very different aspects and facets of his music. I feel the album will be very cool to listen to on stage. As recorded music, I would love to one or two very powerful songs on this compilation of songs as well. But overall, it is really fun to listen to the Traveling Son.
Michael Lane – Tour 2019
Michael Lane will tour across Germany in November. Here are his dates:
| | | |
| --- | --- | --- |
| Th 07.11.2019 | Dusseldorf, Innside Hotel Seestern | |
| Fr 08.11.2019 | Hamburg-Bergedorf, Cafe Chrysander | |
| Sa 09.11.2019 | Kassel, Moon & Waffle | |
| Su 10.11.2019 | Hamburg, Deichdiele | |
| Tu 12.11.2019 | Berlin, Valentin Stüberl | |
| We 13.11.2019 | Eckernförde, Spieker | |
| Th 14.11.2019 | Mönchengladbach, Rosenmeer | |
| Fr 15.11.2019 | Bad Bentheim, Altes Museum | |
| Sa 16.11.2019 | Lübeck, Tonfink | |
| Su 17.11.2019 | Wuppertal, Kontakthof | |
| We 20.11.2019 | Halle, Volksbühne Kaulenberg | |
| Th 21.11.2019 | Homburg, Mandys Lounge | |
| Fr 22.11.2019 | Paderborn, Fischerhütte | |
| Sa 23.11.2019 | Ludwigsburg, Luke | |
US-American Media Reviews
Here are more music and other media reviews about bands originated in the USA: