Miranda Lambert is one of the big names in the female country music. Thus, it is an event in focus when she is releasing her eigth studio album: some three years after The Weight Of These Wings, Wildcard has been released on 1st November 2019.
Miranda Lambert – About The Artist
Miranda Lambert was born in 1983 in Longview, Texas. After some early stages during school and an appearance at a musical review at the age of 16, she auditioned for the Nashville Star talent competition in 2003 and finished third overall. While a 2001 self-titled self-release did not leave significant marks in the charts, the 2005 Kerosene album already topped the charts, also driven by the success of the singles included in the tracklist. With the following albums Revolution and Four The Recond, she further stabilized her career. The 2014 album Platinum topped the charts in the US and Canada. She topped the US country charts with the Country female combo Pistol Annies who were very successful as well.
Below is the 2014 one Automatic, one of the songs which made me dig deeper into country music:
Miranda Lambert – Wildcard – Track by Track
The album contains 14 tracks. It roughly lasts 49 minutes.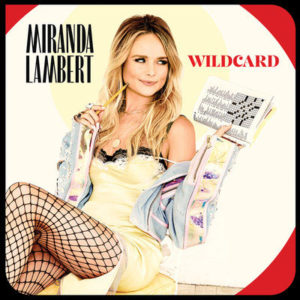 1. White Trash
The first track of the album starts with just what you would expect of Miranda Lambert: powerful, guitar-powered country songs with a quite classic sound with her very characteristic song. Nice track to get into the album.
2. Mess with My Head
The song is no longer a surprise, as it was previously released – but it is definitely a very new sound in Miranda's portfolio: very rocking, nearly a touch of heavy and just very discrete elements of country music like the steel guitar solo. Call it rock or call it rock – I call it a good one!
3. It All Comes Out in the Wash
It All Comes Out in The Wash is another previously released track – and it just makes me smile:
'Cause it'll all come out, all come out in the wash
It'll all come out, all come out in the wash
Every little stain, every little heartbreak
No matter how messy it got
You take the sin and the men and you throw 'em all in
And you put that sucker on spin
Of course, there is more message in this song than washing powder – but ain't that lovely songwriting?
4. Settling Down
Wildcard has a wide variety of songs at its beginning – Settling Down does have a country rhythm, but still feels quite pop-alike and light. Nice song
5. Holy Water
Lovely arrangement of this one – there is even some gospel-alike choir at the end of the song. The song itself is rather average to me, but I like what Miranda did out of it.
6. Way Too Pretty for Prison (feat. Maren Morris)
That's massive! The collaboration of the two female country music superpowers is just overwhelming. I absolutely love that duet, which comes in a comparably classic arrangement. You definitely should give it a listen.
7. Locomotive
This song is called Locomotive – and it is a hard rockin' high speed train! Classic country song with a lot of beats per minute, hard played guitars. This song surprised and flashed me. Thumbs up, Miss Train Driver!
8. Bluebird
Yeah,  I'm a turner
I turn pages all the time
Don't like where I'm at
34  was bad, so I just turn to 35
Yeah,  I'm a keeper
I keep digging down for the deep
Like  the records I'm playing
They might keep you waiting
But you know I'm only playing for keeps
An absolute nice start of a very personal and autobiographic song  with a lovely chorus:
And if the house just keeps on winning
I  got a wildcard up my sleeve
And if love keeps giving me lemons
I'll just mix 'em in my drink
And if the whole wide world stops singing
And all the stars go dark
I'll keep a light on in my soul
Keep a bluebird in my heart
9. How Dare You Love
How Dare You Love is a gentle, fragile song with acoustic guitars. So thoughtful, so nice – I dared to love it definitely!
10. Fire Escape
Though I would not rate Fire Escape to be one of the top songs of the album, I like the atmosphere of the song.
Meet me on the fire escape
Meet me on the fire escape
Don't let me wait
I wanna start up this flame
Meet me on the fire escape
Meet me on the fire escape
When the building's burning
Baby, we're to blame
Mmm
11. Pretty Bitchin'
Pretty Bitchin' sounds another rocking track of Wildcard, but in fact, Miranda Lambert delivers a very solid, quite classic country music sound here.
12. Tequila Does
I prefer modern country to classic one, but Miranda Lambert's ovation to classic sound, partially just done with a very decent acoustic guitar arrangement, is definitely a lovely song. Towards its end, there is more tequila in the song.
13. Track Record
It gets speedier again. Nice song to listen to.
14. Dark Bars
The album concludes with a very slow track, which describes what is happening in a bar. Nice finish of the album, I like to listen to that good night song of the Wildcard day.
Miranda Lambert – Wildcard – Spotify
Tbe widget allows you to pre-listen to the album:
Miranda Lambert – Wildcard – My View
I have to admit that I struggled with Miranda Lamberts previous albums: she always wrote some songs which I felt to be amazing… and the remaining ones felt good, but not too catchy to me. Somehow, these just did not touch me too much – though I really admire her. When I first listened to Wildcard, I had the same mood. How lucky that I typcially listen to the tracks multiple times. The more I allowed Miranda to show me her stories, the more I got into them and found the hidden treasures of the Wildcard world. There are very different elements, which give a good 14 track story. After the third time listening, I just love it. Top Pick!
Flyctory.com Country Music Reviews
Here are reviews of all country music albums and EPs I reviewed earlier on the website: