I happened to run into the front lady of the Seven Spires, Adrienne Cowan, when Tobias Sammet chose her as one of the touring artists of the last Avantasia show based on the Moonglow album. I felt she was just amazing – thus, I just was looking forward to the second album of the band, Emerald Seas, which has been released on 14th February 2020.
Seven Spires – About The Artist
The Seven Spires are active since 2013. They are a band formed by four members, Adrienne Cowan, Jack Kosto, Peter Albert de Reyna and Chris Dovas. Boston is the home town of the symphonic metal band. On their website they describe themselves as "storytellers who draw from across the traditional spectrum of metal and beyong to weave tragedies of demons, death, love and the peculiarities of the human condition. In 2017, the band released their debut album Solveig, which was very well recepted. The tracks were mixed and mastered by Avantasia's Sascha Paeth. Paeth also selected Cowan to his Masters of Ceremony project, which released their debut album in 2019.
Seven Spires – Emerald Seas – Track By Track
The thirteen songs of Emerad Seas last some 49 minutes: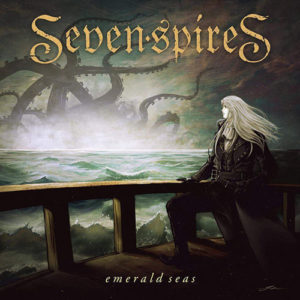 1. Igne Defendit
Let's be honest – these instrumental intros are very often tracks which got hit by the forward button after you listened to the album several times. Igne Defendit at least gives quite some atmosphere – especially due to the choral-alike vocals at the beginning.
2. Ghost Of A Dream
Here we goooo – fasten your seat belts. Damn, Ghost Of A Dream is already a massive track. Adrienne Cowan is just so massive as the lead vocal – and her band just does a great job as well. Wow – that is symphonic metal close to its best!
3. No Words Exchanged
Especially towards the end, this song sounds like a rock music radio track. Overall, another great song, a bit on the softer side of metal.
4. Every Crest
Fourth song – and I just cannot stop smiling while listening to these tunes. So melodic, so metal, such a great voice. I fell in love to Adrienne Cowan during the Avantasia tour – more and more I know that this can be a long-lasting musical relationship!
5. Unmapped Darkness
The song starts very minimalistic, concentrates on Cowan only – and you feel this could be a song in the style of Celine Dion or any overstated romance in tunes and lyrics – glad that the guitars get us back to metal and rock reality. By the way, very fascinating when Cowan changes to shouting.
6. Succumb
Succumb is one of the tracks which have been pre-released before Emerald Seas was released.
Destiny's a funny girl, she took me by surprise
And fate, I hear, is back in town to revel in disguise
Like a fool, I've loved and lost and now I've found you in this stranger town
I wonder if this meeting's by design
And so I succumb to cinnamon, sweat, and rum
Laughing with stars in your eyes and your hair undone
And I pray one day our stars align
So I might hold you one more time
And succumb to cinnamon, sweat, and rum
Yeah, that's a defeat I can definitely enjoy 🙂
7. Drowner Of Worlds
It just makes me laugh when I think about that this young, beautiful and tender lady can shout and sound like a fat-bottomed man – or at least an old witch on the micro. Drowner Of Worlds rather goes for the harder notes – but it is not bad at all with that!
8. Silvery Moon
Silvery Moon starts with strings, piano and Cowan's most melodic voice. Just when you think you really have a soft and gentle pop ballad in here, Kosto and de Reyna recover from their temporary guitar and bass siesta. I am still waiting for a weak track on this album – so far, the search has not been successful. Lovely track (with a gentle ending again).
9. Bury You
Bury You is just another symphonic metal anthem, this time more on the soft and melancholic side. One of the most intense plays to me on this album so far.
10. Fearless
Fearless is one of the harder tracks of the album and Cowan turns into the shouting witch I stated before. In this arrangement, the shouting is mixed over ordinary lyrics. Very interesting one.
11. With Love From The Other Side
This one is a 90 second, very melodic and soft interlude between Fearless and The Trouble With Eternal Life. I just felt to share this one with you as it illustrates that well the outstanding vocal qualities of the lead singer.
12. The Trouble With Eternal Life
Quite a lot of soft melodic elements changing with more melodic / symphonic metal parts. Nice song!
13. Emerald Seas
The album closes with a nealy instrumental track. There are some choir-alike voices at the very end of the track, though.
Seven Spires – Emerald Seas – Spotify
Here is the Spotify link to the album:
Seven Spires – Emerald Seas – My View
Wow! Emerald Seas is massive and one of the best and most straight albums of the genre I have listened to. No really weak song, great arrangements – and of course, on top of everything, the amazing Adrienne Cowan. Bad luck that the band (so far) is not planning to have a European tour – this would be massive! The album is a Top Pick!, of course.
Album cover: Band material – Title Banner: EmVision Productions
Flyctory.com on Hard Rock and Metal
Here are all postings about Hard Rock and Metal:
US-American Media Reviews
Here are more music and other media reviews about bands originated in the USA: