The fourth album by Kelsey Waldon already: I received No Regular Dog a few days before the female country artist released the eleven song collection on 12th August 2022. Here is my review.
Kelsey Waldon – About The Artist
Kelsey Waldon is a Kentucky-origin country singer-songwriter. Already in 2007, she self-released the EP Dirty Feet, Dirty Hands. Thereafter, they have been three more self-released EPs an album, before she signed a record deal and released the first album released by a record label in 2016. His biggest success so far was White Noise / White Lines. Her fourth album overall has been released in 2019 and made it into the Top 10 of the US Heat Charts.
Kelsey Waldon – No Regular Dog – Track by Track
The eleven track album lasts 35 minutes.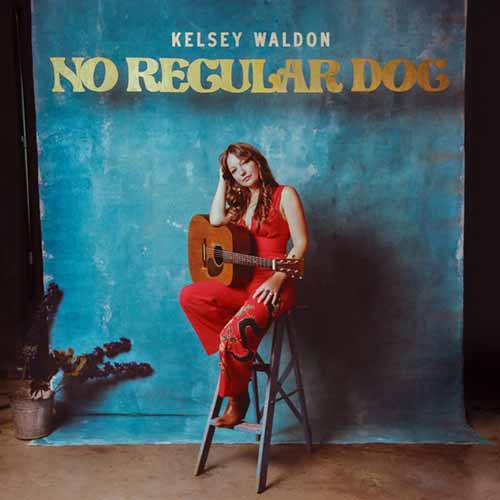 1. No Regular Dog
Kelsey Waldon opens the album with the title track. The song is slow, almost a bit of melancholic. Nice steel guitar sounds lead to a beautiful country music atmosphere. The song feels like a good introduction into her 2022 work – it does fail to be a catching or central song as you might expect it from the title track, though.
2. Sweet Little Girl
The second song sweet little girl comes with a strong vibe, almost feeling like a Western movie soundtrack. The single release has a nice energy and presence, even though I personally favor the instrumental arrangement over the lyrics and the vocal performance. Nonetheless, this is definitely a good listen.
3. Tall & Mighty
After the opener felt to be a bit too cautious, Tall & Mighty is a lovely, melodic country song with a significant airplay potential. One of the best listens of No Regular Dog to me.
4. You Can't Ever Tell
Does anyone need a beautiful slow country-style waltz for whatever kind of party? You Can't Ever Tell might be a good option. Gentle, slow and with nice Southern-style melody lines. Very good one.
5. Season's Ending
It can't be too long until we run into the first country Christmas song of the year 2022. Thus, tracks like Season's Ending give me some reason to cringe, when I see them. However, the fifth song is a nice slow musical narration, which creates more power and atmosphere towards the end of the song. A bit of gospel style here and there.
6. History Repeats Itself
The present bass groove, which is the driver of the song from the very first second, leads to a very modern touch of History Repeats Itself. Kelsey Waldon creates a lot of atmosphere and groove in here. Nonetheless, I feel the song could catch you even better than it actually does.
7. Backwater Blues
Yeah, there is a touch of blues in this seventh song, but overall the Backwater Blues is coming with rather positive and happy vibes. Again, I enjoy the way Waldon and her band are arranging the different kinds of musical instruments around the nice melody.
8. Simple as Love
Simple as Love is one of three single releases published before the album. A love song Kelsey Waldon. The press kit even names it "the first unabashedly joyful love
song she's ever written," Quite strong words – but it is a nice listen, indeed.
9. Peace Alone (Reap What You Sow)
The fiddle is taking the melodic lead especially at the beginning of this ninth track. The song is one of the most catching listens of the album to me. I also like the way the steel guitars are arranged and contrast with the violin. Very traditional sound, but not outdated at all.
10. Progress Again
Progress Again is the last full song.The 3:18 minute recording is melancholic and very ballad-alike. A very straight sound – the song offers a clear message, great work in the vocal background, but not too many melodic surprises. Relatable and with a clear outcome – just like a good, old friend.
11. The Dog (Outro)
The album closes with this 1:45 minute outro, which is a slow, instrumental fade out of its melody.
Kelsey Waldon – No Regular Dog – Spotify
Here is No Regular Dog on Spotify:
Kelsey Waldon – No Regular Dog – My View
No Regular Dog might not be mainstream country music, but it comes with beautiful compositions and nice arrangements. I especially love the touch of Kelsey Waldon and her team for using instruments at the right point in time. Not outstanding, but a really good listen.
Media Review (2022 Women Country)
Here are all my Media Reviews of 2022, which are related to female country artists:
Travel Top Pick!s – USA
Here are all my travel reviews related to the USA which lead to a Top Pick! rating: