I really enjoy being in Salzburg as a recreational destination – now I am having a look at the Austrian city from the perspective of music: Please Madame are the local indie-rock heroes (with "local" being much more than the city only). On 10th September 2021, they release a new album, Angry Boys, Angry Girls. Here are my thoughts.
Please Madame – About The Artists
Please Madame are an Austrian indie-rock band. They have been formed in 2010 in Salzburg. Three of the founding members are still active: the lead is singer and guitarist Dominik Wendl, guitarist Laurenz Strasser, Martin Pöheim (bass) and drummer Niklas Mayr. In 2015, they released their debut album Escape The Nest. Thereafter, the band had two major releases, the EP Back to the Start (2017) and the album Young Understanding (2018). They also gained some reputation in festivals and with TV appearances. One of their most popular songs is their debut single Be My Ending.
Please Madame – Angry Boys, Angry Girls – Track by Track
The thirteen track album lasts 40 minutes.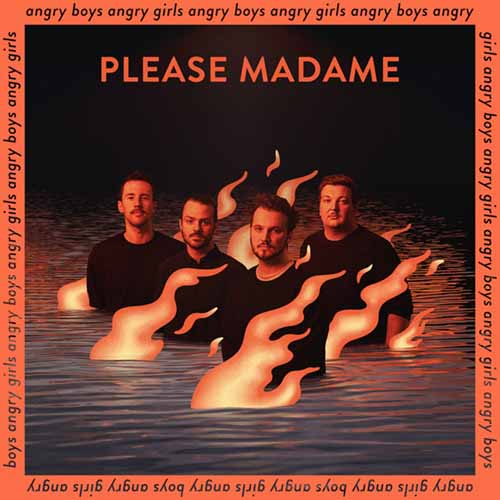 1. Honesty
Honesty is a one minute intro to the album. Nothing special.
2. Shadows
Thumbs up or thumbs down? Not that rarely, the first track of an album already delivers an indicator for that – Shadows definitely suggests the gesture to be done in a positive way. The song comes with a happy melody (almost a pop sound), which stays well in your mind. Good track with some timeless qualities.
3. Same Again
Like Shadows, Same Again has already been released as a single (which is overall the case for six of the songs). I like the guitar and rhythmic work of this song – but overall, Shadows leaves a too strong mark in the heart of the music lover. Good, but not as good as its predecessor.
4. Talk The Other Way
Talk The Other Way starts a bit of slower, but then beautifully works with rhythm, electronic sounds. The song also has a really nice vibe. A bit of a strange way of singing the chorus – but I feel it even adds some characteristic elements to the fourth track of the Austrians' album.
5. Wildest Dreams
Wildest Dreams is one of my favorites on Angry Boys, Angry Girls. The key factor for that is the really good chorus. The sound is a nice mixture of modern indie-rock and rather nostalgic vibes. With slight modifications, this track could have been a 1980's classic. Three decades later, I still enjoy the listen.
6. Mary-Ann
This sixth song on the album starts without attracting major attention to me – but again, Please Madame score and win my sympathy with their great, present chorus. Nicely arranged with good guitar works.
7. Swim
While most of the songs before had a rather slow start, Swim wants to attract the listener from the very beginning. Unfortunately, the verses thereafter falls back into this mousy and too uncharacteristic sound of other verses before. Needless to say that the chorus of Swim is a good one – also because it directly connects to the first sounds of the track.
8. Interlude
This track is called Interlude – any more questions about it? 25 seconds…
9. Take A Chance
Please Madame and I seem to have a very different opinion about their music: I simply enjoy the tracks most which haven't been released yet. Take a Chance is a really nice and catchy one. Good melodic work again.
10. Comfort
Comfort is not in my full comfort zone, but especially the really good work at the bass is leading to a beautiful groove.
11. Troubles (When We Collide)
While listening to Troubles (When We Collide), I smile and sway. I like the melody, I enjoy how the Austrians work with their instruments. The vocals create a nice atmosphere around the song as well. At the end, the song comes with a massive, impressive sound. I wished more songs on the album had that.
12. So Much Better
A track for the emotional listener – So Much Better is a beautiful slow song, which feels close to beautiful alternative folk tracks. Again, Please Madame create these beautiful atmospheric and energetic moments. Not a ballad over the whole playtime, but a really good song with piano and acoustic guitar sounds.
13. In Honesty
The base melody of In Honesty is presented with acoustic guitar sounds – but later, Please Madame also uses other elements like electronic sounds. I liked the promising beginning – bad luck, that the song is deviating so much from it.
Please Madame – Angry Boys, Angry Girls – Spotify
Here is Angry Boys, Angry Girls on Spotify:
Please Madame – Angry Boys, Angry Girls – My View
There are a lot of really good things about Angry Boys, Angry Girls. Unfortunately, there are only a few songs I enjoy over the whole playtime. These Austrians have a lot of talent, but it is not working out over a whole song. Very often, the chorus feels great, while you don't enjoy the verses too much. I would love to listen to Please Madame at their full potential. Unfortunately, they don't show it constantly in this release.
Austrian Music & Media
Here are all my Music & Media postings related to Austria:
Flyctory in Salzburg & Berchtesgadener Land
All my postings related to the German – Austrian region of Salzburg & Berchtesgadener Land: