My hometown Cologne is full of music – not only carnival-related. Not only during these days, Cat Ballou has become one of my favorite local acts. Thus, I just felt that their 2021 album Alles Bunt has to be part of the Flyctory.com reviews. It has been released on 12th November 2021.
Cat Ballou – About The Artists
Cat Ballou is a rock band, singing in Cologne language. Actually, they are not from Cologne, but have been founded in 1999 in Bergisch Gladbach, an Eastern suburb of the largest city of North Rhine Westphalia, Germany. Apart from replacing the drummer, the quintet is still playing in its original lineup. Singer and guitarist Oliver Niesen, is likely the most famous member of the band. The other current Cat Ballou members are Kevin Wittwer (bass), Hannes Feder (drums), Dominik Schönenborn (keyboard) and Yannick Richter (guitar). Even though they released their debut album Schokolade in 2008 already, their breakthrough was in 2013. The single Et jitt kei Wood ("There is no word") became a key hymn about Cologne not only in the carnival season. The single received a golden record in Germany, peaked 29th in the single charts and has massive popularity, e.g. 12 million streams on YouTube. THeir highest chart position, though, was Liebe Deine Stadt, which they recorded with rapper Mo-Torres and soccer idol Lukas Podolski. The single peaked 26th.
Cat Ballou – Alles Bunt – Track by Track
The thirteen song album lasts 39 minutes.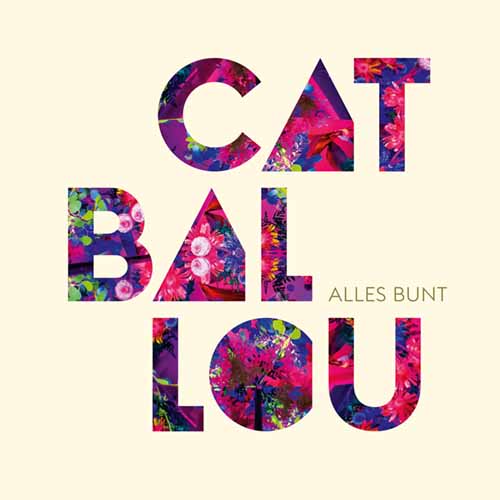 1. Dr Anfang
The song title means "The Beginning" – and is nothing but a 1:17 minute intro.
2. Alles bunt
The second song on the album is a song about diversity – Mer mache alles bunt ("We turn everything into colorful"). The melody is maybe humming a bit too much.
3. Oh wie schön
The song is about being back with other people. The song cannot deny a bit of a schlager tocuh, especially in the verses. The chorus has a great sing-a-long potential, though.
4. Mamm
Mamm means "mother". The slow song comes with the core message Und uns Mamm liebt uns su, su mer sin – "And our mother loves us just the way we are". Nice pray to family and familiar support in a pop-ish, very rhythmic style.
5. Blau grau grüne Augen
The fifth track is a schlager-pop love song about "blue-grey-green eyes". A song with a present chorus, even though I feel that the verses loose a bit too much tension and power.
6. Ich jevv noch eine us
Buying somebody else a drink is one of the key themes in Cologne music. While the song starts rather quiet with vocals and a bit of ukulele sounds, the chorus is quite present and rather feels like a folk-pop song. Nice song, but still too much apart from the best Cat Ballou songs.
7. Anna
The song is named Anna, but in the lyrics, Cat Ballou state that they don't even feel whether the female protagonanist of this song is having that name. The track has quite a strong 1980's synth pop touch, even though here and there, there are also short moments for guitar lovers.
8. Du bes nit allein
The eighth song is finally bringing back this Cat Ballou ease and catching sound, which Cologne people love about the band. No new sound for the Rhine city, though – Du bes nit allein ("You are not alone") has been released as a single already.
9. Unser Leed
The title of the ninth song translates to "Our Song". A song looking back and hoping to see the beloved person again. A nice, thoughtful ballad.
10. Niemols im Läve
For Niemols im Läve, Cat Ballou are doing a disco sound track. A song, which has been used for quite some Cologne party already after its single release. One of the best songs of the album.
11. Ufer vum Rhing
Another rather slow and thoughtful song, which is looking forward, hoping for better times. Honestly, one of the songs I can relate to least on the album.
12. Lang noch nit vorbei
"It's not over yet" according to the song title. Even though the song comes in a rather dramatic, almost melancholic style, it has a comparable optimisitc message.
13. Dat Enk
Dat Enk means "The end" – the track is the some two minute outro of the album.
Cat Ballou – Alles Bunt – Spotify
Here is Alles Bunt on Spotify:
Cat Ballou – Alles Bunt – My View
Let's be straight: I hoped for a better album. Cat Ballou did some amazing songs about Cologne and the feeling which is dominating the city and the region in the past – but Alles Bunt does not include any track which is even close to their prominent pre-decessors. I also miss some sort of concept. Cat Ballou's 2021 album is in average range only.
Postings about Cologne
Here are all postings about my home town Cologne:
Flyctory.com in Pittsburgh
Here are all other postings by Flyctory.com related to Greater Pittsburgh: