House of Change by Ann Doka has indeed bin one of the German artist albums I have been looking forward to most in the first half of 2022. I feel that the country-pop lady is an amazing talent and storyteller. Her third album has Nashville roots. Here are my thoughts.
Ann Doka – About The Artist
Ann Doka is a German country / pop artist, currently living in Bremen. She is originally from Greater Frankfurt. Her first album was Never Ending Road in 2012. In 2018, she published Lost But Found. You learn much more about Ann Doka in the interview I had with her about a year ago regarding her single release with Meg Pfeiffer, Fancy Boots.
Ann Doka – House of Change – Track by Track
The eleven track album lasts 32 minutes.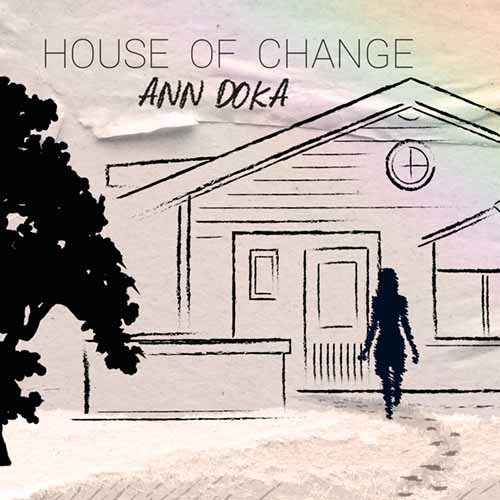 1. Rooms
The opener is a well-known friend. Cool song with a nice atmosphere. I especially love the banjo-alike background sounds. Nice one!
2. Lights Go Down
The first yet unknown track, Lights Go Down, is another pop song with a country signature. The chorus just stays in your mind. Very nice presence of Ann Doka's voice.
3. Better Walk On
Better Walk On is just a cool track. Ann Doka is creating a beautiful groove. The stomping rhythm increases the R&B flavor of this single release. I love to listen to this one.
4. Little Things In Life
The chorus of the Little Things In Life is a bit of repetitive, but overall, it is a good fit to the song. The fourth track is also a step towards country music. Nice collaboration of several instrument to create a quick, but not stressful rhythm to this song.
5. Alibi
The first five songs of the album already set a wide range of sounds, of melodies. Alibi has clear country signature, but rather faces towards rock music. Present bass vibes, good work on the guitars. The song also feels very mature to me. German mainstream radio stations, have a listen to this one, for sure!
6. Higher Lows
The stomping base drum and the melodic themes of Higher Lows made me smile from the very first seconds of the song. And – long story short – the smile stays on for the full 3:10 minutes. The song is a very unique one on the album – my favorite listen.
7. What About Me
What about me
When you choose your path?
What about me
If you don't come back?
What about me?
The song is one of the emotional highlighs of House of Change to me. Even though if I initially rather saw it as a typical country pop track, it more and more caught me with its story-line. Beautiful song and a lovely vocal performance as well.
8. My Daddy's Child
Oh damn… I just had to love that one from the very first second! The bass-driven My Daddy's Child has a lovely classic signature and a fast-running rhythm. A touch of alternative rock with with traditional country music ingredients. Cool!
9. Unstoppable
Unstoppable is the second-shortest track of the album (only Better Walk On has less duration). The song has a certain ease, happiness, self-confidence. I'm unstoppable – at least this track will definitely not change that message.
10. But I Do
But I Do with its stronger focus on the rhythm and an easier melody makes House of Change slightly move towards pop music again. A nice listen, which is also making you move slightly to its rhythm.
11. Wrong
The album closes with the slightly slower, a bit of dreamy and melancholic Wrong. What's wrong with me? are the final word of the song, the album. Not too much, dear Ann Doka… At least regarding your music. Great songwriting.
Ann Doka – House of Change – Spotify
Here is the album on Spotify:
Ann Doka – House of Change – My View
I am so happy that these eleven tracks are out. There might not be a song which is smashing the others on House Of Change, but the album is a lovely statement of the great talent of Ann Doka. There is a song for many listeners, the Nashville signature is very good as well. Good one, I recommend the listen.
Flyctory.com in Frankfurt
Here are all postings related to Frankfurt:
Sound of Nashville on Flyctory.com
Here are all postings related to the Sound of Nashville concert series in Germany and the Netherlands: