The Dead Daisies are a very interesting band, which has been founded in the Southern Hemisphere in Australia and New Zealand. They are producing straight rock music – their newest release is Holy Ground. The album is going to be released on 22nd January 2021.
The Dead Daisies – About the Artists
The Dead Daisies are a truly international project: the roots of the band were in 2013, when Australian David Lowy and New Zealand's Jon Stevens founded the project. Lowy, who was also a successful businessman with the Westfield Group, is still member of the band, he is currently joined by Doug Aldrich (Whitesnake, Dio, Lion, …), Deen Castronovo (e.g. Journey) and Glenn Hughes, who briefly fronted Black Sabbath. The band is nowadays located in Los Angeles. The list of members of the band is quite long and features a couple of other quite famous names of the music industry.
The debut album of the band, released in August 2013, has been self-titled. They have been quite active on all kinds of releases. Holy Ground is already the band's fifth album on top of four EPs released as well. There are more than thirty single releases – even though they just had sparse chart placements, the band is having a quite significant international fan base. Their 2018 single Dead and gone, for example, has about one million YouTube streams.
The Dead Daisies – Holy Ground – Track by Track
The eleven track album lasts 48 minutes.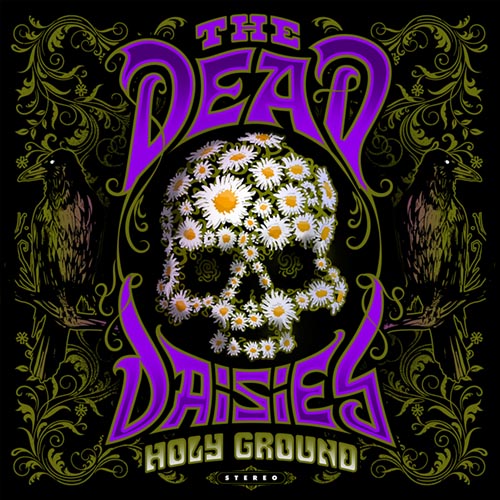 1. Holy Ground (Shake The Memory)
Slow start? Bah! The guitars are tuned up from the very first second of the album. The title track is powerful and melodic, which makes is feel like a very well-written melodic metal song. Cool one.
2. Like No Other (Bassline)
The repetitive Like No Other is just a great jammer – I guess, the Daisies blow the crowd away when performing this one live on stage one day: great guitars for the headbangers' hearts combined with catching (and easy to sing-a-long) vocals. The bridge comes with a cool bass solo – there's just something for everyone!
3. Come Alive
Also the third track, Come Alive, does not leave any doubt: The Dead Daisies are masters of Rock'n'Roll. The track is a bit slower than the songs before, but a strong and guitar-driven marching forward. Nearly four minutes of very finest entertainment for the guitar lover in each and everyone of us.
4. Bustle And Flow
If I close my eyes, Bustle And Flow, one of the tracks released prior to the album, strongly reminds me of AC/DC in the very good old days. Great hard rockin'!
5. My Fate
My Fate starts like a soft rock ballads – but finally, the band is just too keen on hammering some riffs through the amplifiers. I still love the comparably soft moments of this song, which has a lovely balance of strong instrumental parts and lyric-centric and melodic elements. Maybe not the most catching track at first sight – but I loved to listen to it the more I listened to the album.
6. Chosen And Justified
Chosen And Justified is a lovely rock duet – The Dead Daisies offer different sounds in their tracks so far – and they rock them close to perfection. Fun!
7. Saving Grace
With Saving Grace, The Dead Daisies present another very catching song on this album. Even after listening to this track for the very first time, it stays in your mind. Cool music.
8. Unspoken
Yeah, I can hear you breathe
Unspoken, you gotta let go
Unspoken, you're out in the glow
Unbroken, you let it all flow
Powerful rhythm, straight guitar play: Unspoken is Rock'n'Roll straight from the heart. The song simply has a lot of power and feels like legendary rock acts of the 1970's and 1980's. I Wanna Rock! Love it!
9. 30 Days In The Hole
If you feel to be familiar with 30 Days In The Hole – the track is a cover of 1972 Humble Pie cover. Could be a song on my favorite musical Rock of Ages indeed. Love to listen to it – and even though it is "just" a cover, one of my favorites on the album.
10. Righteous Days
If your long hair is already having a touch of grey, Righteous Days will just make you fall in love with The Dead Daisies and remind you of your youth rock memories – the track just connects so beautifully to 30 Days In The Hole, you can hardly imagine that these songs are five decades apart. If you are a younger rocker, you will love this song as well – it is just to good.
11. Far Away
The album closes in an epic way: Far Away is a comparably slow track, which is using a lot of different rock elements: in some parts, it sounds like a 1970's rock ballad, then it comes with bombastic guitar solos – and there are even some rather classic instruments. If one really risks not to remember the eleven tracks of the Holy Ground, The Dead Daisies give a seven minute long reason to minimize that option. Great one!
The Dead Daisies – Holy Ground – Spotify
Here is the album on Spotify:
The Dead Daisies – Holy Ground – My View
I received Holy Ground already before Christmas. It was likely one of the albums I listened to most often before in fact reviewing it. It is just a very straight – and versatile compilation of rock tracks, sometimes harder, sometimes heavier. An absolutely enjoyable musical statement by The Dead Daisies, which is fun from the very beginning to its very end. Top Pick!
Media Reviews – Australia
Here are all my media reviews related to Australia:
Flyctory.com in Frankfurt
Here are all postings related to Frankfurt: