Whitney Duncan has been an artist on the rise about ten years ago. I did not read too much about a hiatus or similar, but the Tennessee-origin singer songwriter recently came back with some song – and on 8th January 2021, she released her first EP since about ten years, Heartbreaker. Time to listen to her music.
Whitney Duncan – About The Artist
Whitney Duncan was born on 3rd August 1984 in Scotts Hill, Tennessee, quite in the middle between Nashville and Memphis. She already performed at school ages, with her initial gigs in Nashville in her young teenage years. Her first major success was writing a song for Kenny Rogers: My World is Over has been released in 2004. She gained nationwide attendance, when she placed fifth in Nashville Star on NBC in 2007. The same year, she self-released her self-titled debut album. the following year, her single When I Said I Would made it to the US Country Top 50 – a year later, in 2009, Skinny Dippin had similar success. Both tracks have been published on the Right Road Now album released in April 2010, which peaked 41st in the US Country Album Charts. In 2013, she released her last album, One Shot (self-release). She also made it to several reality TV formats, like Survivor: South Pacific or The Amazing Race 25.
Whitney Duncan – Heartbreaker – Track by Track
The five track EP lasts 16 minutes.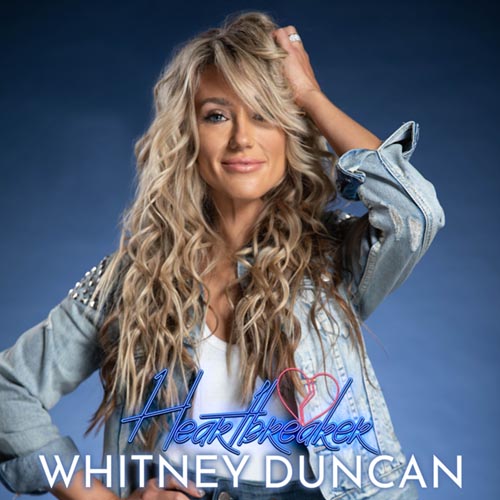 1. Homesick
I'll keep you homesick
There ain't no doubt about it
You'll wish that you were staying
By the way I'll leave you hangin'
On a slow kiss
Shirt halfway off my shoulder
'Cause if I don't get to hold ya
At least I'll get to know
Homesick was in fact the track I listened to while scanning the new releases of the week – and it just attracted me to have a closer listen to the Heartbreaker: a good voice, a touch of rock, good and catchy tunes. I just enjoy to listen to this track.
2. Lightweight
Lightweight has already been a single in fall 2020. A slow and emotional song. I have to say that it is a nice song, but I like Whitney Duncan's powerful style much more. Towards the end, the song has some more angry elements, which definitely are the best parts of the song.
3. All She Wants
Back to the electric guitars: All She Wants is indeed a great song. Very well produced with a slight touch of pop (without making it feel too cheap). At the middle of her EP, Whitney Duncan makes me feel really happy.
4. Damn I Do
Damn I Do reminds me of the golden 1980's (not really not the country side): the fluent and melodic sound could have been a hit in that era as well. I just enjoy to listen to Whitney Duncan. Good song.
5. Heartbreaker
The EP closes with the title track, which is again rather on the emotional and slower side. Still a good song, which is a good listen.
Whitney Duncan – Heartbreaker – Spotify
Here is Heartbreaker on Spotify:
Whitney Duncan – Heartbreaker – My View
Five songs, a couple of styles (I would have maybe loved to hear one very different song) – Whitney Duncan's Heartbreaker EP is definitely fun to listen to. Good to have her back more frequently in the business. The songs may not be on the top level of female country performances in Nashville – but still, they make you smile, give you a good mood and are overall absolutely well done. Definitely worth to have a listen to.
Women Country EP Reviews on Flyctory.com
This is Women Country: here are all my reviews of EP recorded by the ladies:
Spotlight – Flyctory.com Interviews
Here are all postings of my interview section Spotlight: