I have to admit that I had been very nervous before that concert. The LANXESS arena, Germany's largest multiplex arena in Cologne hosted the concert of Ben Zucker on 6th November 2019. I have been to this place easily more than 200 times, for concerts, ice hockey, Handball World Championship and some more reasons. It was my second time in the arena with my camera stuff – but being in front of the spectators for three songs, though, was my absolute debut.
Ben Zucker is an exciting act, who had massive success in the last years in Germany. He selected very interesting support for his almost sold out shows: The Cologne concert belongs to the first part of the tour, where he is supported by German country-pop artist Van de Forst. During the second part of the tour, Canadian country music superstar Lindsay Ell will be heating up the crowds before the main act. Still not a Sound of Nashville show, but a lot of country music in it 🙂
This posting comes with a 522 major size picture gallery in the concert gallery section.
LANXESS arena Cologne – About the Venue
The Cologne LANXESS arena, which is also called Kölnarena (Cologne Arena, its original name) or Henkelmännchen ("Henkel" means handle – the name points on the remarkable architecture) in Cologne is located on the East Side of Cologne, in the Deutz borough, very close to local transport and the Cologne trade fair. It is also quite conveniently linked to road traffic. Its maximum capacity is 20,000 for concerts and 18,700 for ice hockey. In the beginning of the Kölnarena days, the only variation of capacity for concerts was not to use the upper tier. Nowadays (and also due to a lack of arenas in Cologne with that capacity), the stage is sometimes also moved forward significantly, so that you get a theater feeling.
Apart from Premium / VIP tickets, the admission to the Ben Zucker show was 60 Euro in the best category. The venue was not sold out, but 7,500 was a quite impressive attendance.
Ben Zucker & Van de Forst – About the Artists
Selling 400,000 copies of your debut album and already having 50 millions streams of your songs at that stage of the career is not all bad. Ben Zucker is reached these milestones already – and this is even more remarkable as the 1983 born artist,  whose original name is Benjamin Frisch, is singing in German. His music, which is performs with a very powerful voice, is a mixture of different styles, a touch of pop, German Schlager and country music. He started playing guitar at the age of 14 and soon changed from covering English rock songs to German titles. His debut single in 2017, Na und?! (meaning So what?) had limited success and made it into the Swiss charts, but the same-titled album reached double platinum status in Germany and made it to the Top 10 in Germany, Austria and Switzerland.
In summer 2019, he released his second album Wer sagt das (english: Who says that?) and had similar success in the album charts, at leasr regarding the album placement. He sang with and supported Bonnie Tyler and Helene Fischer (one of the best selling female artists of the world, despite singing German) in the past.
Van de Forst is one of the few successful German acts who clearly state that they are doing country music . The mid-20s young lady already had remarkable success by supporting a couple of really prominent names like Michael Bolton or Bonnie Tyler.  She published her debut album in 2015, Lucky. Her artist name is a short form of her given one, Vanessa von der Forst. I was very much looking forward to see her on stage, as she could be one of these domestic country artists, who helps to boost the genre in Germany.
Ben Zucker & Van de Forst – The Show
Van de Forst started with her 20 minute set right in time at 19:50 hrs. She introduced herself as being a proud country musician and started her set with Dolly Parton's Jolene. Thereafter, she performed five of her own songs, including Round The Bend. The final song of the set was Paint This Town. Overall, the songs on stage sounded significantly less country-alike than the studio versions do. The crowds partially appreciated her show.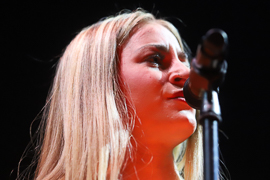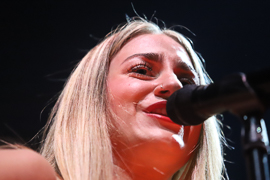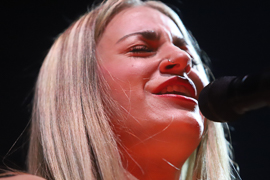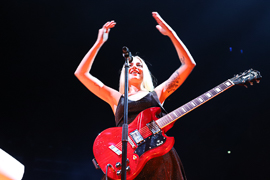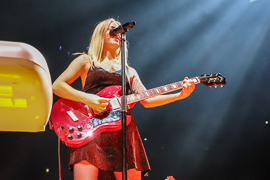 Very unlikely for an arena show with a support act, the lights in the arena stayed turned down and during the intermission to prepare the stage was some decent light show and background music. Ben Zucker was scheduled to step on stage at 20:30 hrs.  The first three songs of his set were Verschworen, Wer sagt das?! and Ja ich will. While he used the main stage for these songs, Zucker and the band later performed on the gangway which has been used by Van de Forst before. Definitely one highlight of the concert was a duet of Zucker and his sister. Later a bridge was lowered from the roof area and even brought the artists to the minor stage in the back of the spectators area. They played Immer wieder Du and Alles für mich as acoustic versions, before they headed up the arena with a medley of German classic (mainly Schlager) songs like Rio Reiser's König von Deutschland or Helene Fischer's Atemlos durch die Nacht.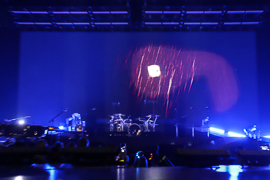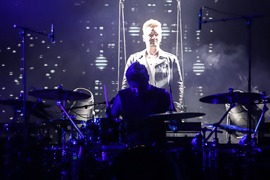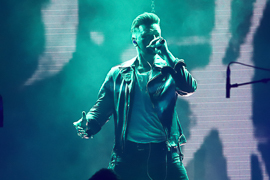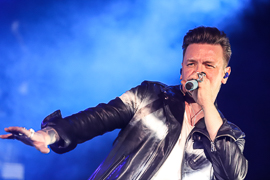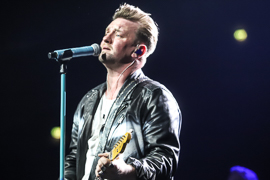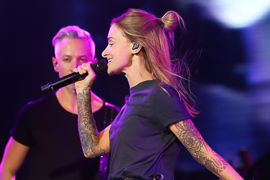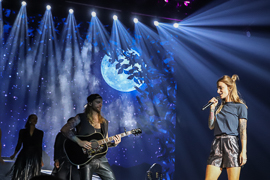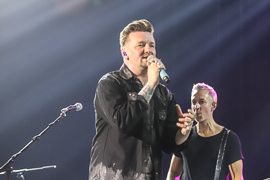 Back on main stage, there were more party songs like Mein Berlin, where confetti was shot into the arena for the second time. After a couple of more songs, the last two songs of the ordinary set were Wir lieben uns wieder and Na und, which finished around 22:15 before the encore. The show finished around 22:30.
Ben Zucker & Van de Forst – The Gallery
The concert gallery hosts 522 major size pictures in the following sub-section:
Ben Zucker & Van de Forst – My View
First of all, it was great to see Van de Forst on stage. She sang we a lot of spirit and attitude and proofed her skills. I think she got a lot of talent, but she did not get a good touch that evening for the audience – maybe she just needs one or two songs, which the people like at first sight / first listening. I felt her songs are stronger as studio versions and as a support act with a 25 minute set, you just don't have a second chance. Nevertheless, I feel that we will see her back on country stages as well as on major ones very soon. There is too much good music in this young lady!
Ben Zucker was just awesome. At the beginning, I felt that the audience was not too powerful and willing to cheer this evening, but towards the end of the set, he gave the Cologne large arena a real treat. His voice, his power is just amazing. He loves telling his fans stories about his life in his songs. That works – no matter in which language. And it feels just like a great and honest show!
German Artists
Here are all Flyctory.com postings dealing with German Artists: