Covid-19 has a huge impact on the music industry. My home town Cologne's local country music heroes, Mrs. Greenbird, were hit hard by the situation as well: practically, all their 2020 tour dates have been hit by the concert cancellations. For their new album, they try out some new ways to produce it: Crowdfunding. So far, this seems to become a good success.
Mrs. Greenbird – About The Artists
Mrs. Greenbird is a duo from Cologne – and one of the most successful German artists in country / folk in my home country. Sarah Nücken and Steffen Brückner, who married this year in February, thereby boosted their career by winning the German X-Factor TV show in 2012. Their debut album at that day topped the charts. They have a very solid fan base and are typically quite frequently touring. I for example featured a November 2019 concert in a lovely intimate club in Frankfurt and their 2019 album, Dark Waters. At the debut German C2C 2019 in Berlin, they were the only domestic act on stage.
Their current single of the duo is Love You To The Bone, which are their vows of their wedding. A lovely and intense track.
Mrs. Greenbird – What do They Want to Do
This year, Mrs. Greenbird celebrate their tenth anniversary. Thus, Sarah and Steffen decided to record an anniversary album with some of their greatest songs in new arrangements (e.g. with strings) and of course some new tracks as well. A key part of the funding, touring in 2020, got bust due to the concert cancellation in the Covid-19 situation. Their campaign illustrates how intense the investment into an album is again – Frank Renfordt of The Cumberland River Project explained similar facts recently in a Spotlight interview on this blog.
Mrs. Greenbird – The Crowdfunding Goodies
Crowdfunding to me is about two things: the people trusting you and believing in your project – and goodies! The classic is of course the album itself. The physical CD including the digital download is 22 Euro, download only is 10. The band has been quite creative, though and – apart from a lot of "ordinary" merchandise, there were some really cool items. My favorite was the pink poodle plush, which is some sort of mascot of the band. Unfortunately I could not grab it as the campaign started slightly delayed and I have been boarding a plane. They also listed some stage outfits and even a golden record. They felt to be comparably fair-prices (to avoid: cheap), as most of the "cool" goodies are gone. You can still for example buy a Maurice Lacroux watch engraved to Mrs. Greenbird – if you feel the band is worth to be supported with 1,500 Euro.
For slightly more, 1,600 Euro, the band will travel to you (if you are in Germany, Belgium, Netherlands or Luxembourg) and play a 45 minute acoustic set in your house. At the time of writing, just few hours after the crowdfunding campaign started, three of these sets have been booked already. They also offer a set played at your wedding or an exclusive streaming concert pre-presenting the songs before the album release.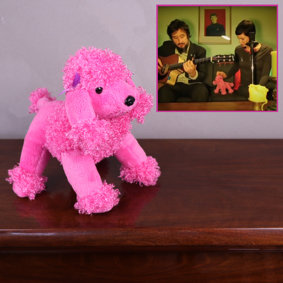 Mrs. Greenbird – Crowdfounding Targets and Start
There are two levels the band wants to achieve: the first one is 11,111 Euro. This would, according to Mrs. Greenbird, be sufficient to record and produce the album itself. In order to do proper marketing and promotion, they feel to need a similar financial effort, so that this Level 2 target is 22,222 Euro.
The campaign has been started in a live stream on 15th May 2020 and lasts until 3rd July 2020. As said, at 20:08 hrs, when the campaign has opened, I have just been in Berlin airport, boarding a plane to Dusseldorf. Some three hours later, when I checked the campaign again, Mrs. Greenbird already collected over 9,000 Euro. Around the time of publishing, the morning of 16th May 2020, the campaign was just about to hit the 10,000 Euro mark.
Link to the Crowdfunding
Here is the link to the Mrs. Greenbird Crowdfunding site:
All pictures: Artist material
All "classic" blog posts
No reviews – just debating and certain topics – these are my "traditional" blog posts in the categories Just blogging, Just blogging on music and Sports Blogging:
German Artists
Here are all Flyctory.com postings dealing with German Artists: