Ward Davis is a great name in the Nashville songwriting scene. Since five years, he is regularly publishing solo music. His third major release, the album Black Cats and Crows will be released on 20th November 2020. Here is my review.
Ward Davis – About The Artists
Ward Davis is originally from Monticello, Arkansas. Even though he is really well-reputed as a songwriter, Black Cats and Crows is just his third album. The debut album was the 2015 15 Years in a 10 Year Town. Davis wrote for Trace Adkins, Willie Nelson or Cody Jinks. His biggest hit as an artist was likely Old Wore out Cowboys, which he performed with James Johnson and Willie Nelson.He started to play the piano at the age of seven, but the piano teacher freaked out with all the songs Davis wanted to play by ear instead of by note. According to his bio, he started to learn the guitar as the guy with the guitar was getting all the girls.
Ward Davis – Black Cats and Crows – Track by Track
The fourteen tracks album lasts 50 minutes.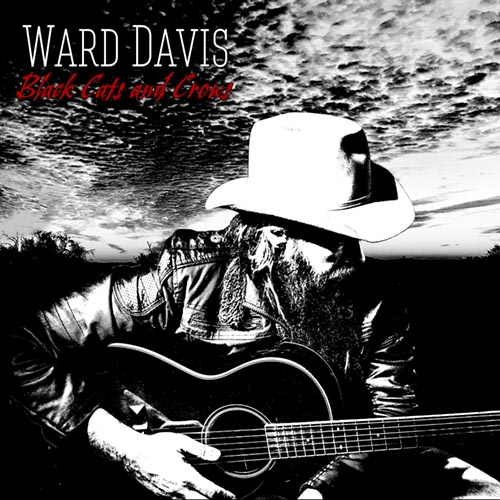 1. Ain't gonna Be Today
The album starts with a straight, hand-made country rock track. Very catchy song with powerful electric guitars and a very good chorus. Also got a a touch of blues, by the way – great starter!
2. Black Cats and Crows
The album starts with a set of three songs, which have already been released as single. The title track is second of them. In the promo package, Ward Davis states "It's not a country lyric – it's like a Metaillica lyric". Indeed, the track feels very fluent. Ballad-alike, country, rock, again a touch of blues, very intense. Great one!
3. Threads
I hold myself together
just to see how much I can take
but I'm weary and I'm weathered
and I know that I'm bound to break
A very intimate, quiet, intense piano song is the third one of this opening triple. Threads is so much different than the songs before that it even feels more special than it already is. Love it.
4. Sounds of Chains
The album gets darker tunes – Sounds of Chains is also living from the collaboration of Davis on the acoustic guitar and electric guitar power by Scott Ian from Anthrax. The song about "a guy who has never shown one sign of empathy" (Davis) is just damn good in this tune.
5. Get To Work Whiskey
Get To Work Whiskey is one of Davis' on stage classics and a favorite by his fans as well. I found seven year old recordings of this one on YouTube – great sing-a-long with a great sound of the steel and the electric guitar in the guitar. Feels very modern. Yee-hah!
6. Colorado
With the very present fiddle and the slow tunes, Colorado feels so well-known at first listen that you may feel it is a cover – but it is a new track, which just spreads a perfect touch of nostalgia over Black Cats and Crows. This all makes it to one of the most beautiful experiences of the album.
7. Book of Matches
The Book of Matches is rather a short episode of the album – with 2:38 minutes, it is the shortest track on the album. There is a touch of Springsteen in this track to me, the sound is powerful and traditional again. Lovely short story about a long night with a book of matches and a bottle of wine.
8. Heaven Had A Hand
The story behind Heaven Had A Hand is quite interesting: the song has been written 15 years ago. Davis originally wrote it about his ex-wife – but now, in 2020, he felt that this piano song is much rather about his oldest daughter. Music is simply magic – no need to add that this song is a lovely listen.
9. Where I Learned To Live
Where I Learned To Live is a beautiful looking back in biography and thinking about home and all the good and bad memories you did in your early life – simply Where I Learned To Live. 
10. Papa and Mama
The dark, but also rhythmic and groovy connects to some of the darker songs of the album. The track has been originally written by Ray Scott, which Davis explicitly praises in the promo package of the album. Indeed, intense songwriting.
11. Lady Down on Love
Lady Down on Love, which is arranged with the piano and just some strings, is an intense and beautiful listen as well – the track is in fact a cover of the Alabama classic. Davis does a wonderful version of this track, 37 years after its original release.
12. Nobody
Nobody knows what a nobody I am – that's the key phrase of the chorus of a wonderful, personal song. It may feel a bit hidden in the album, but it is a real gem.
13. Good to Say Goodbye
The second last song of the album is really about when it is Good to Say Goodbye. Hard not to be too repetitive in this review, the stories are just so intense, straight from the heart. Great to relate to music.
14. Good and Drunk
The album starts with a sad topic: Davis wrote Good and Drunk about the split and divorce from his wife, which happened right after he came back from a tour. Again, very straight and emotional writing. Good one.
Ward Davis – Black Cats and Crows – Spotify
Here is the Spotify widget to Black Cats and Crows:
Ward Davis – Black Cats and Crows – My View
Black Cats and Crows is indeed a great stuff. The songwriting is excellent, there are deep and very close lyrics. Ward Davis adds rock and blue to country music in a lovely way and thus touches Southern Rock in an amazing way. Last, but not least, Davis' voice is adding a lot of atmosphere. Great listen – if you like country with a dark touch of rock, you just have to give this album a listen. Top Pick!
Top Pick Country Media Reviews
Here are all other country music media reviews, which have been awarded with Top Pick! status:
Flyctory.com on Hard Rock and Metal
Here are all postings about Hard Rock and Metal: