A new release by Nikki Lane: more than five years after her recent release, the Americana singer-songwriter is back in the record store with a long-player. Denim & Diamonds, which has been released on 23rd September 2022, is in fact her fourth studio album. Here is my review.
Nikki Lane – About The Artist
Nikki Lane was borne as Nicole Lane Frady on 17th October 1983 in Greenville, South Carolina, USA. Her first creative jobs have been in fashion design, before she concentrated on her career as a country and Americana artist. 2011 gave her first major releases, the EP Gone, Gone, Gone and the album Walk of Shame. Her second album All or Nothin' (2014) got some nice critics already, the commercial success was rather limited though. Lane's commercial breakthrough was definitely her third and most recent album, Highway Queen. The 2017 release peaked 2nd in the US Heat and Top 20 in the US Folk Charts.
Nikki Lane – Denim & Diamonds – Track by Track
The ten song album lasts 33 minutes.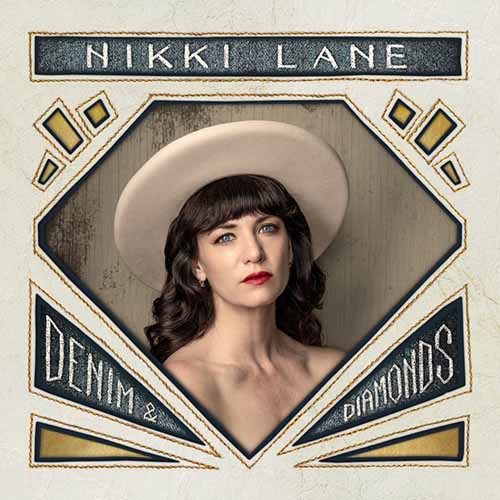 1. First High
a touch of roots and rocking riffs lead to an alternative country-rock touch in the opener. The single release reflects a story from her early artist years. Good listen.
Take me back to the first show
Right back to the first note
When I knew my heart was pure rock 'n' roll
I'm still searching for that first high
2. Denim & Diamonds
The title track is a thumbing and nicely pushing rocker, which still can't deny its Americana heart. A song made for the later part of a concert set. The finish is a bit of abrupt, which confused me at the first listens.
3. Faded
The 2:49 minute Faded presents a melancholic, thoughtful country melody. Beautiful, personal lyrics which just make you listen to this track. Faded is one of the highlights of the album to me.
But I'm faded, melting
Destruction is running through my blood
I'm shameless, can't help it
I'm reckless, no I just can't get enough of your love
I just can't get enough of your love
4. Born Tough
With Born Tough, Nikki Lane touches garage rock, without losing her Americana signature. The chorus is one of the most catching and melodic ones of the whole album. Good listen.
5. Try Harder
Sometimes you gotta try a little harder
Try a little harder to get what you want
Keep singin'
Sometimes you gotta try a little harder
Push a little farther just to make it on your own
The album takes back the speed and the rock intensity of Born Tough a bit – Try Harder repeats its chorus in an almost pop-alike way. Especially towards the end of the song, the fifth song rather feels like a Americana mantra than a Nikki Lane song to me.
6. Good Enough
Good Enough is reducing the rock element, the song is a straight country music track with a traditional texture. However, the song feels a bit too monotonous and almost boring to be. Despite the song is by far the longest song on Denim & Diamonds, it just does not manage to define its own character.
7. Live/Love
Matt Pynn, who is playing the mandolin in this track, has quite some time to present his instrument – especially if you compare it to the total playtime of 2:32 of Live/Love. The shortest track on the album has a nice melody, but again does not come with too many elements to stay in your mind. Bad luck.
8. Black Widow
Black Widow is another single release of the album. The song strongly pushes back towards rock and roll and also catches the listeners with its stomping rhythm. Nice groove as well.
9. Pass It Down
Matt Pynn is doing the pedal steel and the Wurlitzer in this song – and both instruments drive the character of the track. Pass It Down is a pop track in a country music style. In addition, it is one of the few tracks of this album, which makes you feel to sing-a-long to the music.
10. Chimayo
The closing song is a mixture of a ballad and a slow, dramatic recording. Definitely a nice way to finish the story of Denim & Diamonds, which brought Nikki Lane back to us after more than five years. Beautiful atmosphere and lyrics in this song.
Nikki Lane – Denim & Diamonds – Spotify
Here is the album on Spotify:
Nikki Lane – Denim & Diamonds – My View
Welcome back Nikki Lane. Not sure if Denim & Diamonds is something like a comeback album, but it definitely does have a couple of good reason to listen to Nikke Lane (again). However, there are also some rather average listens in this 33 minute release, so that I don't feel her 2022 long-play to be in the very top ratings.
Hotel Reviews in 2022
Here are all my hotel reviews published in 2022:
Travel Postings about Finland
Here are all my travel postings related to Finland: