There is no doubt that Nashville is full of amazing talent – I would even say it is likely the highest concentration of musical talent worldwide. One fact which is supporting this argument is the very high quality of debut albums produced at Cumberland River. On 2nd October 2020, I have been in touch with one of these debut albums, recorded by Jordan Brooker, who moved from Indiana to Nashville. His debut album is called The Young Troubadour's Almanac.
Jordan Brooker – About The Artist
Jordan Brooker is an Indiana-origin artist. He originally was rather in 90's rock, including indie and alternative and his first musical steps were rather influenced by acts like Jimmy Eat World or Soundgarden than country music acts. His producer Luke Wooten persuaded him to move to Nashville, where is now living with his wife. He is releasing music since 2018 and already had three big hits: In 2019, he released the single All She Wants Is The Moon, which is also featured on his 2020 album. The song has some 1.8 million streams on Spotify. However, two other songs, Life In Your Days and You Are are about to hit the three million mark quite soon. Both were part of his 2018 self-titled debut EP. The Young Troubadour's Almanac is his debut album.
Jordan Brooker – The Young Troubadour's Almanac – Track by Track
The twelve song album lasts 44 minutes.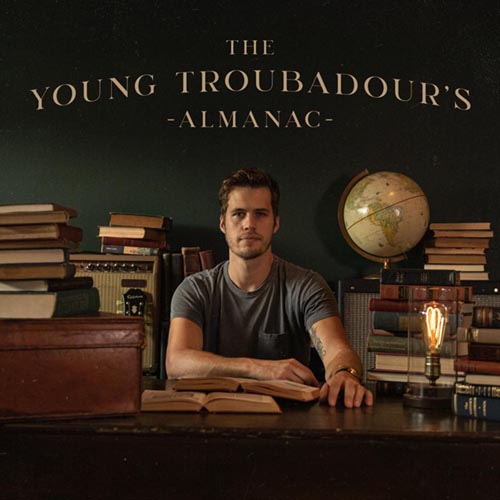 1. Midnight Sun
The first song of the album already sets the direction in which the almanac is travelling: modern country with a lot of rock and electric guitar. The deep voice gives an additional dark flavor. Very characteristic, love it.
2. Lost
Oh I can take
Yeah you place I rather be
Oh you and me
Dancin' in the wild and free
Chasin' telephone while down the pitch back road
Watchin' you blew mine and midnight road
Oh that whisked stars get costed
Baby let's stay lost
Undoubtedly, Jordan Brooker has a lot of power – I guess that these tracks are also quite a feast for rock fans. Lost feels rather than a rock track than country music to me. Label it as you like – I label it as "a lot of fun".
3. Born Yesterday
The guitars again dominate Born Yesterday. I guess Jordan Brooker is a lot of fun live on stage when I listen to these songs. Nice!
4. All She Wants Is The Moon
All that she wants is the moon
Hanging in the sky when it is right now
All she wants me to do
Is hold her body close 'till the stars burn out
I shower that girl with diamonds and pearls
She wanted I would give her the world
All that she wants is the moon
If you start to doubt that this is really (partially) country music, this lovely ballads feels much more Nashville-alike than the songs before. Great voice for these kind of songs, by the way – and even more beatiful due to the gentle support by a female backing vocal.
5. Irish Rose
The Irish Rose is a beautiful country rocker. Very present, great listen, just powerful.
6. January Heart
I definitely enjoy the powerful songs of the album, but when Jordan Brooker is presenting more quiet moments like at January Heart, I just enjoy his strong voice so much more. The song develops and gets more powerful over time – I mentally get stay with its lovely beginning, though.
7. Next Best Thing
The guitar in Next Best Thing partially sounds a bit like soft grunge style to me. This mixture of country and rock elements, these tracks which sometimes sound like early 1990's rock to me, are just a magical mixture to me. Towards the end, Next Best Thing, which plays with a lot of different moods, becomes a really rocking track. Wow!
8. Surefire Way
After trips to rather hard and alternative rock sounds, The Young Troubadour's Almanac also features songs which have a modern country party touch. One of them is Surefire Way. I lenjoy listening to it.
9. Heaven Seventeen
The structure of Heaven Seventeen compares quite a much to January Heart to me. The song starts rather slow and intimate – but overall, you just cannot keep this rocking mustang calm for 3:15 minutes. He sometimes just needs to grab his electric guitar and push the strings hard. At Heaven Seventeen, I am a bit sad about it – it would have been a lovely song just keeping the intimate spirit for the whole duration.
10. Never Gonna Take Us Alive
During this review, I start to feel like a marathon runner, who is completely exhausted, but know it is just a few miles left: I am running out of words and descriptions for the music of Jordan Brooker.  The key reason is that the elements repeat and I would love to have some more surprises. No doubt, Never Gonna Take Us Alive as such is a good track individually – but would love to another aspect of Jordan Brooker's music.
11. Drunk At A Bar
Drunk At A Bar is a bit slower and maybe also a bit more atmospheric , but overall, I just refer to what I wrote about the song before.
12. When The Mountains Come In To View
Finally… It is possible. Just the acoustic guitar and Jordan Brooker's voice. And it is wonderful. I love it.
Jordan Brooker – The Young Troubadour's Almanac – Spotify
xxx
Jordan Brooker – The Young Troubadour's Almanac – My View
Jordan Brooker is definitely a very talented guy – and The Young Troubadour's Almanac is a really good album, which is driven by twelve songs, none of which is a weak one. What a great statement. I would just love to go for more variety (even the duration of the songs does not differ too much). Thus, I feel it is appropriate to give this album a high rating, but stay away from the very high ones – show us a bit more of your great potential, Mr Brooker, next time! Looking forward to it!
Flyctory.com in Indianapolis
Here are all postings related to Indianapolis:
Postings about Concerts
All postings about concerts I visited: