I did do the Opry Backstage Tour before, but ninth day of my Pittsburgh Penguins trip in March 2022 also featured my very first show at the Grand Ole Opry. The place in Northern Nashville is finally the stage, which made country music famous. As the shows are also broadcasted (and nowadays: streamed), it is regarded to be the longest running radio show in the world, starting on 28th November 1925.
When I entered the Opry concert hall (which holds more than 4,000 people), I realized that I managed to buy first row center tickets. A good opportunity to share some views of the show on 18th March 2022 with you. I have taken the snaps as an ordinary spectator with my pocket point-and-shoot Canon G7 Mark II camera (which is actually a quite good one, of course).
This posting comes with a designated 254 major size pictures section in the concert galleries.
Grand Ole Opry, 18th March 2022 – The Show
Here are the artists of the show in chronological order, with some basic remarks. The typical set is 15 minutes, including the preparation of the stage for the following artist, so that they typically performed three songs. After Hailey Whitters, there was a fifteen minute intermission, which has been a quite intense hassle.
Mark Wills
I had booked the Circle Room VIP Experience before the show (I will chat about it in a separate posting). Mark Wills was he artist featured and had a some twenty minutes Q&A in that intimate atmosphere. You could feel his kindness and enthusiastic attitude towards the Opry also in his three song set. Great opener.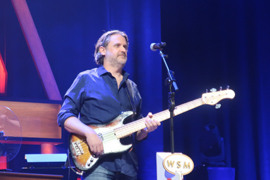 Riders In The Sky
Four, at least average-aged, men play traditional country music. That's a brief – and really unfair – short sumup of these three songs. To me, Douglas Green, Woody Paul, Fred LaBour and Joey Miskulin have been the act of the evening. Not at all the style of country music I favor, but a very joyful – and humorous performance on the legendary stage you just have to love. even though they even did some jodeling. Great fun!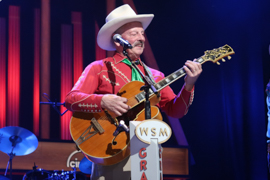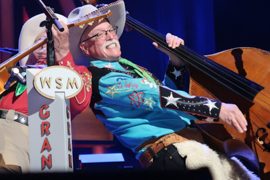 John Conlee
John Conlee again illustrated to me, why US country music is so close to German schlager. Very emotional, a bit of kitschy performance by the Kentucky-origin artist who is an Opry member since more than forty years. Sounds a bit negative, but again the spirit and the joy he and his band spread over the 4,000 spectators was simply magical. I especially loved the energy his bassist was showing.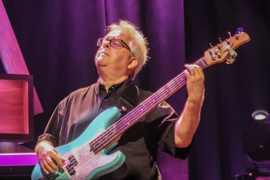 Hailey Whitters
The last act before the intermission was Hailey Whitters. The 32-year old presented her album Raised, which has been released on the day of the show. People who bought the physical copy could even be part of an intimate set after the show. So much amazing love for what she is doing – and the tracks have been a great listen as well. Thus, listening to Hailey was definitely fun.
Texas Hill
The trio had the difficult task to persuade the crowds right after the intermission – and they did really well. Very energetic and rocking country sounds with nice instrumental skills – a very good fifth act at this evening.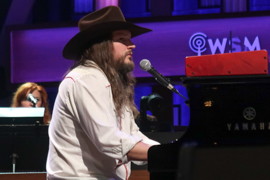 Doug Stone
Doug Stone was another big name in the lineup of the Opry Show. The crowd loved him – and even though he has not been my favorite of the night, I really felt he did great.
Jon Reep
Jon Reep is a US stand-up comedian and actor so that his performance was not musical. I have to say that he lost me already in the first minute, doing "jokes" like stating he was just being tested positive for Covid-19. His first minutes was purely about making jokes about the pandemic and about easy, which I felt immature and disgusting. The second part about different accents was much better. Some people loved it – I felt it was absolutely not appropriate and also boosted the clichee that country music listeners are an audience with certain characteristics. Thus, he is also not featured in the gallery.
Charlie Worsham
One of the artists I have been looking forward most to before the show has definitely been Charlie Worsham. He definitely fulfilled my expectation and did a very good set with a very nice stage presence. Well done!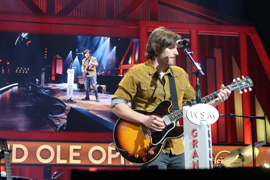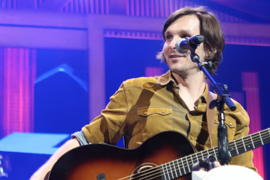 Grand Ole Opry, 18th March 2022 – My View
Apart from Jon Reep, which I felt to show an absolutely inappropriate performance (others in the audience loved it, though…), I felt it was an amazing evening. Even acts which show genres which I rather value less have been a lot of fun in this very special atmosphere and place. I had an amazing evening. Having five minutes more intermission would be less stressful, though.
Grand Ole Opry, 18th March 2022 – The Gallery
There are 254 major size pictures in the concert galleries:
Flyctory.com Country Music Concert Coverage
Here is a list of all concerts I covered, limited to Country Music:
Travel Postings about the Cologne Region
Here are all Flyctory.com travel postings of the region around Cologne: