New music by Ryan Kinder: I have really been curious about Room To Dream, the new long-play release by the Tennessee artist. The album has been released on 30th July 2021. Here are my thoughts.
Ryan Kinder – About The Artist
Ryan Kinder is an artist, who was born on 1st August 1988 in Knoxville, Tennessee. However, he grew up in Birmingham, Alabama. He is active as an artist, but also as a songwriter and musician (mainly as a guitarist). As a solo artist, he debuted with a self-titled album in 2007. In 2016, he released the EP Deconstructed Studio Sessions.
Ryan Kinder – Room To Dream – Track by Track
The ten song album lasts 32 minutes.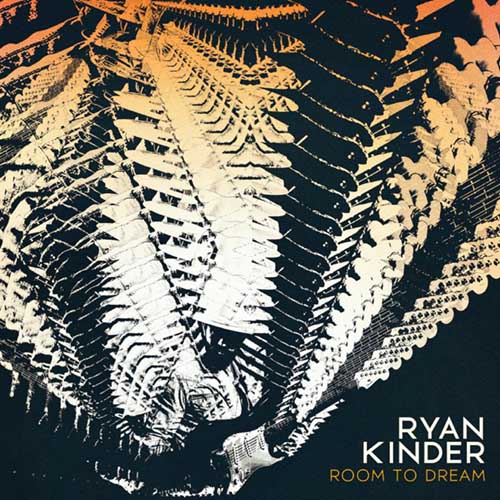 1. Something
Something in the way we leave goodnight
Makes me make sure you made it home alright
Something bout the way we let goodbye
Linger little longer overtime
Something how we always almost kiss
Never seem to call it what it really is
How long can we go on saying it's nothing
Maybe it's something
I had quite some expectations on Room To Dream – and at least the opener gives a good feeling about the album. Good, straight lyrics, very modern sound – the clapping rhythm in the chorus even increases the catching character of the song.
2. Hell Is
The beginning of the song is so dark, so intense, you just have to listen to Hell Is. The song here and there comes with some louder and rocking moments – but it is even more impressive, when the song is almost completely concentrating on Ryan Kinder's voice.
3. Room To Dream
Room To Dream just follows a classic Ryan Kinder: well written, well produced, powerful and rocking. The result: a song which stays in your mind, which makes you smile. You may enjoy it for a party as well as a concentrated listen to the story. It just got everything which makes a good uplifting new country song.
4. Tangled Up
Tangled Up is not a track for the loud party moments. Again, Kinder, is pointing the limited melodic elements of the song like spotlights to the lyrics. His voice, partially in falsetto sounds, is the king of this fourth track. It's an honor for the instruments to support the story.
5. Blame
I give in: I gave some small head bangers to Blame. The song starts with a hot start – and the powerful guitars don't stop smashing their riffs until the song is over. I am tempted to move my head to the music and clap to the rhythm. There may be deeper lyrics in this
6. Southbound
The sixth song is also a track for country rockers. I just had to smile when Ryan Kinder is screaming into the microphone during the song. I already feel: I will not be able to use a wording like "favorite song" – so far, I just love them all on Room To Dream.
7. Want
Don't know what you want
You just know that you don't want
What you wanted when you wanted me
Don't know what you want
You just know that you don't want
What you wanted when you wanted me
Ryan Kinder is so good in creating suspense, thrill within a single song.  The 3:14 minutes of Want are a perfect example for that. It's not just the lyrics and the guitar riffs, which feel to suck you into the story of the track – it is that amazing setting, the atmosphere. Great listen.
8. Friends
Cause friends don't look at their friends the way you're looking at me right now
Friends don't do with their friends things I wanna do right now
It's getting kind of hot right now while listening to Room To Dream. How did that night happen to end? Regarding the song, it must have been the best f*ck of their life. Great song!
9. Jane
There were deep songs, there were ballads, there were rockers and we just think about how a night happened to continue. Jane is just an easy song. Very nice vibe, a track which makes you smile and feel good. Ain't that a perfect? Apart from that, it is just a lovely fit for a father praising his daughter.
10. Nothing But Time
The final song of Room To Dream is a lovely ballad. Very nice recording again. Really enjoy the listen.
Ryan Kinder – Room To Dream – Spotify
Here is Room To Dream on Spotify:
Ryan Kinder – Room To Dream – My View
I expected a really good one – but Ryan Kinder and Room To Dream even exceeded my expectations. Ten really good songs, well written and entertaining. A nice range of modern country songs, which still feel to have a common sense, a common basis. No doubt that this review has to end up in a really high rating.
Flyctory.com Country Music Top Picks! Reviews in 2021
Here are all 2021-published Media reviews about Country Music with a Top Pick! rating:
Olympic Games
Here are all Flyctory.com postings related to the Olympic Games: