Right after coming back from New York City, I headed to the Helios37 in Cologne the same evening. Sound of Nashville had brought a very interesting line-up to my hometown. Canadian actor and country artist Alexander Ludwig played his very first show in Germany at that 2nd November 2022. The support act was noone else but Flyctory.com's Featured Artist Nik Wallner. I was really looking forward to that show.
This posting comes with 243 major size pictures as part of the concert gallery.
Helios37 – About The Venue
The Helios37 in Cologne-Ehrenfeld has hosted quite a bunch of country music shows during the last years. The traffic situation is quite nice – the venue as such can be a bit of narrow, though. For more details, for example check out the show by Lindsay Ell in August 2022.
Alexander Ludwig & Nik Wallner – About The Artists
Even though Alexander Ludwig is an excellent musician, most of the people know the Canadian as Björn Ironside n the TV series Vikings. The 1992-born Vancouver native already had his first roles as an actor at childhood age. In the early 2010's, Ludwig has also been very popular as Cato in The Hunger Games. As a country musician, he released his self-titled debut EP in 2021, followed by the album Highway 99 this year.
Nik Wallner is a German country music artist, who is in focus of my coverage as a Featured Artist. Thus, you find quite a lot of information about him on Flyctory.com, including an interview as of March 2020 and concert pictures of the 2020 Country to Country in Berlin and as a support for Noah Guthrie in Cologne. The Southern German, who is also performing in German language, had one of his career highlights in 2022, when he was part of the official music show lineup of the Truck Grand Prix at the legendary Nürburgring. There will also be a new interview with Nik soon.
Alexander Ludwig & Nik Wallner – The Show
Nik Wallner opened the Sound of Nashville country music night in Cologne. He even stepped on stage a bit early, short before 20:00 hrs and started his set with Ich glaub' ich bin Country ("I believe I am country"). He did not need to warm up the crowds, as the sold-out Helios37 again prooved to be a narrow cozy venue, but the Bavarian definitely won some hearts in the Rhineland. Especially at tracks like Ich bin dabei, the crowd cheered for the supporting artist and his drummer Tom and sang along to some parts of his song. There was a really good atmosphere until the end of the 42 minute set, which Wallner closed with two of his finest ones, Hell, Yeah! and Landweilig.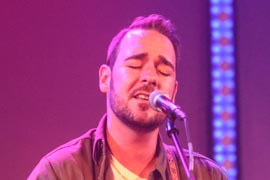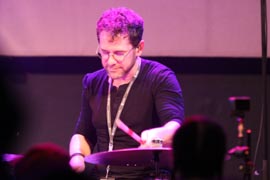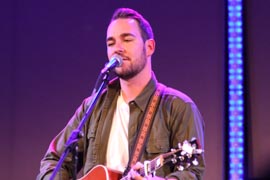 And then came the main act, Alexander Ludwig. Cologne was honored to listen to his first show on German grounds – he even stated that these three Sound of Nashville shows were somehow his first ever tour. Ludwig played for some one hour, plus encore. Thereby, you could feel that people definitely did know his songs and not just came to the small venue to see how Björn Ironside would be alike with a microphone instead of a sword. Especially songs like Let Me Be Your Whiskey, before which Ludwig stated that he drank far too much alcohol in the past, touched the people and gave an amazing atmosphere.
He commented that with "You guys are ridiculous" and obviously enjoyed the show in his somehow home country (he has a German grandmother). Another highlight was when the Cologne crowd sang Happy Birthday for Ludwig's dad, who could watch this on Facetime.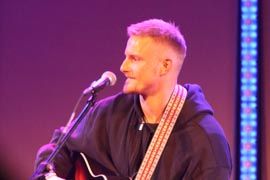 Alexander Ludwig (2nd November 2022, Cologne) – The Gallery
Here are 243 major size pictures of the show. They are located in the concert gallery:
Alexander Ludwig – My View
What an awesome night in Cologne! Nik Wallner somehow gave a comeback to the German country listeners and definitely made use of this opportunity. Alexander Ludwig demanded for more – this guy should play the bigger venues, also in his distant home country. The Helios37 is not the most enjoyable venue for sold-out shows – but I am sure that hardly anyone left the building without smiling that night – I even heard some happy thoughts in French from some of the fans.
Concerts (Canada)
Here are my Concerts posts related to Canada (i.e. shows in Canada or with Canadian artists):
Flyctory.com and Norway
Here are all Flyctory.com postings related to Norway: