Fourteen years after the huge country artist Travis Tritt released his last album The Storm, he is back in the record stores and streaming platforms with a new album. It is his eleventh studio, called Set In Stone. Release date is 7th May 2021.
Travis Tritt – About The Artist
James Travis Tritt was born on 9th February 1963 in Marietta, Georgia, a Northwest suburb of Atlanta. His songs are majorly country and country rock songs. He started working professionally at the age of 26, but he already wrote songs during his high school years. At that time, he was also part of a bluegrass band. A demo tape finally lead him to sign his first deal in 1987. His debut single Country Club already made it into the US country Top 10 and the Top 25 in Canada (1989). Help Me Hold On was his second single – and this own topped the country charts in both countries. The first album under that record deal (the demo record has been released as well in 1987) thus went gold in Canada and double platinum in the US.
From that on, Travis Tritt was huge in the business. Only a 1992 Christmas album and the 1998 No More Looking Over My Shoulder could not make it to the US Country Top 10 album charts. In 1990, he won the Billboard Awards as the Top New Male Artist, his songs The Whiskey Ain't Working (1992) and Same Old Train (1999, both recorded with Marty Stuart) won Grammy Awards. Travis Tritt is also very active as an actor.
Travis Tritt – Set In Stone – Track by Track
The eleven song album lasts 41 minutes.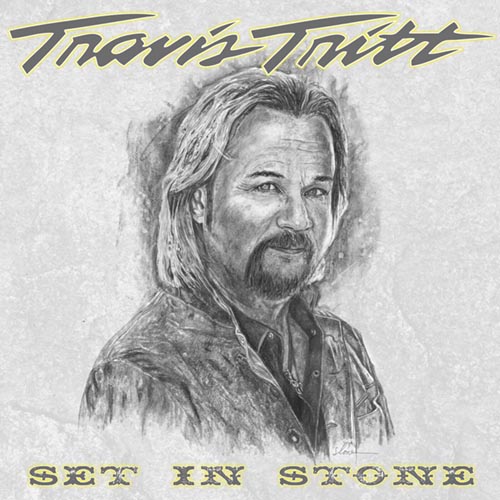 1. Stand Your Ground
How will Travis Tritt be like, 14 years later? If you judge on the opener Stand Your Ground only, I would say: the voice is a bit thinner, but the vibes are still in the song. And the guitar riffs don't fade as the the vocal part seems to do. Stand Your Ground is a powerful country rocker – like an 18-wheeler speeding on the Interstate. The gas is a bit of low – but there is sufficient reserve for 3:42 minutes.
2. Set In Stone
Morning sun up and gone
Lord, shine your light
On a working man's home
I still do what I've always done
I shoot straight I'm a son of a gun
And I don't worry about when I'm gone
My legacy is set in stone
After this powerful start, the title track is rather like the service station stop in the sunset in the Mid-West: no more fast forward and power, but relaxing and beautiful. Nice way to look back to your own legacy.
3. Ghost Town Nation
The next two songs have been used for musical mouthwatering to the fans. Ghost Town Nation is cool, indeed. It is unfortunately also one of these songs which would be even cooler if the today's song would have been recorded with the voice of Tritt's legendary days.
4. Smoke In A Bar
If you look at the preview picture of the music video, you might rather expect a powerful, rhythmic, rocking song for the road. Smoke In A Bar is a nostalgic and at most mid-tempo track though.
Trucks took a beating
The working man too
You could turn on the six o' clock
And get the whole truth
A seat belt was a backup
For Mamas right arm
When the world turned slower
And you could smoke in a bar
Some of the pictures in the lyrics, what has been better in Travis Tritt's younger days are maybe less disputatious than the ones above. I am rather mixed about this song. Somehow beautiful, great melodies, but sometimes, the disadvantage of complex lyrics is also that you listen to them and like them – or not. Thin pop tracks definitely have an advantage over good country songs here.
5. Leave This World
The fifth song of the album is for the romantic feelings in each country music fan. A lovely vision about staying with your love until your very last moment.
I pray that we leave at the same time
Your hand inside mine
Just slip away
I could not be left here
Drowning in my tears
I just couldn't take it
No, I'd never make it
And I'd do anything I had to do
But I don't want to leave this world without you
6. They Don't Make Em' Like That No More
After these rather slow and deep moment, it is definitely time to move your a** and stomp your boots – and that's exactly what They Don't Make Em' Like That No More. The song is a nice good feeling song. The lyrics are again a bit of questionable to me (do you really want to have a whole album in 2021 to tell the people that life was better some decades ago?), but at least when you dance you might not digest the message that much.
7. Better Off Dead
After that 2:47 honky-tonk dance, the country classic Travis Tritt needs a 5:05 minute break: even in case Tritt may be in an retirement home some time in twenty years, he will be able to sway to the rhythm of Better Off Dead. The song difficult times during his third marriage with Theresa Nelson in prayer-alike track.
8. Southern Man
Southern Man is a cool mid-tempo Southern rocker with a slight blues touch. No matter where I am // I'm a Southern Man. I love the guitar play on that track. Nice vibe, cool arrangement with female background voice. Would love to listen to this song performed by a power voice like Luke Combs – but Tritt does a good job in this one as well.
9. Open Line
The album is full of religious references as well – the strongest one is likely Open Line, in which Tritt is looking back to a couple of challenging moments in his life.
I was in a tunnel with no light at the end
Darkness closin' in, so close behind
I know there's redemption, but it seems so hard to win
Lord, help relieve this troubled mind
Help me find an open line
Even though you just miss that bit of baritone power which made Tritt famous, one of the best vocal performances on the album leads to a very catching and present listening experience.
10. Ain't Who I Was
The chorus closes with
But I'm finally proud of who I am now
'Cause I ain't who I was
Definitely one of the key topics of the album is that "I have had a lot of trouble to find the right choice for my life, but I am happy where I am now". Another song in which the vocals feel more powerful. That's finally a good reason to listen to this one already.
11. Way Down In Georgia
The album closes with a praise to Travis Tritt's home state Georgia.
I was born and raised where the tall pines grow – Way Down in Georgia
Beulah land people like a song with soul – Way Down in Georgia
Honeysuckle dancing on the evening breeze – Way Down in Georgia
Big Savannah moon full of mystery – Way Down in Georgia
Slow and steady walkin', watch the way you're talkin'
Better say your Sirs and Ma'ams
Not saying that we're better, it's how we're put together
It makes me proud of who I am
That's lyrics which sell perfectly in the USA, so I am sure that people love that song. I personally feel that the lyrics are stronger than the song itself.
Travis Tritt – Set In Stone – Spotify
Here is Set in Stone on Spotify:
Travis Tritt – Set In Stone – My View
Giving a final view on Set In Stone is quite a challenge. I feel that for most of the tracks, the arrangement of the songs is cool, there are powerful tracks and thoughtful moments. Maybe there are more of these silent and intimate moments than you would expect in a Travis Tritt album. I just struggle with the message of the album, the songs themselves, the stories – and with Travis Tritt's performances here and there. it is a good album, but it is looking back too much. Set In Stone does not feel like it wants to be a 2021 album – but it is recorded by the 2021 Travis Tritt. I feel these track would have been better if the artist would have accepted that.
Music Legends on Flyctory.com
Who belongs to the music legends? Here on Flyctory.com, it's only me who decides on this:
Flyctory.com in Atlanta
Here are all postings related to Atlanta GA: