It's six years ago since Toby Keith released his last studio solo album, 35 MPH Town. On 15th October 2021, the legendary country musician is back with a new release, Peso in My Pocket. Surely, I have been curious about this one. Here are my thoughts.
Toby Keith – About The Artist
Toby Keith Covel is a US American country artist, who is also working as songwriter, actor and producer. He was born on 8th July 1961 in Covel, Oklahoma. He initially felt to have a promising future as a defensive line player in American football, but then decided to move to Nashville to pursue a musical career. In 1993, he released his debut single. Should've Been a Cowboy was a massive success and lead both, the US and the Canadian Country Charts. The corresponding, self-titled album was a platinum one in the US and a golden record in Canada. Toby Keith quickly established as a big player in the country music scene. Until the end of the decade, four more albums made it to the Top 10 Country in the US, on top of a total of thirteen Top 10 singles in the 1990's.
Keith's most successful decade were likely the 2000's, though. In this period only, seven Toby Keith albums topped the US Country charts, three of them were chart-toppers in the overall charts as well. He published successful albums until 2015 with a high frequency (five more albums between 2010 and 2015, none of them peaking worse than third place in US Country). Peso in My Pocket is Keith's 19th studio album.
Toby Keith – Peso in My Pocket – Track by Track
The ten song album lasts 38 minutes.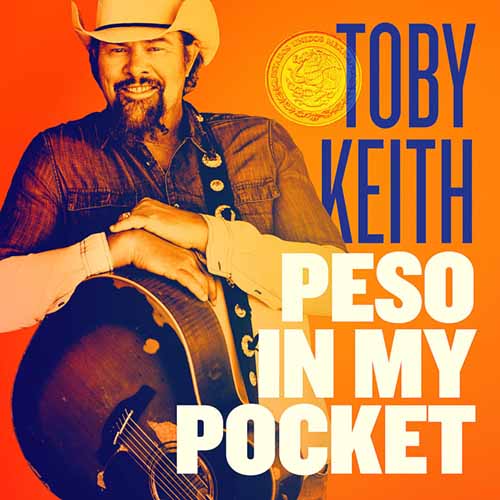 1. Oklahoma Breakdown
The album opens with a nice country rocker with a good vibe. Very catchy song by Toby Keith at the beginning of this album, which almost feels like a comeback.
2. Peso in My Pocket
The title track is the shortest one on the whole album. A track as you would expect Toby Keith to sound alike. Classic, a good groove and a song, which stays in your mind from the very first minute. Really good listen.
3. Old School
The intense bass line of Old School leads to a nice groove, the guitars rock – the combination of that is a cool song. Could easily be a Luke Bryan track as well, but Toby Keith simply knows how to do these tunes.
4. Old Me Better
The fourth song simply makes me smile. So old school, I especially love elements like the brass sounds in the background. Cool rhythm, which feels to make you travel back to the Swinging 1960's.
5. Days I Shoulda Died
Back to the modern times: the mid-tempo is a feast for country music and guitar lovers, there are riffs and chords all the time during Days I Shoulda Died. Needless to say that the song has a great groove again.
6. Growing Up Is a Bitch
Not only due to the B-word, this is really special song on Peso in My Pocket. Toby Keith wrote this one with nobody else than Sammy Hagar. The "Red Rocker" and Keith are a magical combination – the collaboration leads to one of the most catching melodies on the whole album – and to one of the most explicit lyrics as well.
7. She's Drinking Again
This song with a sad background comes with a rather traditional sound and a rhythm which is at most in mid-tempo range. Again, Keith arranges the song in a way that it stays in your mind. Great listen.
8. Thunderbird
Thunderbird is the right saloon soundtrack for a country music dance. Toby Keith like in the good, old times… Or even slightly before that.
9. Take a Look at My Heart
And then there are songs like Take a Look at My Heart: Modern, catchy, rocking. It feels like Toby Keith is wandering between two sets of songs on his 2021 album. The great thing: it does not feel confusing at all – these ten songs still feel to be a fluent listen.
10. Happy Birthday America
Happy birthday America
It's the 4th of July
I get to wake up in your freedom
But sometimes I wonder why
Seems like everybody's pissin'
On the red, white and blue
Happy birthday America
Whatever's left of you
You just cannot say that Toby Keith is not writing straight and clear lyrics. Thus, it is not too surprising that he is closing the album with that statement. Great song.
Toby Keith – Peso in My Pocket – Spotify
Here is Peso in My Pocket on Spotify:
Toby Keith – Peso in My Pocket – My View
We missed this guy – Toby Keith is just giving us ten good reasons for this statement in Peso in My Pocket. The album is versatile, travels through decades and gives clear statements. Provocative, clear – three songs and the truth. Just what we all feel country music should be alike.
2021 Country Music Reviews
Here are all my 2021 published Media Reviews related to country music:
Travel – United Kingdom
Here are all my Travel postings related to the United Kingdom: