Friday, the 13th – not the most luck-calling date for the first day of the debut of this new country music fest in the United Kingdom (they already pre-sell 2020). Nevertheless, I was very excited to visit the British Country Music Festival in Blackpool (preview posting). As the highlight of the day, one of my favorites, Sarah Darling, was about to conclude the day.
This posting comes with a 1001 major size picture gallery in the concert gallery section.
Sarah Darling's performance has been selected as my Best Concert Performance in 2019.
TBCMF – The Venue
The arenas around the Blackpool Winter Garden are just lovely – very traditional places with a lot of style, really loved to be there. The Ballroom is huge – I was looking forward how it will look like on Saturday, when acts like Twinnie and Ward Thomas will likely boost the audience. The minor venues are also very nice and intimate. There is a small vending area as well as multiple bars – some have a stage and some not.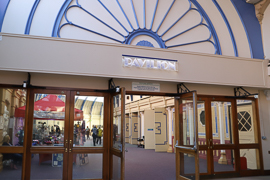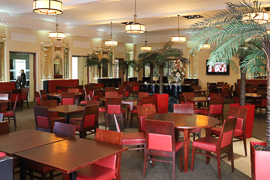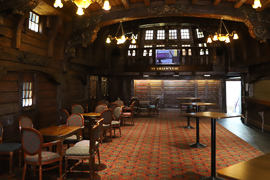 TBCMF – Day 1 – Minor Stages
The key area of the minor stages are the Arena Stages. In one room, there is a major one, which easily comforts a band and a minor one, which is especially suitable for solo acts. Emma Moore opened the festival on the major Arena 1 stage. A quite powerful experience.
The first act on the minor stage was Joe Martin, who I just had a very brief look at.
Sam Coe & The Long Shadows was the first act, which really got my attraction, though. I liked their powerful sound and more powerful play.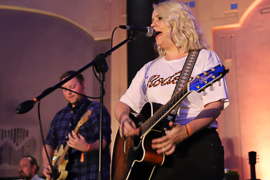 They fourth and final act, also on the major stage, was Simon James. As he had lent his band to Sam Coe before, it was a rather short intermission and both acts could play on the larger stage.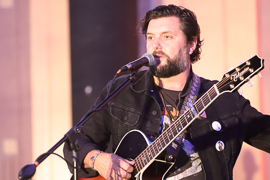 Gillows Bar Stage
A lovely stage with a very special and cozy atmosphere was the one located at Gillows Bar. In parallel to Emma Moore, Sandra McLelland opened here, but I did not see anything of her performance. I did see Emily Lockett and was amazed by her play. A magical and good to listen one set with a nice stage presence.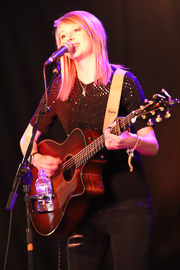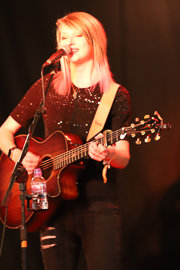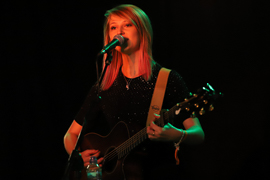 On Friday, there were just three acts on this stage. Molly-Anne completed the day before people headed to the Ballroom. I liked what she did, but Lockett before just caught me more.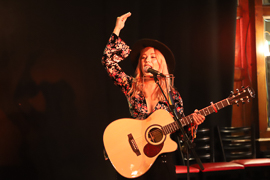 TBCMF – Day 1 – The Ballroom
The Ballroom is just an amazing venue. Unfortunately, it looked a bit lost, especially at the beginning, due to its sheer size, the not too high number of spectators and the VIP ticket holders sitting on top of the floor in the VIP balcony. The opener of the big stage was Gary Quinn, who I just saw four days before with Lauren Jenkins and Jillian Jacqueline in Cologne. He played a nice set and made the people dance for the first time of the evening.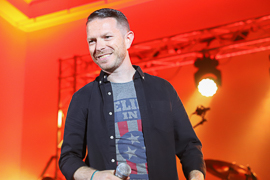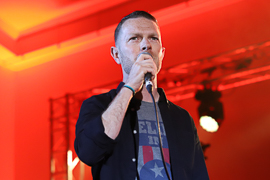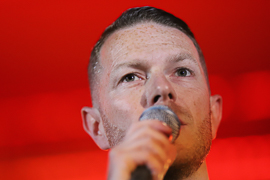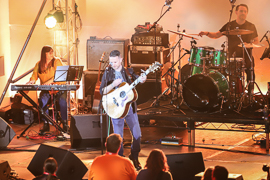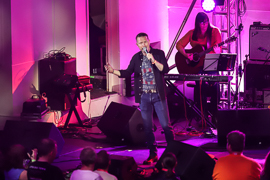 Second gig on the big stage was Danny McMahon, who did a very dedicated performance and had a lot of power on stage. The crowd honored that definitely.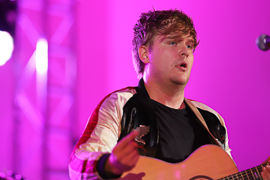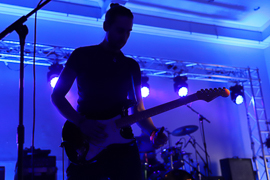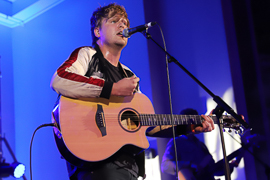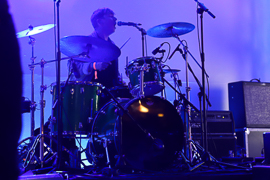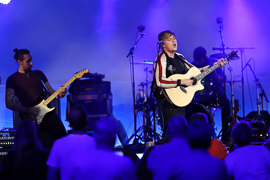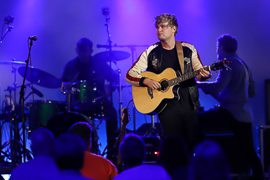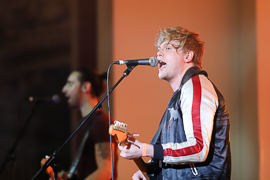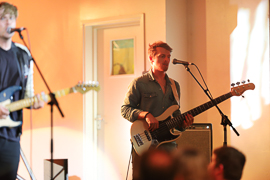 Friends of more classic country tunes definitely fell in love with the third act, Rob Heron & The Tea Pad Orchestra. Regarding their music, they definitely do a great job. It is not just too much my kind of country music – though I highly appreciated their effort.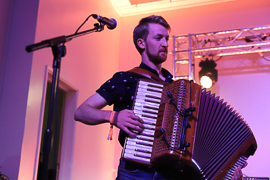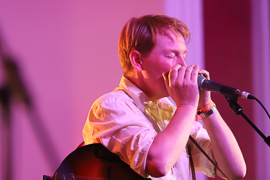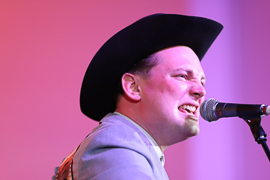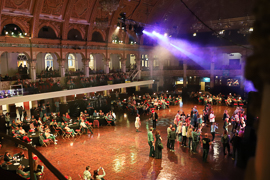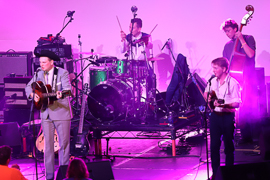 Laura Oakes is already quite a big name in the British country music scene. She caught the people and made them focus very much on the lovely stage. It was the first time I saw her on stage and I really liked what she did their.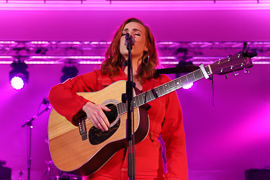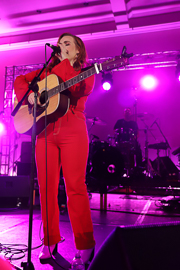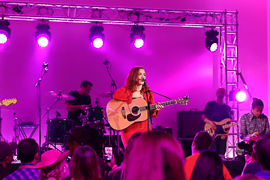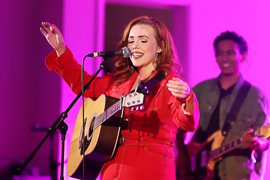 And then there was Sarah Darling, who came on stage nearly 40 minutes too late. Let's call her the unfair wildcard in this country evening. From the very first second, she demonstrated how much higher the level of country music on the other side of the big water is. Better in musical things, better songwriting, much better stage presence and interaction with the crowds – all acts before looked like amateurs compared to what she did on stage. You will even see that in the pictures. A real treat and an absolute blast.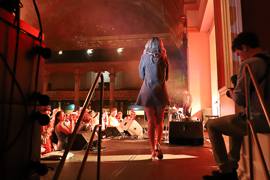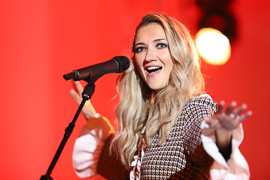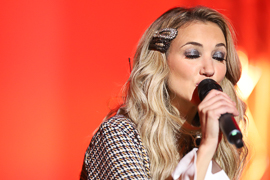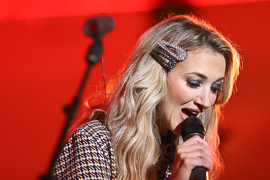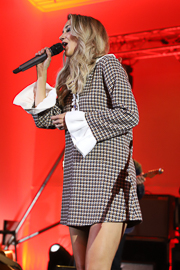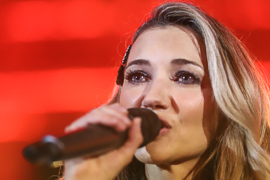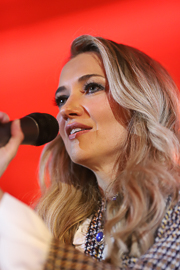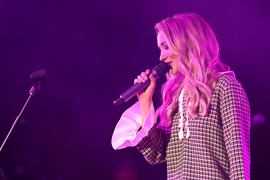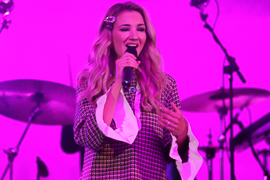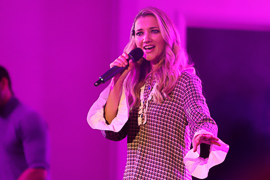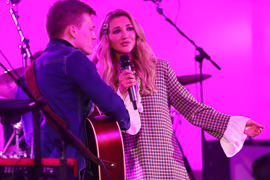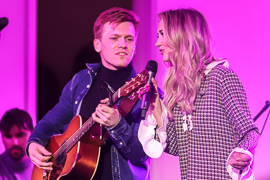 TBCMF – Day 1 – Splitter
There are always funny – and non-funny things happening. Here is the my daily splitter.
Lovely people, just behind schedule
The staff is at least as lovely as the venue. However, they are just a bit too few. Very motivated, but there are still a lot of gaps to be closed the next days. The press room does not have tables and chairs for example. The Winter Garden opened at 19:57 – with Gary Quinn supposed to play three minutes later. Thus, there were delays – but people just took it easy!
If you ever complain about your local rail services, you might think different after a rail trip in England. Tracks are old and the multiple private companies do more confusion than customer profit. However, on that Friday 13th, the rail system was really not at all a country music fan: due to a signal outage close to Manchester Piccadilly, practically all trains from the South to Blackpool have been cancelled. I was lucky to find a buddy to share a taxi with – some artists had to pay the 80 GBP trip on their own.
TBCMF – Day 1 – The Gallery
Here is the gallery of Day 1 of The British Country Music Festival, featuring over 1,000 major size pictures:
Flyctory.com about Country Music
Here are all Country Music-related postings on Flyctory.com: