10th January 2020 had a couple of interesting album releases. DeWolff from the Netherlands are playing an interesting mix of blues, rock and psychedelic sounds. This quite unique mix of genres gave them quite some decent success. Also due to the fact that they will tour Germany soon, I was very interested on how their 2020 Tascam Tapes will be like.
DeWolff – About The Artist
The career of the trio DeWolff is quite remarkable. Named after the The Wolf character in the Pulp Fiction movie, the band received their first record deal in 2008 after they won a Netherlands national band contest. At that point, drummer Luka van de Poel was only 14 years old, his brother Pablo (guitars) 16 and keyboard player Robin Piso 17. They play a mixture of blues rock and psychedelic rock and remind listeners to band like Cream or Led Zeppelin. Their second album Orchards / Lupine, which was released in 2011, placed eleventh in the Dutch charts and was the ultimate break-through for the band. On top of their 2008 self-titled debut EP, Tascam Tapes will be the seventh studio album of the band.
DeWolff – Tascam Tapes – Track By Track
Tascam Tapes contains of 12 songs. As they are comparably short in average, the playtime is just 32 minutes (which means an average track length of some 2:40 minutes!).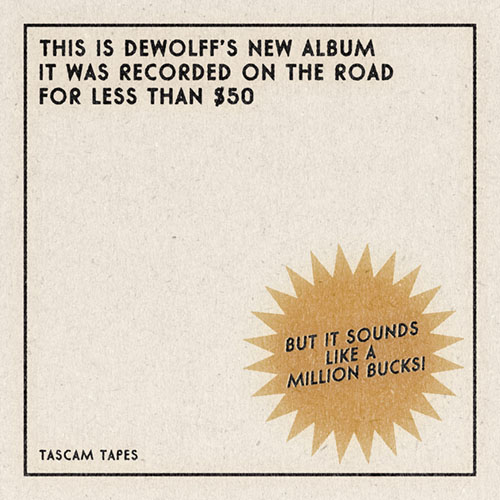 1. North Pole Blues
Before I started to listen into the Tascam Tapes, I already had prepared reviews of Tenille Arts (country) and Echosmith (synthie-pop). If you listen to North Pole Blues, which is even having a quite dirty sound and arrangement, this just feels like a shocker. The good news: I got into the album very quickly and already enjoyed to listen to the North Pole Blues.
2. Blood Meridian I
Blood Meridian is the first song of the album, which really sucks me in its music, catches me, grabs me and makes me enjoy it. Sometimes it sounds to me like Hendrix, then I think of Saturday Night Fever – but overall, it is just a cool sound.
3. It Ain't Easy
It Ain't Easy may have very repetitive lyrics, but I loved that song from the very beginning. Very nice and straight songwriting, also much more pop-alike than the first two songs. Recommend listening to it!
4. Rain
Rain is very instrumental, has a couple of interruptions. I absolutely struggle with the song. There are songs like that. Sorry.
5. Made it to 27
Another short and compact, but very easy to listen to song. DeWolff give me a hard time to find good words for their songs – this one even has a touch of the Beach Boys to me. Very nice guitar play as well.
6. Nothing's Changing
This two minute track just has so much power. Must be a lot of fun to listen to it live as well. Very rocking, but also swinging. Very nice track!
7. Let it Fly
Let It Fly is the first track which has a huge touch of soul music to me. Is there something like Black Psychedelic Rock? Fascinating.
8. Blood Meridian II
Blood Meridian II strongly links to the first songs of the album. These guys just have an awful lot of power.
9. Awesomeness of Love
With just 105 seconds, this is the shortest track on the album. However, it is so intense, feels to have so many different characteristics – just amazing songwriting!
10. Love is Such a Waste
Right after the shortest song, DeWolff placed the longest ones (still, Love Is Such a Waste is also only taking some 3:30 minutes). The song seems to have different sections with different characteristic. At the beginning, there is a lot of Blues, the interlude feels like 1960s rock guitar to me. The song ends with a bang in German: Weiss ich nicht (I don't know). Wow!
11. Am I Losing My Mind
With Am I Losing My Mind, DeWolff place a gentle ballad on their album, even with string sounds in the background. I have listened to so many different elements in the last ten songs, they just cannot surprise me any more. But they can amaze me – and do that!
12. Life in a Fish Tank
The final track is very melodic with a dominating head voice. There is even a harmonica, DeWolff coming quite close to country music in their Grand Finale. Thanks a lot for these songs!
DeWolff – Tascam Tapes – Spotify
The widget allows you to pre-listen to the Tascam Tapes:
DeWolff – Tascam Tapes – My View
Dank u wel! Tascam Tapes may feel a bit strange in the first minutes – but finally, the Dutch just force you to travel into their musical wonderland. You have to listen, to feel the music and to enjoy it. Thereby, the tunes are so different, but still that similar and characteristic. Listening to the Tascam Tapes was just amazing to me – I hope to be gifted to see these guys in Cologne on their tour as well (see below) – the album illustrates their massive potential to give you a great time. Do I need to mention that this album is a Top Pick!, by the way? I don't think so. Listen to it!
DeWolff – Tascam Tapes – On Tour
DeWolff will play an album release gig at the Paradiso in Amsterdam on 11th January 2020. From February onwards, they will tour Europe. Here are the dates in Germany and the neighboring countries.
| | | |
| --- | --- | --- |
| Mo 17.02.2020 | Paris (FR), Petit Bain | |
| Tu 18.02.2020 | Cognac (FR), Les Abbattoirs | |
| We 19.02.2020 | Bordeaux (FR), L'Astrodrome | |
| Th 27.02.2020 | Villeurbanne (FR), Le Transbordeur | |
| Fr 28.02.2020 | Scey-sur-Saone-et-Saint-Albin (FR), Echo System | |
| Sa 29.02.2020 | Brussels (BE), Ancienne Belgique | |
| Mo 09.03.2020 | Prague (CZ), Rock Cafe | |
| Tu 10.03.2020 | Graz (AT), PPC | |
| Th 12.03.2020 | Vienna (AT), Chelsea | |
| Fr 13.03.2020 | Munich, Strom | |
| Sa 14.03.2020 | Dresden, Beatpol | |
| Su 15.03.2020 | Berlin, Musik & Frieden | |
| Tu 17.03.2020 | Hamburg, Uebel & Gefährlich | |
| We 18.03.2020 | Hanover, Indiego Glocksee | |
| Th 19.03.2020 | Cologne, Stadtgarten | |
| Fr 20.03.2020 | Frankfurt, Das Bett | |
| Sa 21.03.2020 | Stuttgart, Im Wizeman | |
| Th 26.03.2020 | Alkmaar (NL), Podium Victorie | |
| Fr 27.03.2020 | Hengelo (NL), Metropool | |
| Th 02.04.2020 | Groningen (NL), Spot / De Oosterpoort | |
| Fr 03.04.2020 | Eindhoven (NL), Efenaar | |
| Sa 11.04.2020 | Rotterdam (NL), Maassilo | |
| Su 12.04.2020 | Nijmegen (NL), Doornroosje | |
| Th 30.04.2020 | Berne (CH), ISC Club | |
| Fr 01.05.2020 | Winterthur (CH), Salzhaus | |
| Sa 02.05.2020 | Martigny (CH), Les Caves du Manoir | |
| Su 31.05.2020 | Maastricht (NL), Blues Maastricht | |
| Th 11.06.2020 | Grolloo (NL), Holland International Blues Festival | |
| Sa 12.09.2020 | Enschede (NL), Tuckerville 2020 | |