Corey Taylor does not really feel to be sufficiently busy. Being the lead singer of two major bands in the rock business, Slipknot and Stone Sour, does not really feel to be enough. Thus, he is also releasing solo music. On 25th February 2022, he will publish a nine track record, which is officially published as an EP. Here is my view on CMFB… Sides.
Corey Taylor – About The Artist
Corey Todd Taylor was born on 8th December 1973 in Des Moines, Iowa. He grew up in Waterloo in the same state. He did not like the place (Wikipedia quotes him with "it is a hole in the ground with buildings around it") and had drug issues in teenage years already. In 1992, he has been one of the founding band members of Stone Sour, which has been active until 2020 (with a breakup between 1997 and 2000) and is currently on indefinite hiatus. The band had three Grammy nominations for the Best Metal Performance. In addition, he joined Slipknot in 1997, two years after the first steps taken by the band. The song Before I Forget got a Grammy in the same category named above (2006).
On the solo side, Taylor had some singles in the early 2010's already, but finally started working more intensively towards his 2020 album CMFT. The leading single Black Eyes Blue became a topper of the US Mainstream Rock charts. The album tile, is made up of his initials… And in the middle… There are not too many prominent words with an m and an f… you will guess it right 🙂
Corey Taylor – CMFB… Sides – Track by Track
The nine track EP lasts 39 minutes.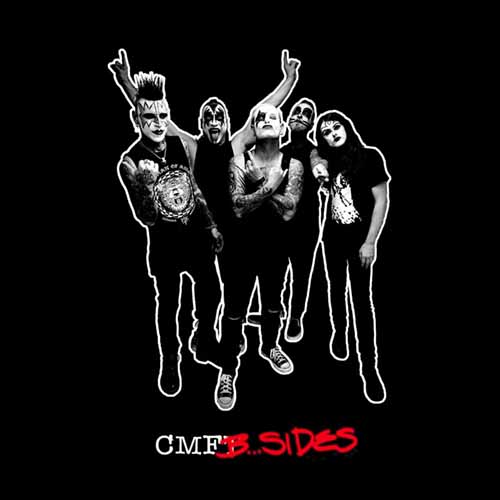 1. Holier Than Thou
Corey Taylor starts the EP with a Metallica cover, which he had released some months before this publication. I like that blend of Metallica-style melodies and Slipknot "heaviness" (and "coolness"). Nice listen.
2. All This And More
After the 4:11 minutes songs, this Dead Boys cover is less than three minutes. The recording already gives a hint that the EP has the potential to present a wide range of songs. This track is rather touching alternative rock than "Slipknot heaviness" (even though the work on the guitar is really nice). The appetite is there, look forward to the remaining nine course musical set meal.
3. Kansas (Acoustic)
Corey Taylor recorded Kansas on his debut album – now he is presenting it in a very different style. Corey Taylor in acoustic version works surprisingly well. I definitely enjoy that listen.
4. Shakin'
With Shakin', Taylor is honoring legendary Eddie Money, who passed away in 2019. The song has a nice drive and keeps its stadium hard rock character. Good one.
5. Home/Zzyzx Rd (Live)
The first words of this track are spoken. "This song is dedicated to my wife". The very emotional Home is blended with the Stone Sour track as a medley live track. Works fine as well, even though I favor the ballad style of Home.
6. Lunatic Fringe
41 years after Lunatic Fringe has been a successful track for the Toronto rock band Red Rider, it is up to Corey Taylor to give it a 2022 sound. However, this sound is acoustic guitar, emotional, gentle melodies. A really nice alternative.
7. Got To Choose
Okay, that's a big name, a big band of the business again. Corey Taylor is featuring Kiss – and he is doing really nice. You want to rock to this track – no matter if the guys on stage are masked or not. Taylor's version is a bit softer, but definitely catches you well.
8. Halfway Down (Acoustic)
Halfway Down is the second acoustic version of a CMFT song. Cool Americana style with nicely accentuated guitar strumming, which makes the song really catchy and unique.
9. On the Dark Side
The EP closes with the last single release before this EP. On the Dark Side has originally been written by John Cafferty & The Beaver Brown Band's. This one is just fun. It's… Rock'n'Roll, yeah!
Corey Taylor – CMFB… Sides – Spotify
Here is the EP on Spotify:
Corey Taylor – CMFB… Sides – My View
CMFB…. Sides is a cover album (either covering other bands or Corey Taylor's own stuff). Nonetheless, it is fun to listen, it gives you a good time – and it is offered for a fair price (at least Amazon Germany solely charge 6.99 EUR for the download. The EP made me smile and entertained me during the whole time. Really like it!
2022 Rock Music Reviews
Here are all my Media Reviews related to rock music in 2022:
Lounge Reviews on Flyctory.com
Here are all Lounge Reviews on Flyctory.com: