Australian weekend on Flyctory.com: after I already reviewed the albums by Kylie Minogue and Caitlyn Shadbolt, the third release from a Down Under artist as of 6th November 2020 is by Orianthi, who was born in Adelaide. The genres could not be more contrasting, though: after having dance pop with Kylie and country with Shadbolt, this review will be about the hard way to play the guitars – after years of absence, Orianthi is back with her hard rock album, which is simply called O.
Orianthi – About The Artist
Orianthi Penny Panagaris, is an Australian singer and songwriter, who is born on 22nd January 1985 in Adelaide. Her surname already tells that her family has Greek descent. She started to play instruments already in very early ages. She already has quite a respectable collaborations in teenage years – her first stage show was for Steve Vai at the age of 15, she also jammed with Carlos Santana at the age of 18. She also later performed with the touring band of Alice Cooper and was expected to support Michael Jackson for his This is it concerts, which have been cancelled due to illness. Her solo debut album was the 2007 Violet Journey, which did not have too much commercial success.
Some two years later, Believe was her second album, which placed fourth in Japan. The most prominent song was According to You, which was Top 10 in Australia, Japan and Top 20 in the US. Her third album, Heaven in This Hell (2013), could not connect to that success. Orianthi stayed successful as a touring artist, though. O is her fourth album after a seven year absence.
Orianthi – O – Track by Track
The ten song album lasts 37 minutes.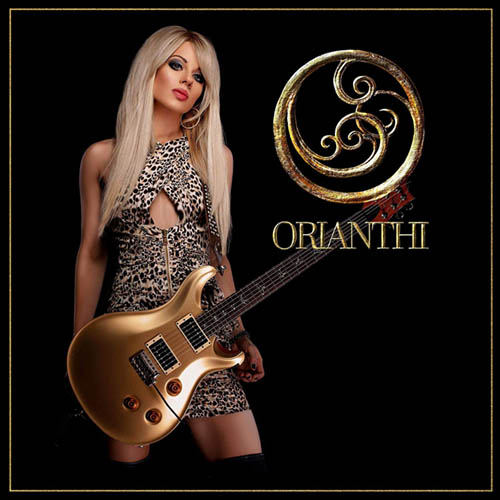 1. Contagious
Here we go, the first tunes of the Australian since 2013. At Contagious, Orianthi has some quiet moments (like the slow-starting intro), but in general, the first song of the album is having a lot of rock, a lot of power.
There is no way out
Of where we are right now
They try to break us
Cause hate is contagious
Great start of the album.
2. Sinners Hymn
There's no answers to your prayers when you're a sinner
There's no street lights on the road of regret
And the black dog won't stop howling at your window
Till you drink what's left of that bottle by your bed
And sing the sinners hymn
The sinners hymn, the sinners hymn
The words above are the first verse of the Sinners Hymn, which is very powerful with a sing-a-long quality chorus. Great meldodic rock / hard rock. Definitely worth to bang your head.
3. Rescue Me
Rescue Me keeps a dark mood, but is a bit of slower, compared to the first two tracks. The verses concentrate on the lyrics and have a blues rock feeling, while the chorus ends up in a heavy metal spectacle, which even has some harmonica sounds. Cool sound.
4. Blow
A strong rhythm (which funnily reminds me of Simple The Best by Tina Turner), a lot of power and short, powerful moments at the chorus: Blow has its headbanging moments – but also sufficient time to tie back your hair. This lady rocks!
5. Sorry
Were so bad were so bad were so bad
But your mad your so mad
All you had to say was sorry
All I hears the same old story
Just a simple little sorry
The sound stays rocking, but the chorus of Sorry almost comes with radio qualities and touch of pop. Orianthi in the mainstream version, a bit of Anastasia feeling.
6. Crawling Out of the Dark
You are looking for a rock ballad as well? Then forward to Crawling Out of the Dark is an absolute beauty, one of my favorite tracks on the album. Lovely instrumental play and great recording.
7. Impulsive
Impulsive was one of the musical appetizers to be served before the whole album meal deal – and it is just a great rock song. I would say it has a strong touch of Southern Rock, but it definitely will be a great one once Orianthi is able to be back on stage.
8. Streams of Consciousness
A strong rhythm, which will guide the audience how to join into the groove of the song – Streams of Consciousness is just another song which is made to party – in the small rock clubs or the big festivals. O is just a great party for hard rock lovers.
9. Company
Cause you know I could keep
You company
If you want me to
Keep you company
If you want me too
Another really nice rock track, very melodic and a touch of melodic metal in the way the track is arranged. Orianthi offers various moods and sounds – there is likely an O song for any rock lover.
10. Moonwalker
Hey, hey, when u gonna come down
Your too high to touch the ground
Moonwalker you've been chasing the sun
How you gonna land
When you're on the run
The comparably slow pop-rock song is the finish of the album. I love the way atmosphere is created in Moonwalker, which makes it to one of the most catchy tracks of the albums. Definitely one of my favorites.
Orianthi – O – Spotify
Here is the Spotify widget to Orianthi's comeback album:
Orianthi – O – My View
Orianthi, where have you been the last seven years? O is definitely a great album, which touches melodic and dark metal as well as pop sounds. Orianthi gives us Crwaling out of the Dark, a lovely rock ballad, as well as headbangers, which even increase our desire for the next rock festival summer. If you sum up an album like that, it cannot be all bad. That's superb rock entertainment – so I do not doubt about assigning the Top Pick! status to it.
Flyctory.com on Hard Rock and Metal
Here are all postings about Hard Rock and Metal:
Australia on Flyctory.com
Here are all Flyctory.com postings related to Australia: