I did not know Tigirlily (who want to pronounced as Tie-Girl-Lilly) before I ran into their music for this review. The EP has been listed in a couple country music release listings, so that I just have to give the band a listen. The two young ladies started to do music together in 2013 – now they released their debut EP. It is simply self-titled and has been released on 9th July 2021.
Tigirlily – About The Artists
Tigirlily is a female country duo from North Dakota. The two band members, Kendra and Krista Slaubaugh, are siblings. The first started to have shows in the Mid-West, but moved to Nashville in 2017. In 2020, they debuted with their singles Best In Me and Intuiition.
Tigirlily – Tigirlily – Track by Track
The five song EP lasts 17 minutes.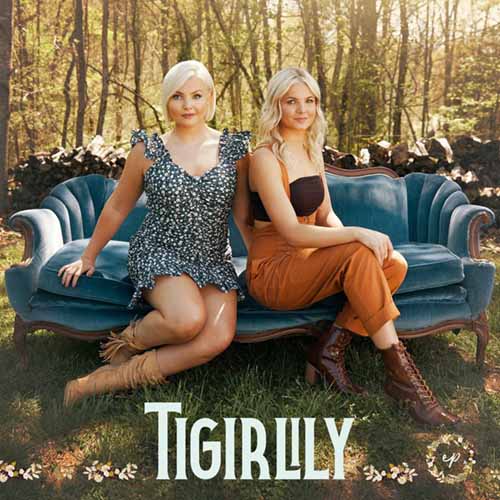 1. My Thang
Country pop with a nice groove – the sisters have released this track already before their EP – and it has been quite successful. The song feels a bit too modern to me here and there – but hey, it is simply catchy, I love to listen to Kendra and Krista here.
2. Somebody Does
Here is the filet steak, the premium track – or however you like to say it: Somebody Does has already made some one million streams on Spotify only. The siblings just work well together, in the verses as well as in the chorus. On top of that, this song comes with a lot of power and a very catchy melody. Good song.
3. Everybody's On Something
I have been really curious about new stuff by the two young ladies – and with Everybody's On Something, the EP has its first previously unreleased track in the center position. The song is just a nice, good listen melody. The two clear voices add a lot of warmth and atmosphere to the track. Good listen.
4. Dig Yourself
Tigirlily goes rock! This time, the ladies go for the harder chords on the six-string – and I like them in that kind of music dress as well. The ending of the song is a bit too rhythmic and pop-ish maybe, but the track is a good listen overall.
5. Known You Forever
The fifth track is more than solid again. A good way to close this set of five songs. Not too much of a surprise or a song far away what feels as the girls' comfort zone. But they deliver a song which is fun to listen to.
Tigirlily – Tigirlily – Spotify
Here is the EP on Spotify:
Tigirlily – Tigirlily – My View
Tigirlily is one of these many debut releases, which amaze me. Regarding that these sisters are release rookies, they do an amazing job in their self-titled presentation. I would love to have a wider spread of sounds and moods though. A new name on my list with a lot of potential. They already received a very good rating with this recording.
Media Reviews – Women Country Debut Releases
Here are all my Media Reviews about Women Country artists doing their debut EP / album:
Museumkaart
Here are all places I visited in the Netherlands, which accept the Museumkaart: