When I reviewed her album Lucky in mid September 2020, I felt that the bio information about the country artist with the lovely tunes I found in the web has been comparably thin. I got into contact with her and her management after the review and feel very happy that you are now finding much more information about her than I could ever give you as part of an album review. Enjoy the very interesting and long chat with her in my Spotlight interview section.
Flyctory.com meets Tori Martin
FLYC: Tori, you were born in Florida, but grew up in Texas…what does Texas mean to you?
Tori: I grew up a military brat and moved around frequently before landing in Texas. For me, Texas is home! I don't have the "house that built me" so to speak, but I have Texas. I love the Lone Star State. God bless Texas!
FLYC: Many big country artists have Texas origin. How do you think Texas life influences Texas country music, and of course, how did it influence you?
Tori: Texas is country at the core… from the way people speak, the clear blue sky, all of the fried food, cowboys, hospitality, Texas IS country. It has shaped and influenced me throughout my life. I lived in a small town and had plenty of inspiration for my music!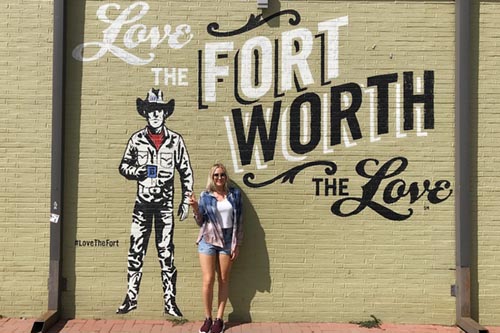 FLYC: When did you make the move to Nashville and why?
Tori: I moved to Nashville in 2017. At that point, I had worked the Texas scene since 2010. I built up my fan base knowing that I wanted to take my music career to the next level. Nashville is full of incredibly talented artists and songwriters and I knew that is where I needed to be to further my career. I found my sound and have become a much stronger writer by moving here. It is one of the best decisions I ever made.
FLYC: What in general made you want to do country music and not another genre?
Tori: Growing up a country girl, I have always had a love for country music. My biggest influence was my country music-loving Paw-Paw, who is now in heaven. He introduced me to the classics and loved to hear me sing. Paw-Paw gave me my first guitar and encouraged me to always follow my dreams. I wouldn't be here today if it wasn't for his influence.
FLYC: What was your key inspiration in auditioning for Season 15 of American Idol and what is your key takeaway from the show?
Tori: I honestly wasn't looking to audition for American Idol. In 2015, I was having success on the Texas charts and the opportunity presented itself. My thoughts were whether they said yes or no, what do I have to lose? American Idol taught me so much about reality TV and how different it really is. I am grateful for the opportunity I had to be on the show and it lit a fire in me to keep going.
FLYC: In 2015, you also released the very powerful single Woman Up. I feel that is a great song on stage – what are Tori Martin concerts like?
Tori: Thank you, I co-wrote Woman Up with my talented friends John Cirillo, Sarah Spencer, and Daniel Reifsyder. When you come to my concert, you can expect high energy! I love to perform and engage with my fans, sharing the stories behind the songs, and leaving my heart on the stage.
FLYC: Women are a good "keyword". There is a lot of criticism out there that in the country music scene, female artists have to take an even harder route compared to males. How do you feel about that?
Tori: That is definitely true. When I first started in the music business, I remember another female in the industry telling me that I will have to work two times as hard as any male artist. She was correct, however, when I look back on country music history, my favorite artists are all female. I'm hopeful that changes are taking place and that there will be a lot more opportunity in the future for female artists.
FLYC: Your second EP, self-titled, was released in 2017. Are there any songs you would especially recommend everyone to listen to?
Tori: I released my self-titled EP before moving to Nashville. The most special song to me on the album is Caged Bird. It's a personal song about freedom and taking a chance… one that I will love forever!
FLYC: The first song you released in 2019 was the beautiful Living The Dream. Can you tell us about the song?
Tori: Living The Dream was co-written with Lyndsey Highlander when I first moved to Nashville. Too often we live thinking about the future and do not take time to appreciate and enjoy the present. This song is a realization that we are already doing what we want to do and we're already living the dream.
FLYC: Then you signed to a Nashville-based record label. Congrats to the release of your new album, Lucky. On Lucky, you had the opportunity to write with hit-songwriters who have written for the likes of Blake Shelton. What is the process of co-writing?
Tori: Thank you! I am very excited to be working with LuckySky Music. At first, it was a little intimidating being in the room with hit songwriters, but I believe we all bring something unique and magical to the table! I can't wait to write many more great songs!
FLYC: Who produced the album Lucky and where was it recorded?
Tori: Lucky was produced by Bill Warner and recorded at OmniSound Studios in Nashville Tennessee.
FLYC: The first single from Lucky is What Would Dolly Do? What does Dolly Parton mean to you and what was the inspiration for the song?
Tori: Dolly Parton has been a huge inspiration to me and is my queen! The song was inspired when I visited Dollywood for the first time and saw handwritten letters from Dolly to her parents when she moved to Nashville. It struck a chord with me that day and I raced back to Nashville to write this song with John Cirillo and Sarah Spencer. I think we forget that everyone started somewhere and it was fun to ponder what she would do if she were in my shoes!
FLYC: You made a music video for Fun. Can you tell us a bit more about the song and the making of the video? Where can we see it?
Tori: Fun is a 'better start living' mantra that I co-wrote with Kirsti Manna and Bill DiLuigi. Life is short andt omorrow is not promised, so we might as well be having fun! I filmed the music video with my close friends and family in Texas. We had a blast and made some really cool memories… my doggies Duke and Daisy even made an appearance! You can watch the music video on my YouTube channel!
FLYC: Overall, Lucky consists of eight songs. Is there any song, in particular, that is most special to you?
Tori: The song Lucky is what inspired the entire album. I penned this song with Lynn Wilbanks and Kirsti Manna, two powerhouse female songwriters. Growing up, I was always told you can't be in love and do what you love. I consider myself very lucky to have found an amazing person I love and do what I love at the same time. My husband Jason inspires me to be better and gives new life to my songs. I feel so incredibly lucky to have both! "Lucky" will forever have a special meaning to me.
FLYC: Streaming platforms provide an easy opportunity to showcase your music outside of your home region. How much feedback do you get from countries other than the US?
Tori: With the release of What Would Dolly Do?, the single from my new album, I've been thrilled to receive an amazing response from Europe! It's absolutely incredible that my music connects with so many people across the world. I love making new friends too! Can't wait to sing in Europe!
FLYC: I read that you are planning to go on tour in 2021. Are there any other plans for the next few months? Any new music, for example?
Tori: Lucky has just been released. We have big plans for this record and lots of exciting things lie ahead. I can't divulge too much right now, so make sure you keep up with me on socials to hear it first!
FLYC: Is there a venue you would especially love to play during your next tour?
Tori: There are so many I'd love to play but The Ryman and The Grand Ole Opry sure are high on my list!
FLYC: Last, but not least, when you come back home after touring, which of your two golden retrievers is most happy to see you, Duke or Daisy?
Tori: This is hard to say! They're golden retrievers so they LOVE to love you! If I had to choose I'd probably say Duke. He is always by my side and hates when we're apart!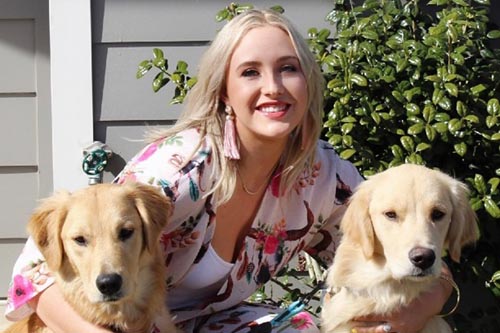 All pictures: Artist material
Women Country in my Spotlight Interviews
Here are all Flyctory.com Spotlight interviews, in which I chat with female country artists:
Sound of Nashville on Flyctory. com
Here are all postings related to the Sound of Nashville concert series in Germany and the Netherlands: