Suprise, but no surprise? Stephen Jay already stated that his new album understatement is almost ready around the Dusseldorf show of the Weird Al Yankovic European Tour 2023. On 16th March 2023, some two weeks later, he finally shared his new songs with us. The album is available for download for free on his website. Donations are of course welcome and fair play. I give you an idea, how much you should pay for it. Stephen himself added the statement Galaxies of basslines mingle without wrecking. Lyrics and melodies composed of more sky, escape like secrets. Like bubbles and luck. about the album to his website.
Stephen Jay – About The Artist
About a year ago, I introduced you to Eugen Stephen Jay, when I reviewed his album Vita Beata. Since then, I have seen him 19 times as the bassist of Weird Al Yankovic. Hiowever, he is an expert in world music and also played in different folk collaborations. Read more about him in the 2022 album review.
Stephen Jay – understatement – Track by Track
The fourteen track album lasts 45 minutes.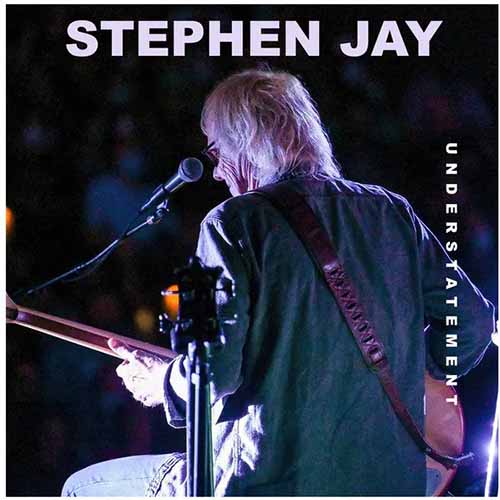 1. Arial Varial
The first track of the album is Arial Varial. The song is a typical Stephen Jay instrumental, with a nice drive from the bass side. Rather fast song with a touch of funk and pop and a lot of speed. Nice opener.
2. Friction
The nice thing about Stephen Jay albums – apart from musical excellence – is the wide range of sounds and styles he is covering. Nonetheless, the bass stays the central instrument of the album. Friction has a nice drive and also introduces Stephen as a vocalist. The bass focus leads to a nice funk touch again.
3. Charcoal
Some tracks on the album are rather short – like the 75 second track Charcoal, which is driven by the drums, but then introduces very different sounds, from bass to brass to explosion-alike features. This leads to a very jazzy touch in my point of view.
4. What I Want To Do In Beruit
After this brief musical digest, What I Want To Do In Beruit is the longest song of the album. The vocal style of the track reminds me of Peter Gabriel songs, but overall feel more like indie-pop music. Very cool work on the instrumental side and great arrangement in general.
5. Yonder Hound
Don't miss Yonder Hound – it is 56 seconds only. The song reminds me of Stephen Jays expertise in world music, as the drumming style reminds me of African music. One of the few tracks, which don't have a that strong bass focus.
6. Go Like This
This instrumental is a strong which has a very strong jazz style. Again, the bass takes the lead, but the sixth track also works with very present guitar riffs and light saxophone lines. Very cool listen.
7. Secrets of Freedom
Secrets of Freedom as a really laid back groove and rather heads to reggae sounds. A touch of sunshine in the cold European winter. Nice.
8. Short Sleeves, Instrumental
This almost three minute track starts with drumming and bass groove, but then also is driven by other instruments like brass sounds. Stephen Jay makes me move and smile with this track – so that this one just can't be too bad.
9. Be Like That
Be Like That is another epic, which is just over five minutes long. The sound is a bit of dark and heavy, but has a strong groove. Hard to describe this balance of sound, which also reminds me of dark blues songs, but then turns into some beats of rather easy and enjoyable melodic parts. Great percussion work in this song as well.
10. The Big Croc
Time for a shortie again. You meet The Big Croc for just 72 seconds, before you head on to the next song. This song is majorly driven by ethno-style drumming and flute sounds. Nice.
11. St. Celery
The twelfth song is blues-alike has well. Nice drive, but overall, the song does not fascinate me as much as others on this album.
12. Flux Eterna
In contrast to that, Flux Eterna got me from the very first moment. I like the fusion of bass, electronic sounds and ethnic drumming / percussion style. Just 84 seconds, but the song definitely leaves a mark during that time
13. Umma Changed Bodkins
Especially at the beginning of the song, the vocals are almost used like a beat box. Even though the song creates a psychedelic style thereafter, this adds a lot of funk and groove to this song. Remarkable composition, which is trying to introduce some variations of the sound.
14. Bouncing Ball
The last four and a half minutes of the album are dedicated to the Bouncing Ball. The song is a slow, thoughtful finale, which is nicely concentrating on the vocal side.
Stephen Jay – understatement – Stream / Download
The album is exclusively available on Stephan Jay's website.
Stephen Jay – understatement – My View
understatement again underlines the wide range of sounds and high musical quality Stephen Jay is able to deliver. It is thereby very hard to describe his sound by words. I really like the album – but I feel that Vita Beata has been even better.
Funk on Flyctory.com
Here are all postings on Flyctory.com related to funk music:
Flyctory.com about Weird Al Yankovic
Here are all postings related to Weird Al Yankovic: