During the CMA Fest 2019 in Nashville, I did quite a lot of Meet & Greets. I just felt it was interesting to see how different they are held and interpreted. Obviously, if RaeLynn is having one at the FanFair X, where practically anyone can queue in, you do not expect a five minute talk with the country music star. If she would make that possible, it would mean that the majority of people would not meet her at all.
With this posting, I don't want to rate the country music artists I met, but just saying thanks for taking that time for their fans. You felt that some singers and bands really loved to meet their fans (or to-be-fans) and discuss with them, while other were less motivated. I will just present the acts I met with some words about them as a thank you from my side for their effort to the fans. I also added links to the artists's homepage, if you want to learn more.
CMA Fest 2019 – My Meet & Greets
The pictures here are not ranked in any way. They widely reflect the chronological order in which I they occurred.
Jenn Bostic
I met Jenn after her songwriters round in The Listening Room with Kenny Foster. I feel it was the first time I saw her live on stage – and she absolutely blew my heart with her songs, especially with Jealous of the Angels, which I selected second place in my favorite CMA Fest 2019 songs.
Danielle Bradbery
Registered fans were able to put some "picks" in lotteries to win special events. I won one event, a Meet and Greet with Danielle Bradbery, who I met at the C2C 2018 in London already. It was an early morning M&G on the day after the CMT Awards, so that Danielle felt a bit tired. Nevertheless, look forward to see her again at the European Introducing Nashville sessions.
Jillian Cardarelli
Bad luck I finally did not make it to see Jilian Cardarelli on stage – but at least, I made it to a meet and greet. Really love to follow her on Instagram and listen to her music – so I hope to make it better next year (or some time in between…).
Christina Taylor
When I got the final schedule, I was so happy to be able to see Christina Taylor live on stage – and I was even more gifted to meet her and have a short chat with. She is an excellent talent in the genre – so I hope to see her soon again on even major stages. Love her music – so she finally deserved to have some extra honor in a separate posting about her and Carolyn Miller.
Chris Gantry
Meeting Chris Gantry was very special to me. A very charming guy, who shook hands with everyone around before his Spotlight Stage performance. Meeting him was definitely excellent, a very friendly guy, who does lovely outlaw country music.
Lauren Jenkins
Despite she will be in Cologne very soon, I was looking forward that much to see Lauren Jenkins in Nashville – on stage and off stage. I saw her first at the C2C in Berlin, met her again a week later in London and just loved her first album No Saint and the spin-off short movie. Amazing person, great artist – love her – so that I included her to my list of Flyctory.com Featured Artists after the CMA Fest.
Walker Montgomery
I had a nice short chat with very friendly Walker Montgomery at the Nashville Music City booth, where this picture has been taken. Hope to hear more of him in the future. His father was a legend in the 1990s already.
Cassadee Pope
This picture with Cassadee has been taken at her fan party. After I saw Cassadee at her Liverpool CMT Next Women of Country performance, it was just cool to meet her again and to listen to her intimate concert. Great 2019 album Stages, by the way. Definitely one of these artists which guarantee you a great time at their concerts.
Sarah Darling
I am not just admiring her music, but Sarah Darling also became a friend. I saw her on state at her The Listening Room performance with Kenny Foster in Nashville. This picture, however, was taken at the Whitehorse gift shop, where Sarah signed her new album Wonderland, which has been released during CMA Fest.
Tyler Reeve
Tyler Reeve had a nice 15 minute set at the Spotlight Stage at the Fan Fest. I met him thereafter and had a really nice meet & greet with him. Great guy!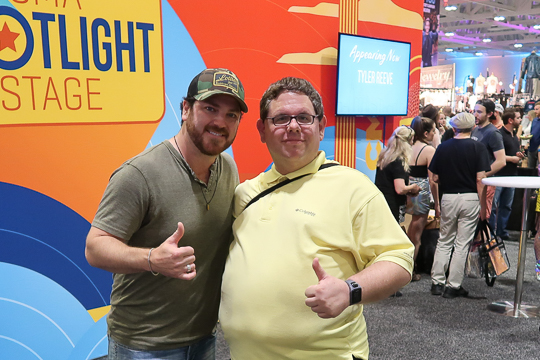 The Wandering Hearts
The Wandering Hearts are friend of a good friend of mine – so that I had to say hello to them after the Acoustic Stage performance. Amazing music and even more amazing people. They played at the Opry the same day and absolutely deserve that. Guess that I will see them again soon.
,
Travis Rice
Spotlight Stage was just a great place to get a view on upcoming and not-that-well-known artists. Travis Rice showed a really good 15 minute performance. Nice to have met him thereafter. Lovely meeting.
Olivia Lane
I met Olivia at one of the boots manufacturers. She is just about to produce some new release and said that they are trying to have her on tour in the UK at least. A very nice and charming person, nice talk and lovely music. Hope to make it to see her performing as well.
Olivia Barker
I met Olivia Barker after her performance at the Disney Country Radio stage. Honestly, I heard her music from one of the vendor booths across the FanFair X and just had to get closer and closer to listen to her. The daughter of Sarah Evans is amazing – she is also touring with her and her brother. Great music, very friendly person.
RaeLynn
Apart from Danielle Bradbery maybe, RaeLynn was likely the most popular artist I met. So many people in the queue for her – but the Texan girl, who I saw in Amsterdam just some weeks before, did it the charming way. Nice opportunity to take that picture with her.
The Royal South
Sara Beth is quite popular in the United Kingdom – I met her and her band after they Spotlight Stage performance. Nice music, nice people, cool to have met them.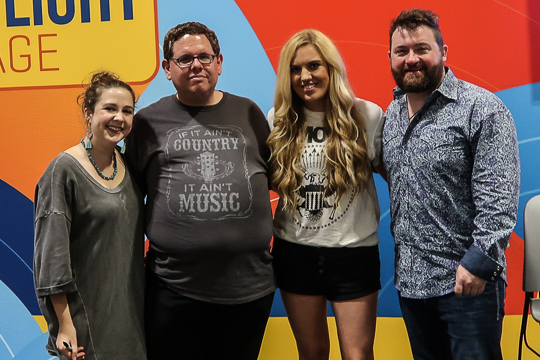 Hannah Ellis
The last Meet & Greet I did was with Hannah Ellis. We had a short chat, as one of her friends is from a city nearby my home town. She is a such talented artists, but she is also a very charming and friendly person. Would be cool to welcome her in Germany one day definitely.
Title Picture: Danielle Bradbery during the Meet & Greet