I originally had planned to review Sabaton's The War to End All Wars this weekend – but somehow I did not feel comfortable with it due to the sudden change of the geopolitical situation. Therefor, I went for the biggest name in country music, at least among female country artists: on 4th March 2022, the amazing Dolly Parton released her new album Run, Rose, Run. The song is something like a "soundtrack to a novel" Parton is soon releasing together with James Patterson. Can you say bad words about this wonderful artist? Hope I don't have to during my review.
Dolly Parton – About The Artist
Giving a somehow complete overview of Dolly Rebecca Parton is hardly impossible. Born on 19th January 1946, she is a musician, actress, songwriter and businesswoman – but more than that likely the most iconic lady in country music. Run, Rose, Run is already her 48th studio album on top of eight movies she has been part of. Already her debut album Hello, I'm Dolly peaked eleventh in 1967. Her most recent release, the 2020 Christmas album A Holly Dolly Christmas was Top 20 (overall charts) in the United States, Canada, Ireland, New Zealand, Scotland and the United Kingdom, which also illustrates her status as a global country phenomenon and legend. Wikipedia lists 382 award nominations for Dolly Parton, including 52 Grammy Award nominations only (eleven wins).
Dolly Parton – Run, Rose, Run – Track by Track
The twelve song album lasts 39 minutes.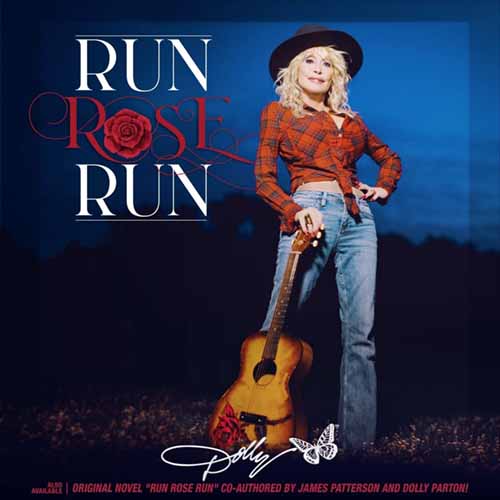 1. Run
The chorus might not be the most complex ever in country music history, but the song has a good pace and a nice bluegrass texture. The song is definitely Run-ning. It is even running right inside my listener's heart.
2. Big Dreams And Faded Jeans
The song has been the leading single – I absolutely liked it when I initially ran into it. Dolly still sounds like Dolly, even though she is not shy to add modern flavors as well. Great one.
3. Demons (feat. Ben Haggard)
There are three collaborations on Dolly's 2022 album. The first one is Demons with Ben Haggard. A rather slow, traditional country music track. Nice listen.
4. Driven
Driven is the complete opposite to Demons and rather connects to Run: a speedy, galloping track with bluegrass sprinkles and a strong fiddle melody line. If you like the traditional country dancing sound, this song will be a treat for you.
5. Snakes In The Grass
And you can't get away
From these God-awful snakes
They will bit and suck till they bleed you dry
And when they're done with you
They'll be stalking someone new
Aw, trust me, you'll be lucky to survive
One of my favorite songs of the album, indeed. Dolly does a dark, threatening sound her very own way. You definitely have to be afraid of the poisonous animals while listening to this song. Cool atmosphere.
6. Blue Bonnet Breeze
The second single appetizer of Run, Rose, Run: a beautiful song, which illustrates Dolly's amazing storytelling. A gentle song, which almost could be a lullaby as well. Not tiring at all, though.
7. Woman Up (And Take It Like A Man)
So I'm gonna woman up and take it like a man
Gotta buckle up, be tough enough
To give 'еm hell and take command
Soft like a woman, strong likе a man
Stick to my guns and have a plan
Gotta woman up and take it like a man
What a great statement in the seventh song. The song has a nice, powerful sound with rock elements as well. Love to listen to this one.
8. Firecracker
Firecracker can be best described as a speedy bluegrass song. The old lady is still able to go for the full rhythm – and timeless Dolly is doing great in that.
9. Secrets
After that high speed sound, Secrets is a slower country ballad with limited, but nice arrangement. The song feels like Dolly Parton reading a book to the listener. Love the atmosphere.
10. Lost And Found (feat. Joe Nichols)
The second collaboration on Run, Rose, Run is with Joe Nichols. Very traditional sound with strong steel guitar accents. The song is not among my favorites of the album, though.
11. Dark Night, Bright Future
Slow, fast, slow, fast – Dark Night, Bright Future is a track for the country dancefloor. Again, the song cannot connect to the better songs at the beginning of the album – but it is not a bad one at all.
12. Love Or Lust (feat. Richard Dennison)
Richard Dennison is gifted to close this 2022 album of Dolly Parton alongside the legend. I feel that song itself is a beauty, but the arrangement does not work for me at all. I am also not too happy with Dennison's vocal performance here. Not technically bad, but some sections just do not feel to fit to Dolly's lines.
Dolly Parton – Run, Rose, Run – Spotify
Here is the album on Spotify:
Dolly Parton – Run, Rose, Run – My View
Maybe, there is always some sort of "Dolly-bonus" when you listen to music by Mrs. Parton. I really like the album, but there are some weak spots in Run, Rose, Run as well. Overall, her new songs make me smile, though.
Media Review (2022 Women Country)
Here are all my Media Reviews of 2022, which are related to female country artists:
Music Legends on Flyctory.com
Who belongs to the music legends? Here on Flyctory.com, it's only me who decides on this: