Hard rock from Tennessee: the band Skillet is releasing their eleventh studio album on 14th January 2022. Here is my view on Dominion.
Skillet – About The Artists
Skillet is a rock band founded in Memphis in 1996. They are doing rock and hard rock with a Christian background. The only permanent member since the beginnings of the band is John Cooper, who is nowadays the singer and vocalist of Skillet. The other band members are John's wife Korey Cooper (keyboard, guitar), Seth Morrison (guitar) and Jen Ledger (drums, vocals). After a 1996 self-titled debut album, already their second album Hey You, I Love Your Soul had some ranking in the US Christian Album charts. Two singles already topped the US Christian Rock singles charts.
The band gained more and more popularity. Their 2009 album Awake has been sold two million times and was second in the US overall as well as the US rock charts. Nowadays, their albums are global sellers. Dominion's predecessor even had good chart positions in markets like Germany or Switzerland.
Skillet – Dominion – Track by Track
The twelve song album lasts 45 minutes.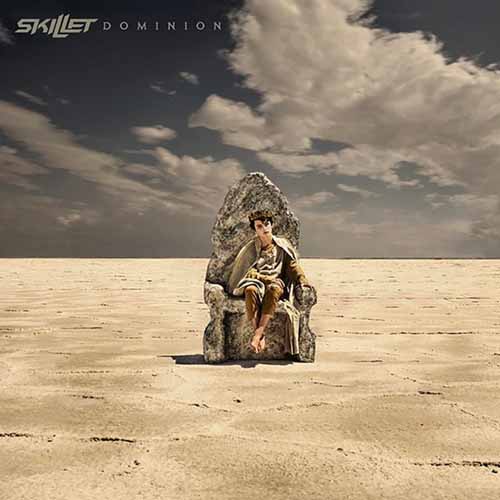 1. Surviving The Game
The album opens with one of the single releases. Nice, straight metalcore-alike sound, which works superbly with due to the vocal "battle" between John Cooper and his female vocal counterpart. Great beginning of the album.
2. Standing In The Storm
Second song, same plot: powerful metal sound with some electronic and symphonic elements. The guitars are powering – so that the singers just have to keep up with that. Good one.
3. Dominion
The simple chorus and the fast rhythm work well in this third song. I should mention the very good work on the guitar as well – cool solo.
4. Valley Of Death
The album comes with a few of these "Is my computer / CD player / mobile still okay". Just after Skillet blasted their amplifiers for three songs, Valley Of Death starts with piano and violin sounds. At least to me as a non-native speaker, this ballad gives a much stronger Christian music feeling as well:
Now that I walk
To the Valley of Death
You're the light to guide me
When I'm lost and can't see
I'm holding on
With all the strength that I can
Say you won't forget me
'Cause some times I don't believe
That I am not alone
In the Valley of Death
5. Beyond Incredible
We are not yet back to the full metal power (yet) – Beyond Incredible is rather a hard rocker. The chorus comes with a great melody again. I am really not the best consumer of religious music – but I like that alternative.
6. Destiny
I praised a couple of Skillet's choruses on the album already – so I should do with this one again. While the song has some rather slow moments, there are also very powerful parts, even with a touch of spoken word lyrics.
7. Refuge
In Refuge, Skillet profit from their male-female-double-voice-power in a wonderful way: the song is a beautiful rock ballad, which just creates a lot of emotions. These guys are good rockers with a good heart, obviously.
8. Shout Your Freedom
After this beautiful duet, John Cooper is taking over the microphone duties and does a straight 3:26 minute rock track. Not a bad song at all, but I prefer other tracks on the album. This one just does not come with too many special, outstanding elements to me.
9. Destroyer
Destroyer feels like a potpourri of genres to me. Sometimes, it feels like other songs of other Skillet tracks, then it immediately turns into an R&B style or almost psychedelic styles. A bit too much in my point of view.
10. Forever Or The End
Forever Or The End could almost be a track on a Christian country music album. Hard to believe that this song is really on the same album like Surviving The Game. But it somehow works well. I love to listen to this song.
11. Ignite
Okay, soft music lovers, that's it again. Skillet is giving the hard riffs from the very beginning of Ignite. However, the song is not that hard as it feels at the very beginning. One of these great-to-sing-along tracks by the band on their 2022 release.
12. White Horse
At the very end of their new songs, there is a White Horse. Some distorted vocals, powerful chords – overall, the song has that touch of being slightly chaotic again to me. Bad luck, as its core is a really interesting dialog.
Skillet – Dominion – Spotify
Here is Dominion on Spotify:
Skillet – Dominion – My View
Yeah, there are also some downs about Dominion, but overall I like that album. The band also proofs that they can do quite a wide range of songs in a great way – sometimes, they simply exceed their limits, though…
Media Reviews – US Hard Rock / Heavy Metal
Here are all my hard rock / heavy metal postings in the Media Reviews related to the USA:
Singapore – More Postings
Here are all postings which deal with Singapore: